The best guitar lessons in Ottawa will make you a rockstar in no time!
Picking up the guitar is a great hobby for anyone. The guitar is a versatile instrument that can be used for all kinds of songs and styles. Whether you want to become a professional player or want to be able to play your favourite songs, these Ottawa guitar lessons can help you reach your goals, whatever they are.
We selected these guitar teachers based on customer reviews, their teaching style, and the quality and effectiveness of their lessons!
The guitar is just one of many great hobbies you can get into. Get into shape or learn another instrument; visit the best boxing gyms and the best piano lessons in Ottawa!
What's the Average Cost of Guitar Lessons in Ottawa?
The average cost of guitar lessons in Ottawa is $30 per hour. However, prices can range from $20 to $60 per hour, depending on the teacher's experience and qualifications.
Some other factors that affect the cost of guitar lessons are the type of guitar you have, the length of the lesson, and whether you want to learn in a group or private setting. Some classes also offer discounts for multiple lessons or group lessons.
The best way to find out how much guitar lessons will cost you is to contact a few different teachers and ask for their rates.
The Best Guitar Lessons in Ottawa
Now that you know what to expect in terms of cost, let's take a look at the best guitar lessons in Ottawa!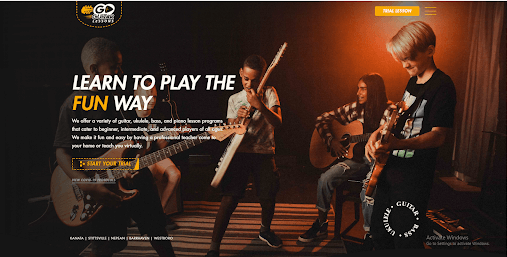 At Go Guitar, they believe that everyone has the potential to be a guitar virtuoso. They have a team of dedicated instructors who will create a custom learning plan for each individual, based on their level of experience and what they hope to achieve. 
Whether you're a beginner who wants to learn the basics of rock guitar, or an experienced player who wants to add jazz guitar to their repertoire, they have the perfect lesson for you. And if you're not sure where to start, their helpful staff can recommend a class that's right for your skill level and interests.
In addition to guitar lessons, they also offer ukulele, bass and piano lessons, so you can find the perfect way to make music. And because they understand that everyone learns at their own pace, you can take lessons at your convenience in the comfort of home or on location. 
"Excellent quality lessons and organized business. Our son has been taking lessons since 2018 and our experience has always been positive. Francis runs a very efficient business and provides top quality lessons and instructors. Our instructor Paul is always on time and has a great relationship with our son and with us (the parents) as well."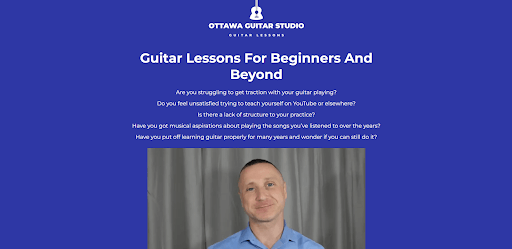 If you're looking for a guitar class that will challenge you and help you progress, look no further than Mickey's classes. Mickey is a great teacher who will give you the individual attention you need to improve your skills. 
No matter where you are in your guitar-playing journey, Mickey's classes offer something for everyone. From intensive technique-based courses to more casual get-togethers, there's sure to be an class that fits your style. 
"Mickey is an excellent instructor. With Mickey's classes there is always a lesson plan in place to work on techniques or theory to really understand the guitar and take it to the next level. You can tell he's interested not just in guitar but also in teaching. I find that I'm actually improving again after having been stuck in the same place for so long."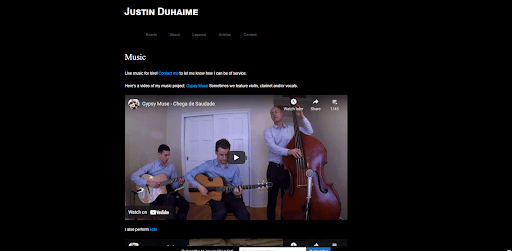 Justin's teaching style is perfect for people who want to learn more about music. He encourages his students to pursue their interests while also exposing them to new styles of music. This way, they can find something special within themselves as well!Justin is a great teacher and has the skills to help you succeed. 
His teaching style will be perfect for your needs, as it's adjustable depending on what level of knowledge or experience that he wants his students to have when they walk into class! Justin is knowledgeable in a variety of music styles and is always excited to share his love of learning with others. 
You'll never have a dull moment in his class!
"Justin is not only an extremely talented guitarist, he is also a very responsible teacher and a sincere friend. He is always ready to adjust his teaching style to suit my needs. The conversation is always easy and comfortable. I would strongly recommend anyone interested in guitar to take Justin's lesson."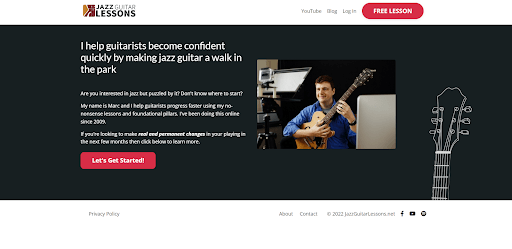 Marc's online program and courses for learning jazz guitar are the perfect way to get started with this complex genre of music. His methods for teaching are unlike anything else, and he makes sure that you know what you're doing from the ground up. 
With Marc's help, you'll be able to further your skills quickly and without feeling overwhelmed. Jazz guitar is a fantastic and complex music that requires an in-depth knowledge of various styles to fully explore. 
However, with Marc's online program and courses, it has never been easier to get started. Thanks to Marc, you can explore this incredible genre of music and become a master guitarist in no time!
"This is your site if you want to learn to play jazz guitar. The courses are laid out in a way that lets you proceed at your own pace and enables you to go back and review at any time. There is a recommendation for an orderly way to navigate through allowing you to progress from beginner to jazz guitarist.Highly recommend!"
FAQs About Guitar Lessons
Being able to play the guitar is a valuable skill that you're sure to enjoy. Whatever your skill levels is or what kind of guitar want to play, there's an instructor in the city for you. With the help of these Ottawa guitar teachers, you'll be jamming out in no time.
If you're looking to become a great guitar player, be sure to take the best guitar lessons in Ottawa!