Swimming is a great way to get in shape and have fun at the same time! If you're looking for swimming lessons in Ottawa, look no further. We've compiled a list of the six best swimming schools in Ottawa that offer private and group classes for all ages.
Swimming can be beneficial for people of all ages and fitness levels, so whether you're just starting out or are an experienced swimmer, there is a school on our list that will cater to your needs. 
Read on to learn more about each school and find the one that fits you best!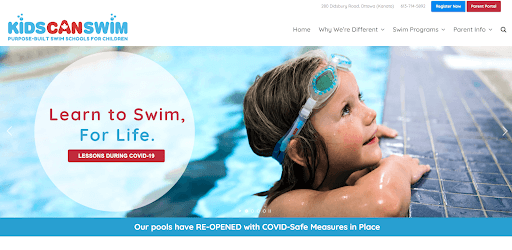 Kids Can Swim Canada is here to help children learn how to swim so they can have fun in the water, exercise safely and stay safe throughout their lives. They know that kids learn best when they're comfortable, so they built their pools purposely for  teaching. 
At 32°C and 4 feet deep (1m), their warm shallow water ensures your little one is safe and happy, focused on learning!
Their revolutionary curriculum starts with the building blocks of complex strokes and their highly trained aquatic educators ensure that lessons aren't just educational – they're also fun! 
Their crystal clean facilities are always sparkling, the UV-filtered pools are turned over every two hours and the class sizes are small.
"Great place to take your kids to learn how to swim. My sons had their first lesson there, today. I am very impressed how competent the teacher is and how good their concept works. Plus my sons had a lot of fun."
2) The Aqua Life Swim Academy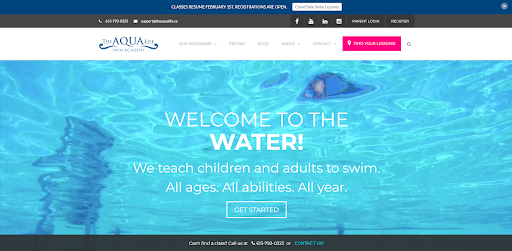 They are excited to have you join their swim team! They know that your child will love the pool and feel right at home in this environment. A unique feature of theirs is that they offer year-round lessons, so there's always time for fun with friends after class. 
Their naturally lit, 50ft salt-water pool is heated to a comfortable temperature and is a perfect place to learn. 
 They offer classes for kids as well as adults. You can learn in private with a coach all by yourself, you can have semi-private lessons in a closer group or you can join a swimming 101 course. 
These lessons will help you and your child to gain confidence in the water and be sure to stay on the surface in any depth.
"Our Son is Enjoying the lessons. The trainer is very patient and makes sure our son is not scared of the water. Our Target is to get our son to master swimming through the Academy ... Thank you for your great efforts."
3) Hippo in the Bathtub Inc.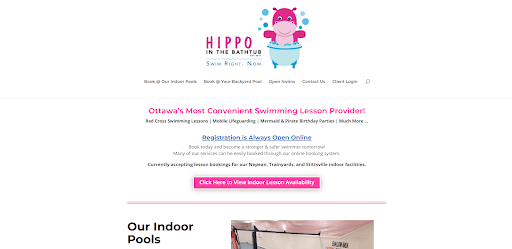 Learn to swim in the comfort of your own pool with their insured and certified instructors who can travel anywhere for you during summer months! They also have lessons in their Trainyards Indoor, Stittsville or Nepean indoor facilities.
You can enjoy warm salt-water pools with private change rooms that are fully equipped for your convenience! There's unlimited 4 hour rescheduling of lessons too – perfect if you want something specific on certain days or just need more time than usual to get through all these workouts. 
They provide Red Cross swimming lessons,  mobile lifeguarding, mermaid and pirate birthday parties and much more.
"We have had such a wonderful experience at this facility. My children take semi-private lessons together once a week. It's so nice to come in once, have both lessons completed, and be done for the week. I'm able to sit on the couch and read while my kids swim under the care of excellent instructors. The lessons are tailored to my kids' needs and my eldest is progressing at an incredible rate. Also - we LOVE that the pools are salt water. My son has sensitive skin and this is so important for us."
4) Crestview Outdoor Pool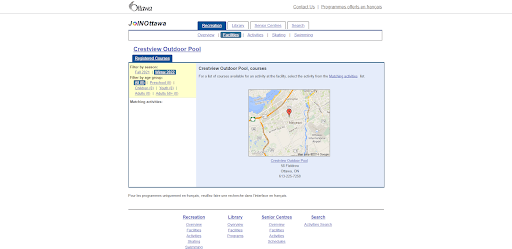 Here at Crestview Outdoor Pool you will be able to learn how to swim no matter if you're a child and age or adult. They even offer lap swimming for adults aged 50+ as well as women's only swim open to all women girls for 10 years of age and older. 
They have amazing women's only family swim lessons where the female and their child can swim together and connect. Crestview also has specially designed swimming classes for youth and adult participants with a long-term disability for free. 
The staff keeps the water and the surrounding areas really clean for you to enjoy your lessons.
"This place!! I signed my daughter up for her first ever swimming lessons here. She was so scared and cried loudly. For the whole first lesson. From then on each time they had an extra teacher in the class who would help her and another toddler who was scared one on one. By the end she felt very happy in the class, had such a positive view of the pool and teacher and I was just so delighted!!! Great great service and caring!"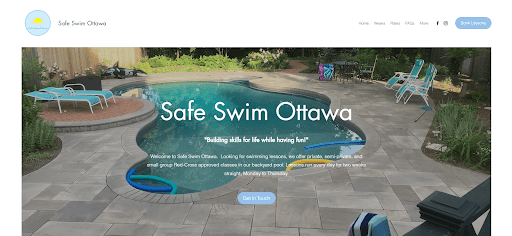 Safe Swim Ottawa provides young swimmers with the skills they need to be safe in and around water. The organization offers Red Cross training that teaches kids best practices for any activity, including swimming!
They offer private lessons one on one, as well as semi private lessons two on one and group lessons. All the lessons take place in a private backyard pool during summer. 
The pool is always kept clean and the water is safe with different levels. They will make sure that your kids will become more confident and skilled swimmers after their lessons. 
"Our kids loved doing swimming lessons here. They grew so much in confidence. The swimming lessons were fun and interactive. I'd definitely recommend going here! The semi private lesson was perfect for young kids."
6) Technosport Swim and Triathlon Training Ottawa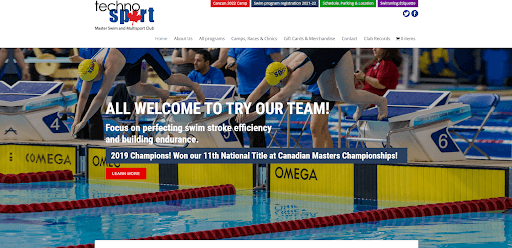 With their passion for helping you swim better, they offer the best service possible. They experienced head coaches have coaching backgrounds ranging from Olympic Games all-star veteran instructors with 25 assistant trainers who are ready and waiting to help you with anything. 
They give you a choice of 11 practices per week so you can find a perfect time for you to enjoy your swimming lessons. They offer all year round programs as well as summer swim programs, open water camps, swimming technique camps and personal training or corporate wellness programs.
"Been in several clubs over the years. This one is welcoming to all levels of skills. There are many ways to develop, from individual coaching, sport camps to team members helping you out. Definitely going to be my team for life now!"
FAQs about Swimming lessons
There are many great swimming schools in Ottawa, but the six listed above stand out from the rest. These schools offer a variety of programs and services that cater to students of all ages and skill levels. 
Whether you're a beginner who needs basic instruction or an experienced swimmer looking to improve your technique, one of these schools will be able to help you reach your goals. 
So if you're interested in learning how to swim, be sure to check out one (or more) of these excellent facilities!