Painting your home can be a daunting task. It's not only time-consuming but it can also be expensive if you decide to hire a professional painter. However, by doing some research and choosing the right painter Ottawa residents will get quality work at an affordable price!
In this article we have compiled a list of six of the best painters in Ottawa. All of these companies offer high-quality services, competitive rates, and are available for both residential and commercial painting jobs. 
So whether you're looking to paint your entire house or just need someone to touch up those pesky walls, one of these painters is sure to fit your needs!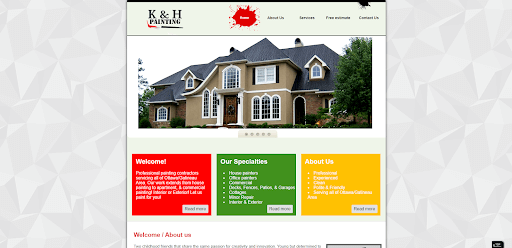 The company's creators share a passion for creativity and innovation. They are young but determined to make an impact on people's lives by providing top-quality services that meet changing needs—and always put customer satisfaction first! 
They specialize in house, office and commercial painting, decks, fences and garage painting as well as minor paint repairs on exterior and interior. They use environmentally friendly paint with zero or low VOC/ODOR that are safe your health and the well being of your pets too! 
They are committed to delivering the best customer experience possible.
"I had my cathedral ceiling repaired and repainted, as well as 2 walls painted by K&H Painting. I found this company to be very accommodating, friendly, considerate, and I was very pleased with the painting results. As much as painting can be very disruptive, they made the process as painless as possible and I appreciated that they communicated with me about what to expect on a daily basis. They were always on time, I felt their price was fair and they completed the job within the proposed timeline."
2) The Painter's Daughter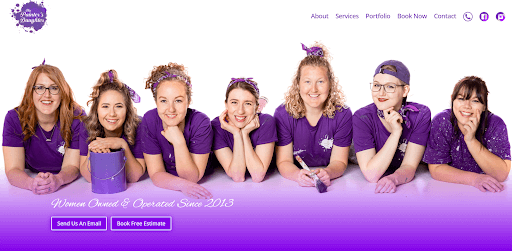 The Painter's Daughter is a family-run business that was founded by two sisters, Jenna and Elizabeth. They recognized the need for more women in trades jobs and took the skills from their father, who had been in business for 30 years. 
They focus on detail, quality and efficiency so you can enjoy your fresh, new space as soon as possible. They can paint your ceilings, walls, crown molding, stair steps, railings, spiders, newels and basically anything that your home needs.
"We are so happy we went with The Painter's Daughter to paint our new home. They were very punctual, clean and the quality of the work is outstanding. We especially appreciated being kept in the loop regarding progress and how the work was looking. Thank you so much!!!"
3) Green Time Painting & Design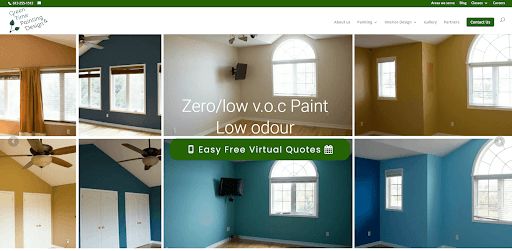 Green Time Painting & Design is a full-service painting company that provides interior design, architects and real estate professionals with the services of a one stop shop for all your property needs. 
They offer professional quality workmanship at competitive prices without compromising on customer satisfaction or honesty!
They use eco-friendly paints and decorative finishes without the toxic chemicals that can cause recurring ailments, respiratory conditions and allergies to people and pets. 
If you need a specific rare color they will be happy to make the right one for you.
"Robbie and his team did a wonderful job painting my house. I asked them to complete the work within a short timeline, and they did it in one and a half days. The work is perfect - detail oriented, great coverage and looks super professional. I was impressed with the speed, precision, responsiveness and the overall client orientation. Robbie was patient, professional, flexible and easily accessible. At the end, his team did a complete clean up and left the house in a spotless condition."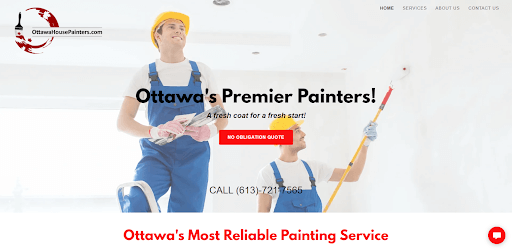 As a premier painting contractor, they are committed to delivering customer service that is second to none. They offer a wide range of services for all your residential and commercial needs with the attention to detail required in every job no matter how big or small it may be!
They use high-quality paint and will work with you to find the right colour for your home. They've got you covered even with additional services like custom paint jobs for commercial and new builds, sheds and even furniture restoration.
They work really fast without sacrificing quality, so your home will be looking like new in a blink of an eye.
"Great work! We got Ottawa House Painters to paint our house before we moved in and we love how it turned out. The painters were efficient and tidy, the quality of the work and materials was top notch. We definitely recommend them."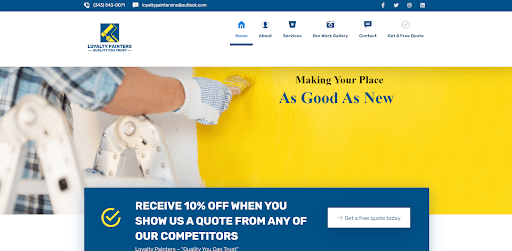 Loyalty Painters is a locally owned painting company that aims to provide high quality services at an affordable price. Their goal is to exceed your expectations and work with flexibility around whatever schedule you need! 
You'll get all this from their professional team of artists who are ready to help you everyday. 
They are offering free colour consultation and free custom colour matches to create the interior of your dreams. Their painting contractors can take care of all types of paint for your bat, ceiling and walls, decks, doors or balconies. 
They also offer a commercial interior and exterior painting.
"Loyalty Painters were so reliable and friendly. I was looking for a professional painting company to do my interior walls ( living room, kitchen and bed rooms ) and also do some small handyman work in my basement and no doubt that this company is perfect for it. The price is very reasonable and they made sure that we felt comfortable with this pandemic going on while they were doing the job. I highly recommend them to all."
6) Flying Colours Painting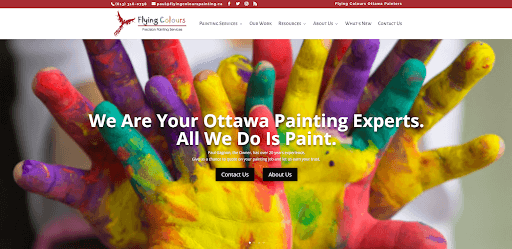 Flying Colours Ottawa painters has been providing quality painting services since 2013. They use the highest quality primers and paints to ensure that your paint coat will be smooth and even in the end result – producing stunning, long-lasting results. 
Their team is efficient and will do great work in a timely fashion so you're not left waiting around for months on end. 
Plus, if you're ever unsure about what colour scheme to choose or want some design inspiration, they offer colour consulting, interior and exterior painting as well as residential or commercial work!
"I was extremely happy with flying colours work that they did at my home. They showed up every day, right on time. Primed my old hallway doors, which turned out really well. Painted hallway, living/dining room & Kitchen. I would recommend their work. They are very friendly as well and did an excellent job."
Painting is a time-consuming but ultimately rewarding task. When done correctly, it can dramatically improve the appearance of your home or business. 
If you're looking for a talented and experienced painter in Ottawa, the list above provides some great options to choose from. These companies are reliable and affordable, so you can be sure that you'll be happy with the end result.