Here in Ottawa, we are fortunate to have many options when it comes to CoolSculpting clinics. But with so many choices, it can be hard to know which one is right for you. To help you make a decision, we've compiled a list of the six best CoolSculpting clinics in Ottawa. 
We chose these clinics based on several factors, including reputation, experience, price, and customer satisfaction.
So whether you're looking for the most experienced staff or the most affordable prices, there's sure to be a clinic on this list that's perfect for you!
If you're interested in more beauty services, check out our list of the botox clinics or the lip filler clinics in Ottawa.
What is the Average Cost of CoolSculpting in Ottawa?
Ottawa clinics generally charge between $600 and $1500 per session, making it an affordable option for most people. However, it's important to note that CoolSculpting is not a quick fix – it typically takes several sessions to see noticeable results. But if you're patient and willing to invest in your appearance, CoolSculpting can help you achieve the body of your dreams.
Keep in mind that the number of sessions you'll need will depend on the areas you're treating and your desired results. So be sure to discuss your goals with your chosen clinic before beginning treatment.
The Top Coolsculpting Clinics in Ottawa
Now that you know a little bit more about CoolSculpting and what to expect, it's time to choose a clinic. To make your decision easier, we've compiled a list of our top six picks for the best CoolSculpting clinics in Ottawa.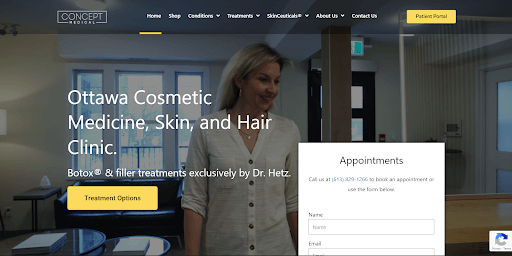 If you're looking for a medical skincare clinic that can provide you with the best possible experience, look no further than Concept Medical! They offer consultations and treatments for aesthetic or therapeutic needs, depending on what's most important right now. And every person who visits their office will be treated by doctors trained specifically for their individual condition. 
So if you're looking to reduce unwanted fat in a non-surgical way, their CoolSculpting specialist will be able to help you out. And because they have the latest CoolSculpting technology, a CoolSculpting cycle can be completed in as little as 35 minutes. So if you're short on time, they've got you covered!
"Concept medical and the team are the best clinic I've ever been to. If you're looking for Botox, PRP, and coolsculpting, they are the best in the city. My wife and I have both seen Dr Hetz and have nothing but great results and feedback."
2) The Ottawa Skin Clinic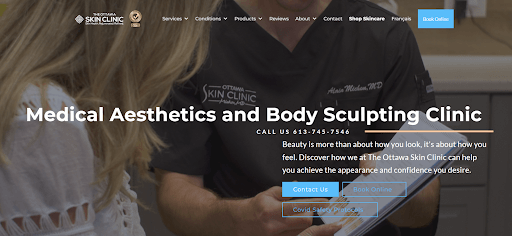 The Ottawa Skin Clinic is the place to go for top-notch medical aesthetics services. The staff is composed of caring professionals who want you to have access to the best treatments available. They offer CoolSculpting PLUS, which combines the revolutionary Z-Wave Pro technology and CoolSculpting. 
The Z-Wave Pro utilizes radial pulse therapy, a form of energy that can disrupt the targeted cells more effectively immediately after CoolSculpting treatment in typical cases. It's up to 60% more effective! Not to mention, the staff at the Ottawa Skin Clinic are some of the most experienced and knowledgeable in the business.
So if you're looking for excellent services and care, look no further than the Ottawa Skin Clinic.
"I trust and highly recommend the Ottawa Skin Clinic. All the clinicians and staff are knowledgeable, professional, and only use evidence-based modalities. Suzanne in particular is exceptionally amazing!"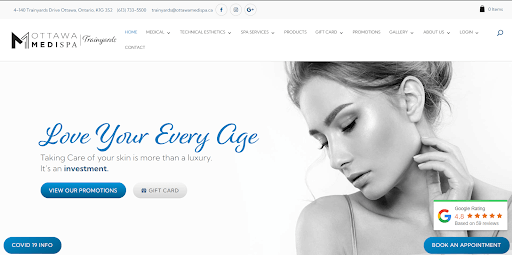 At Ottawa MediSPA, they recognize that everyone is different and that one size does not fit all when it comes to beauty care. That's why they offer a variety of services to meet your unique needs. Whether you're looking for a facelift or a bodylift, they have a treatment that's right for you. 
They offer cool sculpting which can remove handles, double chin and jelly bellies! There are no needles, no downtime, no surgery and the procedure is performed in a relatively short period of time in our spa, with no interruption of your regular lifestyle activities. 
So come see them today for expert care that is tailored just to your specific requirements. They promise you won't be disappointed!
"I have been a regular customer of Hummingbird Spa at Bank for many years because of their excellence in the level of care and services that they offer. Their attention to details, dedication and professionalism in their work, I feel, makes their rating difficult to match in the Ottawa area."
You'll be welcomed with open arms by Dermapure's team of medical professionals, who are eager to help you achieve your aesthetic goals. The company has positioned itself as an industry leader over the last 11 years and is more than just skincare: they offer 40+ treatments in 10 different cities across Canada!
Their CoolSculpting is available not only for women but for men as well! They will help you to burn your abdomen fat, inner and outer thighs fat and under armpit too. Their staff has the expertise to guide you towards aesthetically pleasing, noticeable results. First, you will get 360° assessment and plan your treatments as well as discuss lifestyle recommendations to keep your results longer. 
"Dr. Tosoni has consistently provided me with 'over and above' care at all my appointments. She is very pleasant, patient, professional and reassuring. The entire staff is wonderful, very friendly, and caring. What I like most about Dr. Tosoni is that she is very sincere and she doesn't go overboard with her treatments, and the results are always fantastic. I highly recommend it."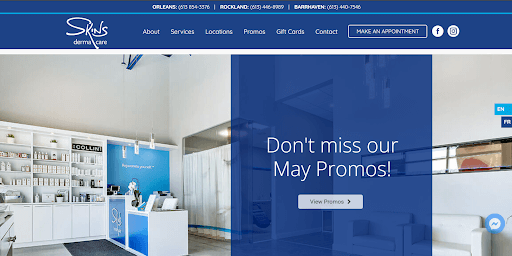 At SKINS Derma Care, you will never feel like just another faceless client. Their talented and experienced staff will make you feel at home from the moment you walk in the door. They offer a variety of services to help you look and feel your best, but their CoolSculpting treatment is truly unique. 
This procedure safely and effectively eliminates stubborn fat cells, giving you the slim, toned body you have always wanted. And because CoolSculpting is a non-surgical procedure, there is no recovery time needed – you can see results after just one treatment! 
So why wait any longer? Come experience the SKINS Derma Care difference today!
"Skins Derma care has been my go-to for years. The atmosphere, the energy, the treatments, everything and everyone there just makes your time there so enjoyable. If you've never been, I urge you to try. I promise you will not regret it. Julie the owner is so hospitable and knowledgeable of the industry and answers every question with such genuine care."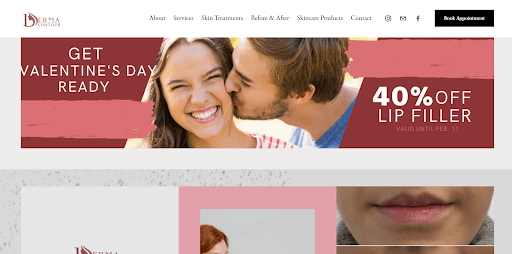 If you're looking for a place to help you achieve your beauty goals, Derma Contour is the place for you. Their team of certified medical technicians are dedicated to helping you attain the perfect body through CoolSculpting. 
They are honest about the results and flexible to change/adjust the procedures done to fit your expectations without overcharging. If you can't workout or it is hard for you to keep a diet, their sculpting services are perfect for you. 
So what are you waiting for? Come on down to Derma Contour and start your beauty journey today!
"My first visit for CoolSculpting I had a wonderful experience with Alyaa. She provided me with great care and exceptional service. The Spa is clean, nice and has plenty of great services to choose from. Staff are highly skilled and knowledgeable. Thank you Alyaa for your kindness and patience with all my questions."
If you're looking to get rid of stubborn fat, CoolSculpting may be the solution for you. Ottawa has a wealth of clinics that offer this procedure, so do your research and find the best one for you. Have you had CoolSculpting done before? Let us know in the comments below how it went!