The best rug stores in Ottawa can help you pick out the perfect, snazzy new rug for any room! Rugs are a simple, yet elegant way to really bring a room together. The hardest part is finding the right sellers to buy from, but don't worry because we did the hard part for you.
We chose these rug retailers based on their excellent customer service and a large selection of high-quality rugs. These stores encourage potential customers to ask questions so they can give you the best service experience and find you the right rug. 
Whatever style of rug you're looking for, whether it be something simple and traditional, or something eye-catching and vibrant, these Ottawa rug stores can help you find just that!
Now that you have a beautiful rug or two, make sure the floors match. For beautiful flooring options, visit the best flooring stores and the best ceramic tile companies in Ottawa!
What are the Most Popular Styles of Rugs?
The most popular style of rug is the Persian rug. Persian rugs are characterized by their intricate designs and bright colours. They are often made of wool or silk and can be quite expensive.
Another popular style of rug is the Oriental rug. Oriental rugs are similar to Persian rugs, but they originate from China, Japan, and other Asian countries. They often feature bold, geometric designs and can be made of wool, silk, or cotton.
Other popular styles of rugs include shag rugs, braided rugs, and outdoor rugs.
When choosing a rug, it's important to consider the material, the style, the size, and the price. You should also think about where the rug will be placed and how much traffic it will get. For example, a delicate silk rug would not be ideal for a high-traffic area like a living room or kitchen.
The Best Rug Stores in Ottawa
Now that you know a little more about rugs, let's take a look at the best rug stores in Ottawa!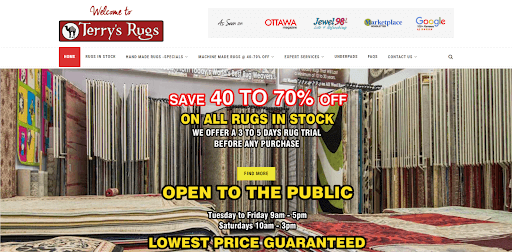 Terry Rugs has been a trusted source for high-quality rugs and carpets for many years. They offer a wide variety of rugs, including machine-made, handmade, and oriental rugs. They also have one of the largest selections of carpets in the area. In addition to their wide selection, they offer fantastic customer service. 
If you have an old rug that needs to be cleaned or repaired, they can send it to their deep-cleaning and repair services. They also offer a dedicated repair service if you only need a small patch of your rug repaired. 
Overall, Terry Rugs is a great place to go if you're looking for a new rug or carpet. Their experienced staff will help you find the perfect rug or carpet for your home, and their dedication to customer service is second to none.
"Over the past year, we bought beautiful hand-woven wool rugs (Chobi -Pakistan) and have not been disappointed. As very picky customers, we expect quality, expertise, and solid advice. Terry and his family have provided this time and time again. A big thank you from Maia & Pascal. Looking forward to returning for our next purchase."
"Terry is truly a one-of-a-kind! He knows everything about carpets! He is a great craftsman and an extraordinarily skilled professional! No one else in Ottawa could have done the job he did on our stairs. However, I know he does not want to do stairs anymore! Our loss! Thank you Terry!"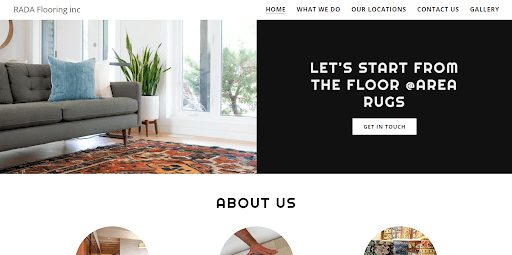 Rada Flooring, Inc. is a one-stop-shop for all your rug needs. From imported Persian rugs to international wool pieces to hall/stairs runners, they have it all. And if you're not sure what you're looking for, their website has a gallery with a wide selection of their items to help you make a decision before visiting the store. 
Plus, they offer flooring and installation services so you don't have to go anywhere else. Dedicated to providing their customers with the best possible experience, Rada Flooring, Inc. is the only place you need to go for all your rug needs.
"Excellent product and service provider that makes you proud to shop local. Sam and Richard made the final step of our home renovations easy, offering high quality carpet and fast high quality installation at an affordable price. Rada outshines the competition and comes highly recommended as the go to store in Nepean or Kanata."
"Sam and his install team were very knowlegable , efficent and provided execllent quality service as well as a qualiyu product! I would highly recommend a visit to Merival mall to visit Sam if you are in the need of a stair runner, carpet for your home or any area rugs!"
3) Alexanian Carpet & Flooring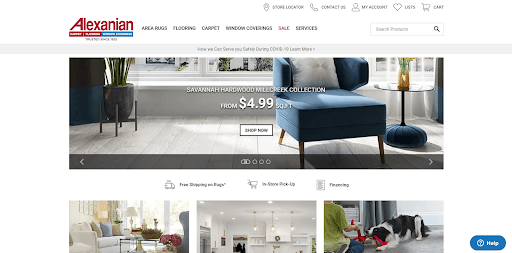 The Alexanian retail store is your one-stop-shop for all your floor covering needs. They offer an extensive range of high-end and stunning floor coverings, from famous brand names to one-of-a-kind rugs. 
They even offer a selection of runners for stairs so you can be sure to find something unique. In addition to their wide selection, they also offer several cleaning/repairing and restoration services to help your carpet look its best. 
So if you're looking for the perfect rug or carpet, be sure to check out the Alexanian retail store. You won't be disappointed!
"I have never written a Google review before but my service from Alexanian's was so incredible that I just have to tell everyone how outstanding it was! Chris Foley went above and beyond to help me with my carpet purchase. We had a fast closing date for our house and Chris was able to accommodate with no added stress. The install technicians did great work and even showed up a half hour early! The entire experience was stress free!"
"We're very pleased with our carpet received last week. Thank you Chris Foley for your excellent customer service. Despite delays and power outages caused by the storm that ripped through Ottawa last week, Chris came through for us."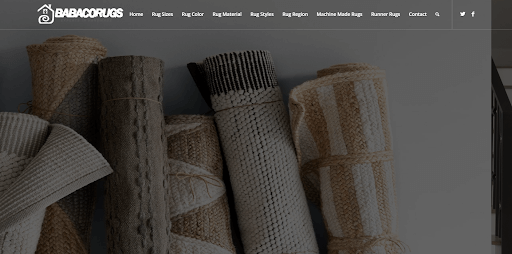 Babaco rugs have long been a trusted name in the area rug industry. For years, they have offered homeowners an extensive selection of machine-made and hand-crafted rugs at very reasonable prices. 
Whether you prefer traditional or trendy designs, they have something to suit your taste. And because they are always coming up with new and innovative designs, you can be sure to find a rug that is truly unique and one-of-a-kind. 
Another thing that sets Babaco rugs apart from the competition is the fact that they offer both wool and silk options in a variety of colours and sizes. So no matter what your budget or preferences, you are sure to find the perfect rug for your home at Babaco.
"Wonderful experience purchasing my rug from Babaco. The owner Mohammad was generous with his time and encouraged me to try some rugs at home. My new rug is beautiful. Please visit this store if you're looking for a new rug. This is an easy 5 star rating."
"Beautiful rugs and a super kind owner! At Babaco Rugs, they prioritize one's needs for design, colour, style and most importantly..QUALITY! There is a large variety of amazing rugs and carpets. If you are looking for a little extra something to lighten up your home, or accentuate a room, VISIT THIS PLACE!"
5) End of the Roll Flooring- Ottawa East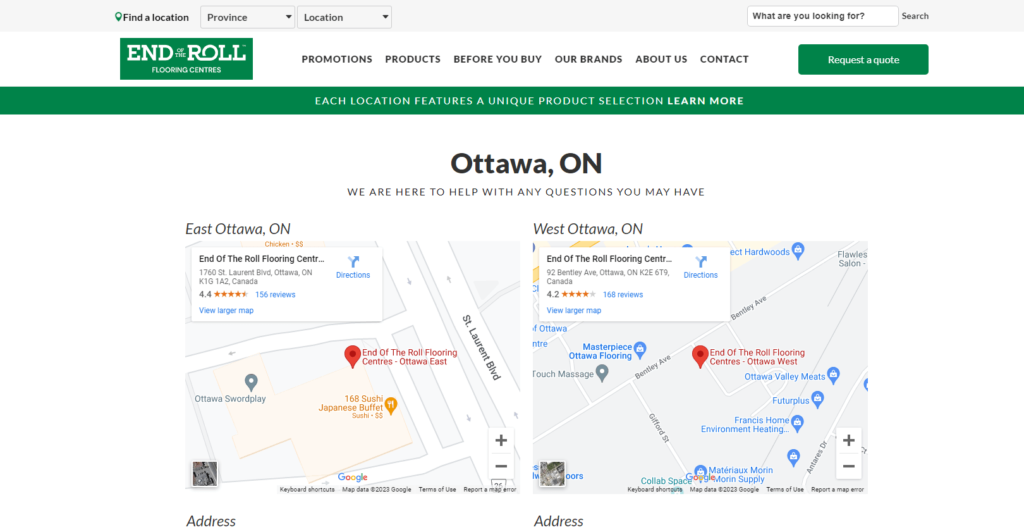 End Of The Roll Flooring is an independently owned and operated flooring store that carries a wide range of beautiful rugs. Whether you're looking for something traditional or modern, the store has a rug to suit your needs. In addition, the shop also offers a variety of other flooring options such as laminate floors, carpets, and hardwood floors. If you're in need of new flooring but don't want to spend a fortune on it, visit End Of The Roll Flooring where prices are more affordable than most stores.
End of the Roll Flooring understands the importance of choosing the right flooring for your home. Their experienced staff will take time to know you and your lifestyle. They will help you find the perfect flooring solution for your needs, whether you're a homeowner, builder or contractor. With a wide range of options available, there's sure to be something that suits your style and needs.
Website: endoftheroll.com
Email: ottawaeast@endoftheroll.com
Phone: +16137389669
Address: 1760 St. Laurent Blvd, Ottawa, ON K1G 1A2
"I was in EOR today with a friend looking for an area rug. We were greeted by an amazingly friendly, professional and extremely knowledgeable rep named Denise. I have been to many carpet retailers and must say i will100% go back to see Denise and share with anyone who will listen, how great she made my shopping experience. She is amazing and i must say her carpet showing tricks made the search so much easier. Thank you Denise and I will most definitely be returning to this location."
"Great place to get a solid colour area rug at a great price. I refresh my carpets every 5-10 years."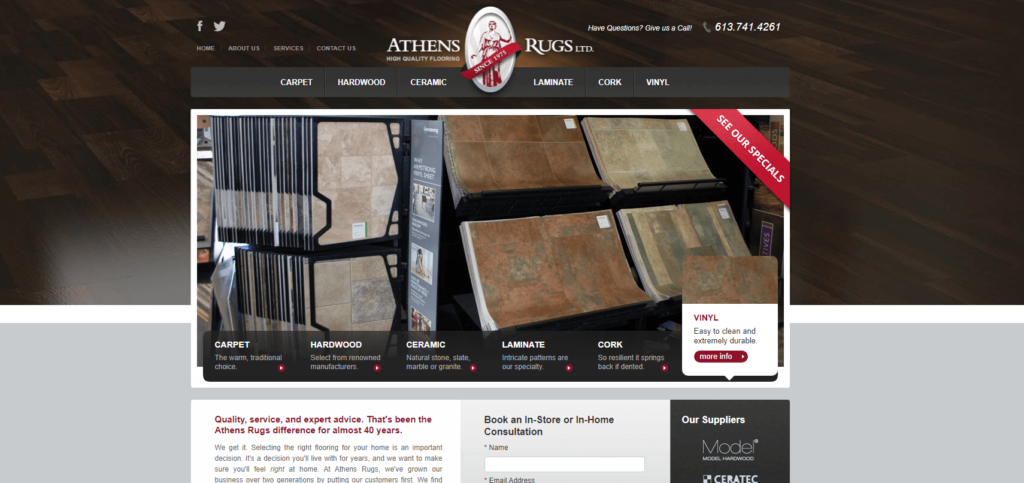 When selecting flooring for your home, it's important to consider a variety of factors. For example, you'll want to choose flooring that is comfortable and practical. You also need to make sure the flooring will match the décor of your home. Selecting the right flooring can be an overwhelming task, but the team at Athens Rugs Ltd is here to help. They have a wide range of options available in both traditional and contemporary styles, so there sure will be something perfect for your home. Whether you're looking for tile or hardwood floors, they've got you covered!
Website: athensrugs.com
Email: reception@athensrugs.com
Phone: +16137414261
Address: 1365 Cyrville Rd, Gloucester, ON K1B 3L7
"I had the pleasure of working with Bill at Athen's. He was exceptionally accommodating and was very honest about the product as related to my needs. No pressure, and great advice. I am very pleased with the service I have received thus far. Would highly recommend."
"I had a chance to meet the owner of the company , friendly amd welcoming . They offer all kind of commercial floor material and service must visit this place for all your commercial flooring ."
Rugs make for gorgeous additions to any room. Despite being so simple, rugs are gorgeous pieces that can make a mediocre room into something right out of a magazine! 
When you go to a store to buy a rug, you expect a welcoming staff and a huge selection of well-made and appealing rugs; these rug retailers deliver on those expectations. If you are looking for somewhere to buy a beautiful rug, these Ottawa rug stores are an absolute must-visit!