If you're in need of a reliable auto wrecker in Ottawa, look no further! Auto wreckers are professionals who can help take care of all your car needs from restoration to disposal. They have the equipment and expertise necessary to get your car back on the road as quickly as possible so that you can continue with your life. Whether you've had a minor accident or something more serious has happened, call an auto wrecker for assistance. We chose these Ottawa auto wreckers based on their years of experience, the quality of their services, and their customer satisfaction ratings. When you hire one of these businesses, be sure to ask about any specials they may offer – often times there are discounts available for customers who use them regularly!
Does your car need a cleaning? Visit the 10 best car washes in Ottawa and the best car detailers!
What is the average cost of an auto wrecker in Ottawa, Ontario?
The cost of using an auto wrecker in Ottawa, Ontario can vary widely, as it depends on factors such as the make and model of your vehicle, the condition of the vehicle, and the demand for its parts. In general, you can expect to receive anywhere from a few hundred dollars to a few thousand dollars for your vehicle from an auto wrecker, although the exact amount will depend on the specific circumstances of your case. Some auto wreckers may offer to tow your vehicle for free, while others may charge a fee for this service. It is a good idea to shop around and compare prices from different auto wreckers before making a decision.
Best auto wreckers in Ottawa
1) Junk Car Removal Ottawa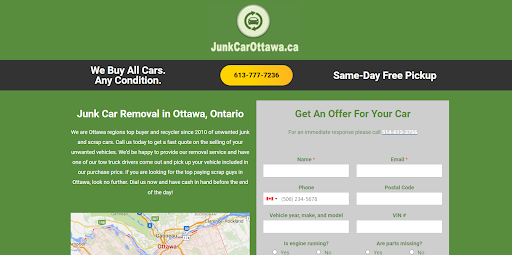 Junk Car Removal Ottawa is a reliable buyer and recycler of unwanted junk and scrap cars in the Ottawa region. Since 2010, the company has been removing excess vehicles from local communities to make room for new growth. Junk Car Removal offers a wide range of services that are tailored specifically to meet the needs of businesses and individuals in the area. From car removal to wrecking, Junk Car Removal provides an exceptional level of service that will help you get rid of your unwanted vehicle hassle free.
 If you are looking for the top paying scrap guys in Ottawa, look no further. They'd be happy to provide the removal service and have one of their tow truck drivers come out and pick up your vehicle, services included in their purchase price. They are insured and licensed to safely dispose of your vehicle. As well as remove your car from any situation like being stuck in a field or ditch and underground parking garages. 
Website: junkcarottawa.ca
Phones: +16137777236
Address:  2420 Bank St #26 Ottawa, ON K1V 8S1
"They bought my car and made it so easy to get rid of. I called several other places and never showed up but I found Junk Car Removal Ottawa made an appointment and my car was gone within an hour. Thanks a lot."
2) Scrap Car Pickup For Cash Ottawa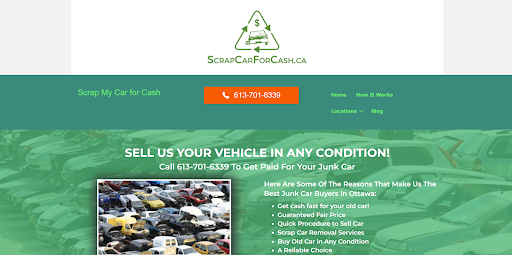 Scrap Car Pickup For Cash Ottawa is a company that specializes in junk car removal. They provide a hassle-free service that allows you to get your unwanted vehicle off of your property as quickly and easily as possible. The team is licensed and insured, so you can be sure that everything will go smoothly during the process. They want their clients to get a fair price for their unwanted vehicles while also being protected from scammers! 
Earn cash for getting rid of your junk car with just one call! They will come to you, pick up the vehicle, and tow away any wobbly parts. They do all they can to preserve the environment and make the earth a better place. 
"Very nice. Came in a very timely manner and gave me a great price for my truck. I would recommend him to anyone who has a car that doesn't run or just doesn't use it anymore."
3) CASH for TRASH Metal Recycling Centre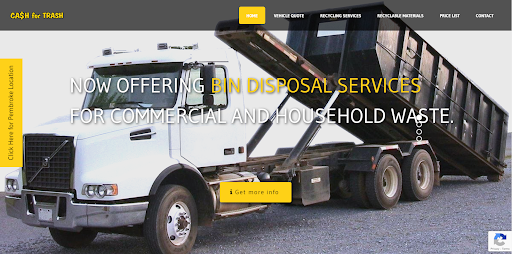 CASH for Trash Metal Recycling Company is a waste recycling company that offers responsible solutions to help our planet, you and future generations. They offer peace of mind by picking up old vehicles or accepting scrap metal at their yard for safe disposal! 
They utilize the most modern processing technologies in a way that minimizes the impact on the environment. They are professional, punctual, and take ownership of the whole process. 
"Quick service! Fast answers! No playing around. I was impressed with how fast and serious these people were in getting my car out of a ditch and taking it away and then paying me for it!"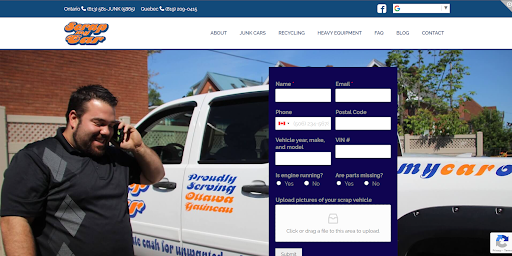 Scrap My Car offers the most cash for cars in Ottawa, making them your top car scrapping option. They provide you with professional removal services that have-free! Whether it is a junker or simply just another fixture, Scrap my Car can take care of all! 
They also have an option to donate your car to charity for a tax receipt. Not only is this process painless and rewarding, but you can rest assured that your carbon footprint will not be tarnished after they dispose of your vehicle with environmentally friendly disposal techniques.
"Friendly service through and through. I should have got her name, but the woman I spoke to on the phone was super helpful and friendly. I didn't get any money for my car as I removed the drivetrain, however, they had no problem with the pick-up and didn't have to put down my beer. Would recommend."
5) Metro Scrap Metal Inc.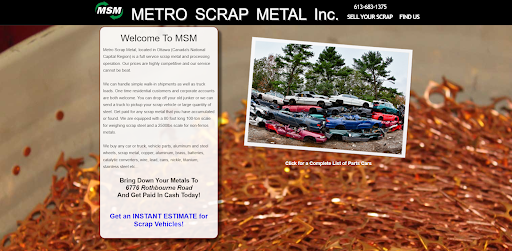 Metro Scrap Metal is a full-service scrap metal and processing operation in Ottawa, Canada. Their prices are highly competitive with an unmatched customer experience for both residential customers as well as corporate accounts! You can drop off your unwanted vehicles or they'll send one of their trucks to pick up everything you need in large quantities at once. 
They buy any car or truck, vehicle parts such as steel wheels, and aluminum. They also take scrap metal in the form of old copper wiring to be recycled into new products!
"Excellent Service, I called around and they gave me $50 more for my scrap car than any other company would offer, and they picked it up within the hour! Great service."
FAQs About Junk Car Removal
If you're looking for a reliable and trustworthy auto wrecker in Ottawa, look no further than the list above. These 5 businesses have been consistently rated as the best in town, so you can be sure that you'll receive quality service and fair prices when dealing with them. Whether your car has been involved in an accident or simply needs to be scrapped, these companies will take care of everything for you.
If you are looking for other services related to automobiles in Ottawa, check out our picks of the best car detailers, best used card dealerships and best auto repair shops in Ottawa.