Ottawa is a vibrant city with plenty to offer its residents and visitors. If you're planning on moving to or from Ottawa, it's important that you choose the right moving company for the job! There are many different companies out there that claim they can handle your move, but not all of them are created equal.
To help make your decision easier, we've compiled a list of six of the best moving companies in Ottawa. 
All of these businesses have years of experience and are known for their quality service. They also offer competitive rates so you won't have to break the bank when hiring movers!
Parkview Movers is the best choice for your next move. They specialize in stress-free, affordable services that are easy to understand and use! Their customers love their team of Ottawa movers because they work hard at making sure every customer has an amazing experience with them. 
Movers provide many different kinds of transport including international moves, residential moving, senior moving. They also specialize in moving pianos of all styles and sizes within Ottawa and surrounding areas.
"Great packing and moving experience with Parkview. I used them to move from Ottawa to the GTA and it was reassuring to have our stuff moved by the same company. I would definitely use them again because they are careful, efficient, hard working and know what they're doing. And the prices are very reasonable. Thanks for the great service!! You made moving a breeze."
2) 6Thirteen Moving & Storage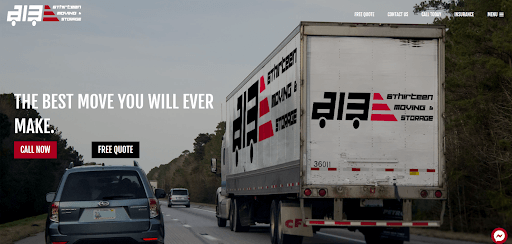 6thirteen Moving and Storage provides the best moving services in a compassionate manner. They take pride in being able to stand out from other companies because their commitment for careful planning, efficient work or highly satisfied customers never changes!
Their packing services will allow you to relax, knowing that all you have to do is tell them what needs to be packed, and where they should place it. They also offer long distance moving as well as residential moving. 
And even if your company decide to move into the bigger office they will work with you to create an effective moving plan best suited for your budget, relocation, and timeline.
"We used 6Thirteen Moving Company and we were very impressed. They worked meticulously to complete the job and were courteous and friendly. We realized we needed a Professional mover just a few days before the move and they were able to accommodate us, and provide us with a quote, no problem. Thank you for your help today."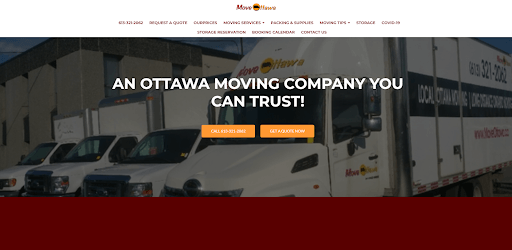 They know that you have many moving options and they want to help make the process as easy for you. At Move-Ottawa Movers, their team will provide a variety of services that are all dedicated to your comfort. 
They are the most reliable and experienced team for your next move. They offer services from early morning to late at night, even on weekends or holidays if needed! 
At Move-Ottawa Movers take great care in ensuring that all your goods are packed using the highest quality packing materials and techniques so you can rest assured about their safety during transport.
"I had the best experience with Move-Ottawa. Jeff, Omar and Judzer were very respectful, followed all COVID-19 protocols, and handled my stuff with extreme care. They were quick and efficient and I am extremely satisfied with my service. I will definitely use them in the future! Thank you for the great service, 5 stars."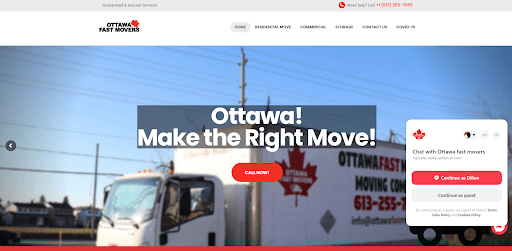 Ottawa Fast Movers is a moving company dedicated to providing you with the best service possible. 
They are always available for any questions or concerns during your relocation process, and guarantee that their team will take care of all loading/unloading services into specially chosen vehicles so there's no need to worry about anything! 
With flexible work schedules it's easy enough to find time off when needed— so just give them a call for a free consultation or a fast moving service. They will be really careful with all of your belongings and will make sure that they will not leave any scratches on the new hardwood. 
"It was a positive, moving experience! The crew took care of our needs and concerns, and was very responsive by email and phone. We had a great moving crew, whose youthful energy made the day a fun and uplifting!"
5) Professional Movers Ottawa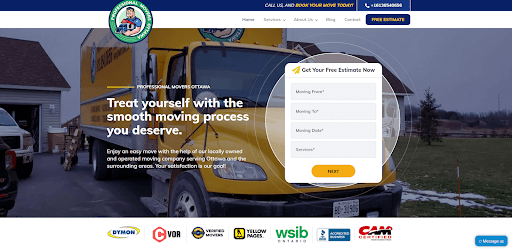 Professional Movers Ottawa is a locally owned and operated moving company, located in Ontario. They pride themselves on customer satisfaction – making sure you're getting your money's worth from their services! 
They work hard on every single one of their assignments by providing quality service while also saving some time for themselves or their business partner during what could otherwise turn into a stressful week.  
Their services include office, residential, storage, long-distance and local moving as well as furniture and piano moving. Enjoy an easy move with the help of Professional Movers Ottawa!
"I had a fairly small move within the Ottawa area (between apartment buildings). The two movers who were sent were very professional, careful with my belongings, and very efficient with the job. They arrived on time and the job was completed within the expected time. There was no damage to any of my belongings. Would definitely use this company again for future moves."
FAQs about Moving Companies
When it comes time to move, you need a reliable and experienced moving company that can handle everything for you. The list above features the five best moving companies in Ottawa, so be sure to research each one before making your final decision. 
By choosing one of these reputable companies, you can rest assured that your belongings will be handled with care and delivered safely to your new home.