If you live in Ottawa, then you know that pest problems are a common occurrence. Bugs and rodents can be a nuisance, not to mention they can also cause health problems! 
That's why it's important to have a reliable exterminator on speed dial who can take care of the problem quickly and effectively.
In this article, we will introduce you to our top six favorite exterminators in Ottawa. These companies offer quality services at competitive rates, so you can rest assured knowing your home is safe from pests once again!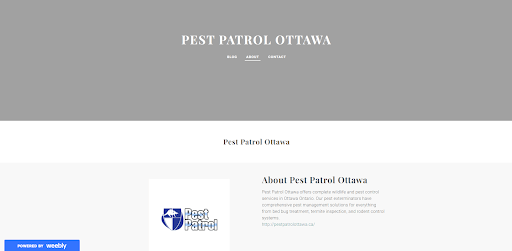 Pest Patrol Ottawa is very helpful and efficient. Wherever you call them in the evening or morning, they will be able to come out with your problem the same day! The professional who will come into your house will look around for anything wrong before starting his work – which will make you feel cared about. 
If you find a wasp nest, ants all over your house, mouse droppings or just any unwanted animals don't hesitate to use their services. They are very knowledgeable and helpful. They will really go above and beyond to make sure that you will get the perfect result. 
"Called Pest Patrol for a carpenter ant problem. They were able to come the next day and identify the problem very quickly. As it was fairly localized, they performed the extermination at a very reasonable price, quickly and effectively. Will be calling them again for any other pest issues in the future."
2) Orkin Canada Pest Control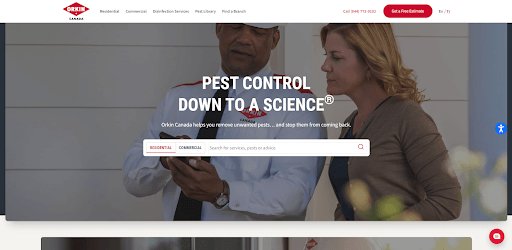 Orkin Canada provides customized home protection plans, backed by pest control science to make sure you're always protected from unwanted pests.
Their team of experts is committed to providing the best customer experience possible so that their customers can stay at peace knowing they've got an effective plan going forward if anything happens.  
From flea exterminator and termite control to spiders and rodents they can help with it all. Bed bugs and ants, cockroaches and rats, it can be hard to see where pests are hiding. But they are professionally trained and competent in any of these situations. 
"Amazing service provided by our Orkin representative, Rob. We are subscribed for the annual subscription. At each maintenance visit, Rob takes the time to check in and make sure all is well. In cases where we have had to call Orkin for a specific instant, Rob is always readily available to consult and respond in a timely manner. Thank you Rob for the amazing service! 10/10"
3) Paramount Pest Control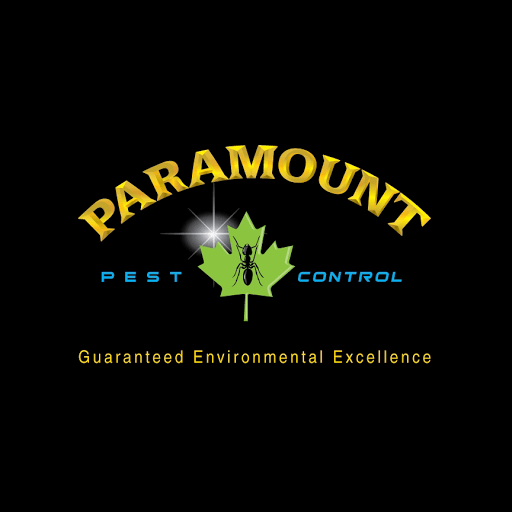 Paramount Pest Control is great! When you see what seems to be an increased activity of bees or any other pest around the house don't hesitate to call them. They will take their time to explain the situation to you, and come up with the best solution for your unique needs. 
After the service, they will even offer some helpful tips to prevent the problem from happening again in the future.
They will treat all possible sources of pests and their present locations all the while being very careful maneuvering around all the furniture and obstacles in their way.  Best of all, the price that they charge is very reasonable, plus you will be getting one of the best extermination services in Ottawa.
"My experience with Paramount was nothing short of excellent. We had a nest of yellow-jacket wasps that chased us from our backyard after giving me some nasty stings. He was quick to respond and very considerate in finding a time to remove the nest that worked for our family schedule. His approach was very careful and professional. He took the time to explain why the wasps had decided to build a nest where they had and how to prevent a recurrence. We followed his advice and had no wasps for more than five years."
4) Provincial Pest Control Ottawa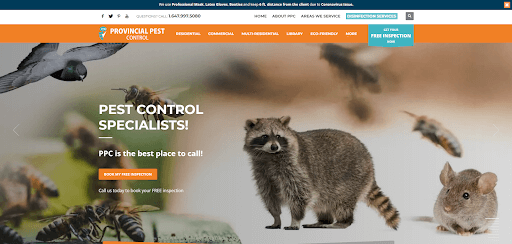 They are provincial pest control professionals, proudly Canada's premier choice for fast and effective solutions to your pesky problems with pests. Their highly trained technicians can help with all types of unwanted creatures so you can get back on track without worrying about the mess they leave behind!
Whether if it's mice, wasps, bedbugs, ants or even Pill Bugs or Earwigs, all their services uses products and chemicals which are environmentally friendly so that you and your family stay safe.
Pests don't stand a chance when it comes time for maintenance at Pest Control Ottawa because they guarantee success!
"I spotted a lot of ants inside my kitchen one day and decided to call. It only took a few seconds for me to be talking to an employee who offered me a same day treatment. The exterminator completely got rid of the ants. I'd recommend 10/10."
5) Pest Control Ottawa Inc.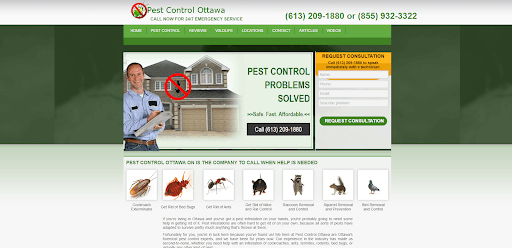 At Pest Control Ottawa, they are experts in pest control and have been for years. Their experience has made them the top choice for people who need help with an infestation of cockroaches, ants, termites – you name it! 
They're not only knowledgeable and skilled when it comes to getting the job done but also have a great reputation for being trustworthy, effective and professional. It's this combination of passion and determination that makes their team reliable and ready to take on whatever pests might be causing havoc in your home.
 When their technicians arrive, they will perform a cursory inspection to identify the problem so that we can provide a solution as quickly as possible.
"We had a rat problem in our garage. Tried every means to get rid of them including live traps but to no avail. Called these guys and within 2 hrs of calling were on site and did their job professionally and gave us information on how to keep them under control. They even did a follow up visit to make sure everything was working within 2 weeks no more rat problems. Excellent company with friendly employees and a good bang for your buck."
6) Mr. Pests Control Ottawa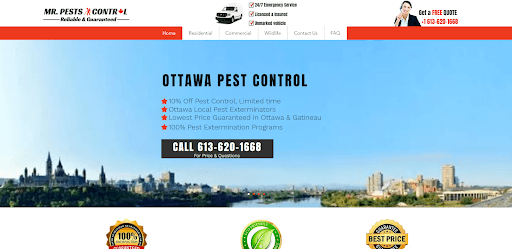 Mr. Pests Control Inc. is a local pest control management company in the Ottawa and Gatineau surrounding areas that has experienced team of licensed technicians. 
They strive to reach your satisfaction and peace of mind using the most suitable, environment-friendly pest integrated management techniques – ensuring they are always up-to-date! 
Not only this, but their services come at affordable prices so you don't have to break the bank just to get rid of those pesky pests! Plus, their guaranteed results ensure your pests problems are solved once and for all so you can live life free from worry. 
Whether you're a business owner or resident who's struggling with bed bugs, wasps, bees, ants, mice or rats; Mr Pests Control Inc is just one call away waiting to solve your pest problems!
"Mr. Pests Control provided great service. They arrived on time for the initial inspection/assessment and were very knowledgeable about the issue I was experiencing, specifically about the habits of the rodents and insects (causing issues) at my home. I am very happy with my experience and would use their services again."
Ottawa is home to a number of top-notch exterminators, all of which are capable of dealing with any pest problem you may have. By conducting some thorough research, you can find the company that best suits your needs and budget. 
The six companies listed above represent some of the best in Ottawa, so be sure to check them out if you're in need of extermination services.