The best metal roofing companies in Ottawa can protect your home from the harsh outdoors!
Switching to a metal roof is a great investment as it can last for many years and often look much better than traditional roofs. Metal roofs are very energy efficient, making them an eco-friendly choice. If you're looking to replace your old roof or add another layer of protection against the elements consider contacting one of Toronto's best metal roofing companies!
We selected these Ottawa metal roofing companies based on customer service, the other service they offer, the premium metal shingles they use, and the quality of their installations.
For more ways to keep your home in great condition, head on over to the best insulation services and the best concrete companies in Ottawa!
How Much Does It Cost to Install a Metal Roof?
The average price for a mid-range quality metal roof is between $15,000 and $20,000. This includes both materials and installation costs. Higher-end projects can cost as much as $30,000 or more.
Some of the factors influencing the cost of a metal roof include:
The size and pitch (steepness) of your roof

The complexity of the roof's design

The type of metal used for the roofing

Whether you need to remove and dispose of your old roof first

The location of your home

Metal roofs are a big investment, but they offer many benefits that make them worth the cost. Metal roofs are durable, low-maintenance, and energy-efficient. They can also boost your home's resale value!
If you're thinking about installing a metal roof on your home, be sure to get quotes from several different contractors to compare prices. Make sure you understand what's included in the price and what warranties are available.
The Best Metal Roofing Companies in Ottawa
Now that you know what to expect in terms of cost, let's take a look at the best metal roofing companies in Ottawa!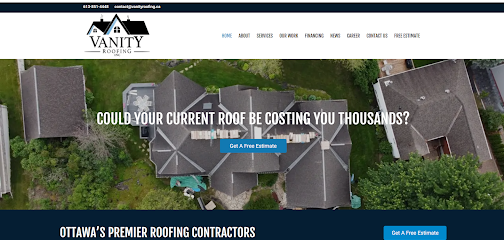 Among the many Ottawa roofing contractors, Vanity Roofing is the number one choice for residential roofing. Most of their items have the backing of Owens Corning & Certainteed for the entire 50-year duration! 
This is featured for shingles, accessories, labour, and disposal! They primarily cover residential and commercial roofing with additional repair services and overall maintenance work for almost any roof component. 
No matter what, their goal is to provide the best possible service and product so that you are fully satisfied.
"Vanity Roofing provided me with roofing services twice this year and I found them to be very responsive with reasonable pricing. The staff were polite, explained everything and took pictures and eventually replaced my whole roof in one day. I am very satisfied with their work and wouldn't hesitate to recommend them."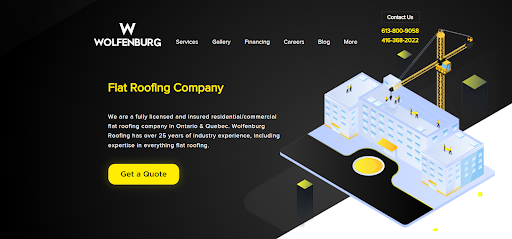 Wolfenburg Roofing has established themselves as a reliable and reputable roofing company, with over two decades of experience in all things roof-related. From flat roof replacement to roof-over and green roof installation, they have the skills and experience to get the job done right.
 And, with their customer-focused approach, they are always looking for ways to improve their services. Whether it's their yearly maintenance program or their rapid response team for emergency repairs, Wolfenburg Roofing is dedicated to providing the best possible service to their customers. 
So, if you're in need of a reliable and trustworthy roofing company, look no further than Wolfenburg Roofing.
"Wolfenburg was recommended to us and we were not disappointed. Our commercial flat roof was a large project. From the very beginning we received great communication and timely updates. Mr Leeson was invaluable as he lead us through the process. The crew was extremely diligent and accommodating. End result was a fantastic job completed and very satisfied customers. Don't even consider another company as these guys have it all."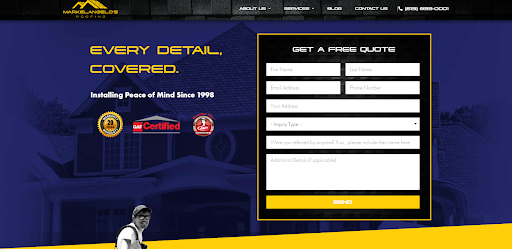 Markelangelo's Inc. is not your ordinary roofing company. Not only do they provide excellent materials and talented craftsmanship, but they also offer honest customer service and superior roofing work.
 They are staffed by skilled professionals who will pridefully serve your house like it's their own. Markelangelo's is also a green roofing company that helps the environment by utilizing or recycling the old materials removed from your roof. 
They care about quality and the roof you will end up with for years to come, so they only use superior brand materials that have solidified themselves as the best possible material to use! 
If you're looking for a top-notch roofing company that cares about its customers and the environment, look no further than Markelangelo's Inc.
"Markelangelos put the roof on my last house and were fantastic. Recently, I called for a small repair on a new house that they did not do the install on. The experience was great. Fast, professional and reasonably priced. I wouldn't recommend any other company, these guys are A+."
4) Century Roofing and Siding Ltd.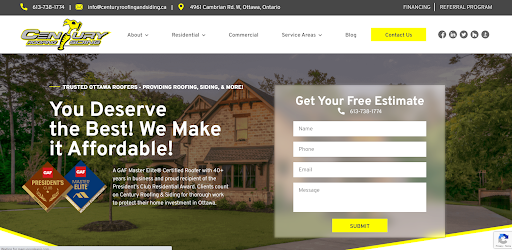 Century Roofing and Siding is a trusted source for all your exterior carpentry needs. From repair to maintenance to technical consultation, they have the skills and experience to get the job done right.  What's more, they are committed to providing outstanding customer service and workmanship.
 In other words, you can expect honesty, integrity, and efficiency when you partner with Century Roofing and Siding. 
With over 40 years of experience in the industry, they are one of the premier providers of carpentry services in the Ottawa area. So if you're looking for quality workmanship and top-notch customer service, look no further than Century Roofing and Siding.
"We had Century Roofing replace our entire roof in 2018. The roof looks great. The workmanship was professional, clean and fast. The crew on site was respectful and approachable. When I was in the process of getting quotes and talking with different roofing contractors, I appreciated John sitting down with us and explaining options and the different products. This made me feel more knowledgeable about how to make wise decisions with our dollars."
As a homeowner, it's important to choose the right metal roofing company for your needs. By going to Ottawa's best metal roofing businesses, you can ensure that you're getting the best possible service. Make the switch to a better roofing option with the help of the best metal roofing companies in Ottawa!