The best concrete companies in Ottawa can take on any concrete project!
Concrete is one of the most versatile and durable building materials available. It's easy to work with, can last for many years, and is often used in commercial buildings, homes, and other structures. The best concrete companies in Ottawa offer a wide range of services like driveway construction, foundation preparation/pouring, sidewalk installation/repairing (including pavers), waterproofing projects, and much more. When you hire any of these businesses, you can rest assured that they will do some high-quality work!
We selected these Ottawa concrete contractors based on their years of experience, the different concrete services they provide, their team of expert, licensed staff, and the quality of their concrete work.
Keeping your home or business in tip-top shape is easy with the help of the city's many businesses. Head on over to the best locksmiths and the best stair contractors in Ottawa!
What's the Average Cost of Hiring a Concrete Contractor in Ottawa?
The average cost of hiring a concrete contractor in Ottawa is $18 – $25 per square foot.  However, this price may vary depending on the type of concrete project you have and the size of your project.
Some common concrete projects include:
Driveways

Sidewalks

Garage floors

Patios

Pools decks

Retaining walls

When hiring a concrete contractor, it's important to get quotes from multiple companies. This will help you compare prices and find the best deal. It's also a good idea to ask for references from each company you're considering. This will allow you to speak with previous clients and get an idea of their level of satisfaction.
The Best Concrete Contractors in Ottawa
Now that you know what to expect in terms of cost, it's time to find the best concrete contractor in Ottawa. Here are some of the top companies in the area:
1) JAMROCK The Concrete Company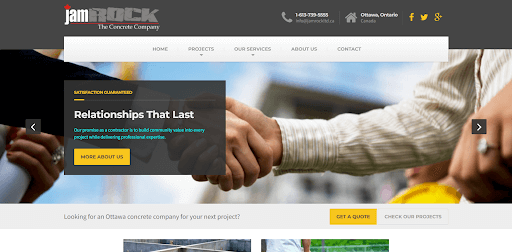 Jamrock Ltd. is a company that supplies Ottawa with concrete work using three generations of local and worldwide know-how. With these solid processes and their experience, they have proven to provide customers with an outcome that will withstand the test of time. 
Jamrock provides services for nearly any circumstance that has to do with concrete, foundations, and excavating, all in all providing an all-you-need package if you are building something new. And if you want to see what you can expect, they have a gallery on their website showing the numerous projects they have worked with. 
It's always been said that time is money, so save yourself both by working with Jamrock. They will get the job done right the first time so that you can move on to other things.
"Our place looks fabulous! Al (owner) is a cool guy and helped us design our front property project while respecting our budget and taste. Top quality stones used as well. We are so happy with the end result. The crew was quick and professional too! We definitely recommend this company to anyone. We'll be hiring JamRock to complete our backyard oasis in the future. Thanks! :)"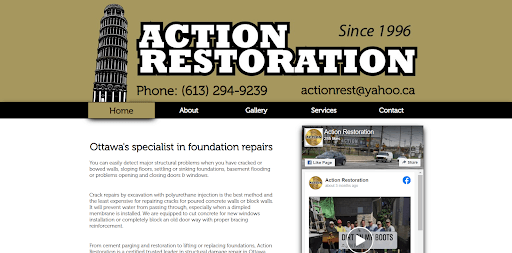 Action Restoration is a business that takes pride in being able to repair various parts of both commercial and residential buildings. Services that they provide include, but are not limited to foundation waterproofing, structural repair, concrete floor replacement, heritage masonry restoration, and chimney repair. 
The workers at Action Restoration are professional and licensed individuals who have had years of experience in the field. This guarantees that you will be getting a quality job done by individuals who know what they are doing. 
So if you find yourself in need of any type of building renovation, be sure to give Action Restoration a call. They will be more than happy to help you out.
"I received great service from Patrick and his crew. They definitely knowledgeable in their trade and do a very detailed, clean job. When I called many contractors did not want to come out as there was a beam close to the crack, but Action Restoration not only came out but also recommend fixes that not only made sense but now provide peace of mind. I highly recommend their services."
3) Coliseum Concrete & Interlock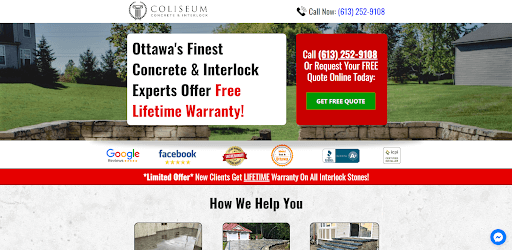 Coliseum Concrete & Interlock is a licensed and insured firm with a reputation for crafting top-quality concrete products. From resurfacing and ramps to pools and lifting, they bring an unmatched level of ingenuity to every project. 
With decades of experience in breaking and stamped concrete, their showroom is the perfect place to get a glimpse of the kind of work you can expect from this company. Whether you're looking for a functional solution or a stylish statement piece, Coliseum Concrete & Interlock is sure to exceed your expectations.
"We had an excellent experience with Jonathan and his team. They transformed our under deck area into a fully usable space. The team worked hard for the three days they were on-site. The workmanship was exactly what you would hope for a large job as ours (650 sq ft). The last day they multitasked and sealed the concrete while others were cleaning up and putting down all new soil. I am extremely happy with the end product and would recommend them to anyway."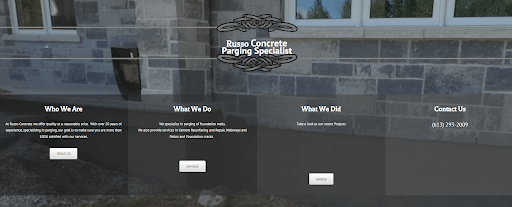 Russo Concrete has been a reliable provider of concrete parging and repair services in Ottawa for over 20 years. The company has built a strong reputation among other businesses in the area for their prompt and professional service. 
Their team of reliable professionals work diligently to provide customers with the best possible experience. Russo Concrete aims to build long-standing relationships with its customers and provide them with long-term benefits. 
With their years of experience and commitment to quality, Russo Concrete is the perfect choice for your concrete needs.
"We asked for an intervention to deal with a leaking terrace. They completed the job in a timely and professional fashion and dealt with all follow up questions without hesitation. Needless to say we were very pleased with the work and would recommend Russo concrete to anyone requiring this type of work. Thanks to the team at Russo Concrete!"
FAQs About Concrete Companies
Concrete is a popular material for both residential and commercial projects, and Ottawa has some of the best concrete companies in Ontario. By choosing one of these businesses to help you with your project, you can be sure that you're getting high-quality workmanship at a fair price. 
So if you're looking for someone who knows their stuff when it comes to concrete construction, look no further than the list above!