The best Indigenous-owned businesses in Ottawa are gems in the community!
If you're looking for businesses that are owned and operated by Indigenous peoples, Ottawa has a wealth of options. Here we've compiled a list of the six best indigenous-owned businesses in Ottawa – all of which offer unique products and services! Indigenous businesses are really diverse in their offerings. Whether you're looking for a lovely cafe, a charming book store, or even a farm, there's an Indigenous business in Ottawa for you!
We selected these Ottawa Indigenous businesses based on customer reviews, the different services and goods they offer, competitive prices, and the work they do for Indigenous communities!
Ottawa's home to many other wonderful businesses you can support. Head on over to the best Korean grocery stores and the best Chinese grocery stores in Ottawa!
Why Should You Support Indigenous Businesses in Ottawa?
Indigenous people have a long and rich history in this land. For centuries, they have been the stewards of this land and its resources. Today, they continue to play a vital role in the city's economy and culture.
There are many reasons why you should support Indigenous businesses in Ottawa. Here are just a few:
Indigenous businesses are an important part of the local economy.

They provide quality goods and services.

They create jobs and training opportunities for Indigenous people.

They help to preserve and promote Indigenous culture.

They are environmentally sustainable.

Supporting Indigenous businesses is a great way to show your support for the local community and to help the city continue to grow and thrive.
The Best Indigenous Owned Businesses in Ottawa
Now that you know why you should support Indigenous businesses, here are some of the best ones in Ottawa: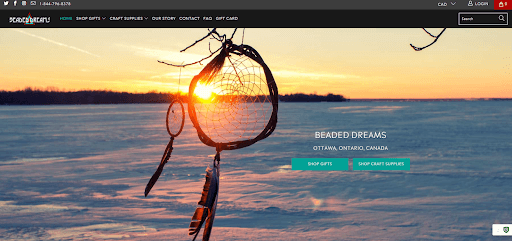 Beaded Dreams is a beautiful native arts and crafts store. You'll be blown away by the amazing selection of gifts, and arts and crafts that are available. The prices can not be beaten and shipping is fast too! 
They offer a wide variety of unique earrings, including pewter eagles earrings, long beaded ones, and Navajo stamped earrings. You can also find an impressive selection of totem energy stones featuring beaver, deer, fox, moose, owl, and coyote designs. 
And if you're looking for a cozy new shawl, they have plenty of beautiful fringed options to choose from. So whether you're searching for the perfect gift or something special for yourself, Beaded Dreams is sure to have what you're looking for. 
"As someone who is reconnecting with her heritage, this store is amazing! They have everything you could need to make your own jewelry, a great selection of books and beautifully crafted gifts. The staff is very friendly and eager to help you with whatever you need"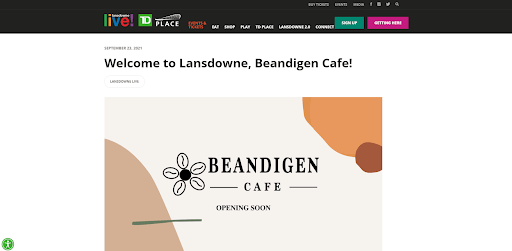 Looking for a unique and invigorating café experience? Look no further than Beandigen, where you can enjoy fabulous coffee and pastries while surrounded by the stunning artwork of indigenous artists. 
This one-of-a-kind café is not only a great place to relax and refuel, but also a great opportunity to support local talent. The inventory of Onzdarez clothing and goods by Paula Naponse offers a range of beautiful and stylish items created by indigenous artists, so you can take home a little piece of the Beandigen experience with you. 
Whether you're looking for a delicious coffee or a one-of-a-kind piece of art, Beandigen is the perfect place to find it.
"HIGHLY recommend visiting this beautiful Indigenous Cafe. delicious cafe/drinks to choose from, baked goods, beautiful indigenous crafts for sale, wonderful atmosphere and fantastic staff!"
3) Aboriginal Marketing Services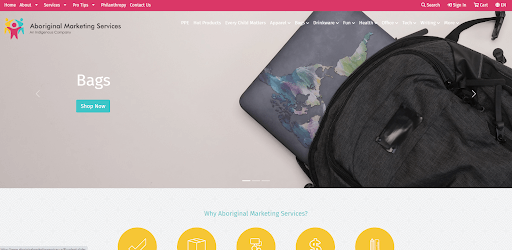 They are a full-service advertising specialty, outsourced purchasing and promotional marketing company offering Logo Merchandise items for your organization. They will help you promote yourself in creative ways that speak to the people who care about what project or cause it is promoting! 
With 400 global suppliers of high-quality goods from which they can choose whatever suits your needs best – there's nothing stopping them but success! From pens to cell phone accessories and caps, this store can create it all.  
"Best Marketing Services.Good Promotion Services.Quality Products Supplier."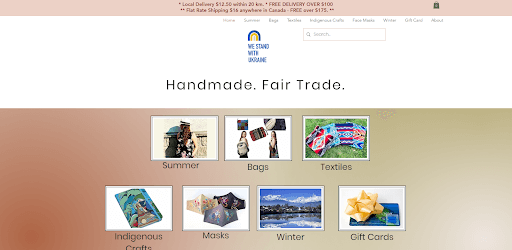 Quichua World Market is committed to providing a direct link between artisans crafting goods using traditional skills and people who value handmade products. They support crafters by buying their handmade items directly from them or other Canadian importers that have been certified as being fair trade, helping sustain these crafts people's small-scale business. 
They have a variety of indigenous crafts. Their selection of dream catchers is really beautiful. From pocket ones to big ones that you can hang on your wall, they have all colours, shapes and sizes. You can also buy Botanical Smudges, notebooks, keychains and candles. 
"What an incredible shop! High quality products and owners that go the extra mile for their customers. Thanks for the best mittens and slippers I have ever owned!"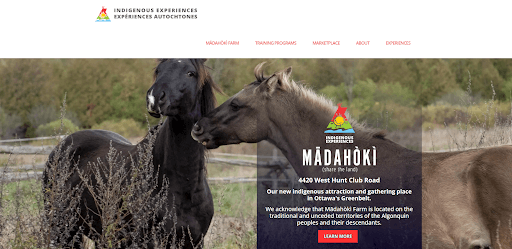 For over 25 years, they have been presenting indigenous culture and history to mainstream audiences in the form of invited performers. They are also coordinators for many festivals that celebrate this rich tradition including The National Native American Festival which takes place every summer on nearby treaty land! 
Not only does their organization provide educational programs about First Nations' arts & cultures across Canada, but they also acknowledge that Mādahòkì Farm is located on the traditional and unceded territories of the Algonquin peoples and their descendants. 
By doing so, they are able to foster a more holistic understanding of the past, present, and future of Canada's relationship with its First Nations population. As a result, their work is both culturally significant and highly impactful.
"The singers and dancers were really incredible! Great low key way to spend your time in Ottawa and take some time to learn more about Algonquin culture, food, art, and history. And the animals were all super cute and friendly!"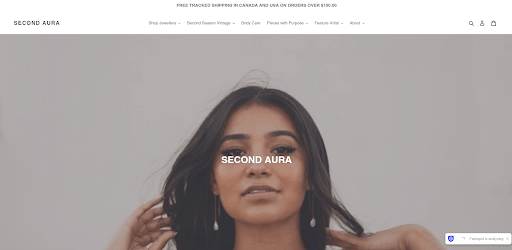 Second Aura is a hidden gem in Ottawa that everyone should know about. This boutique company offers beautiful, handcrafted Northwest Coast designs with an emphasis on the Algonquin people's history in Ottawa. 
What makes Second Aura even more special is that all their products are designed and created by mixed heritage individuals who hold sacred connections to both cultures. This creates a unique sense of care and dedication within each piece, making it truly one-of-a-kind. 
In addition, Second Aura is always looking for ways to give back to the community. They raise funds for multiple organizations dedicated toward preserving Indigenous rights around northern indigenous communities. 
So not only will you be getting a stunning piece of jewelry or art, but you'll also be supporting a good cause! Whether you're in the market for some new jewelry or just want to learn more about the Algonquin people's rich history, Second Aura is the perfect place to start.
"Courtney is super kind and helped me from the beginning.. designing my piece to make sure I received it and was happy... I've bought three pieces since for me and my sis<3 Love this brand !"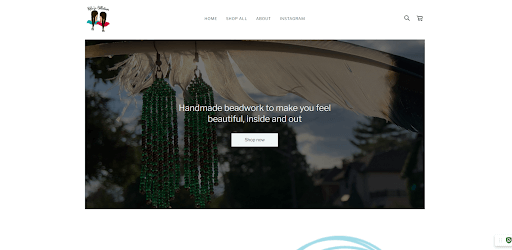 Kwe is an independent social enterprise run by a mother and daughter team who are passionate about honouring our Mi'kmaq culture, creating beautiful things, and making a difference in the community. 
They sell a huge selection of earrings from waterfalls to diamond-shaped or arrowheads. You will be able to find all your favourite colours from green and red to pastels and black. As an independent social enterprise, 15% of their monthly proceeds are donated back to Indigenous charities or organizations. 
They stand on unceded Algonquin territory and are committed to giving back to the community that they are a part of. If you're looking for beautiful, handcrafted earrings that also give back to the community, be sure to check out Kwe!
"Beautiful earrings! I am really happy with my order."
8) Barely Bruised Books New&Used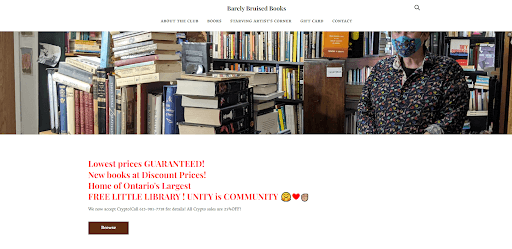 Looking for a great place to find your next read? Look no further than Barely Bruised Books! This cozy spot is perfect for anyone who loves books, with both new and used options available. 
You can find novels, short story collections, and even mysteries and suspense stories here, so there's something for everyone. Plus, they have large French and Esoterica sections, as well as free kids' books for the younger members of the community.
And if you're looking to sell, buy, or trade books, their easy-to-understand program makes it a breeze. So next time you're in the market for a great book, be sure to stop by Barely Bruised Books!
"The guys here are super helpful and cool. So many books of all genres, you could spend the whole day there! The guys know their store well, and are really knowledgeable about what's in stock. I love this place - such a gem in Sandy Hill."
FAQs About Indigenous-Owned Businesses
There's no doubt that Indigenous businesses play a vital role in the economy, both nationally and internationally. Thanks to their entrepreneurial spirit and innovative thinking, these businesses are leading the way in terms of innovation and industry-leading practices. If you're looking for some excellent examples of Indigenous entrepreneurship in Ottawa, be sure to check out the best Indigenous businesses in the city!