The best graphic designers in Ottawa will take your business to the next level!
Today, you can't underestimate the importance of a well-designed website, business card, or ad. A graphic designer can tailor your brand's reputation and give it a professional image. In Ottawa, there are many graphic designers and firms, but your business deserves the very best. These Ottawa graphic designers will create designs that attract the customers you want and boost business! 
We selected these Ottawa graphic designers based on customer reviews, their years of experience, and the quality of their designs. So you can trust these design pros to deliver on any project!
Running a business today is all about your internet process. Make sure you're connected to the net with the best internet service providers and the best photographers in Ottawa!
How Much Does It Cost To Hire A Graphic Designer in Ottawa?
Generally, you can expect to pay anywhere from $50-$200+ per hour for basic design work. More complex projects, such as brand identity or packaging design, can cost upwards of $1,000+.
The price you pay for a graphic designer will also depend on their experience level. A junior designer just starting out in the industry will likely charge less per hour than a senior-level designer with years of experience.
Some agencies or design studios may have a minimum project fee, so be sure to ask about that before you commit to working with anyone. Also, keep in mind that many designers work on a retainer basis, which means you'll pay them a set amount each month regardless of how many hours they work. 
This can be a great option if you need ongoing design work but don't want to be tied to an hourly rate.
The Best Graphic Designers in Ottawa
Now that you know how much it costs to hire a graphic designer in Ottawa, let's take a look at some of the best designers in the city.
1) NINESIXTEEN CREATIVE INC.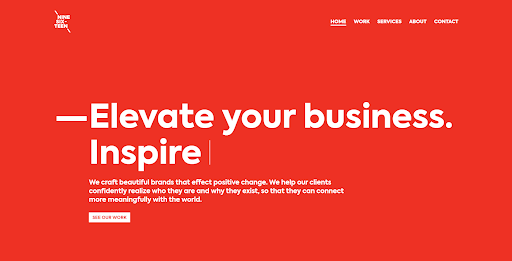 The NineSixteen is a boutique design firm located in Ottawa. Their mission is to help businesses and brands create work that impacts people's lives for the better by inspiring audiences with their designs. Their flexible approach means they can tailor projects individually and can fit what you want. 
For example, they can help you with your brand identity design, naming and taglines, print and web copywriting. Then they will work on brand strategy and can also create a map to help you figure out where you want your business to go — and exactly how to get it there.
In other words, if you need some creative help to take your business to the next level, the NineSixteen should be your go-to firm.
"I have worked with NINESIXTEEN in a professional capacity and they have been great. Ilesh and Danielle are hard workers and produce a polished and professional product. During the editing phase, they are great at responding in a timely manner and are extremely patient with the back-and-forth that often occurs."
2) Xactly Design & Advertising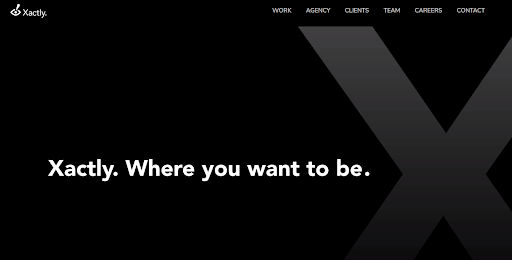 Xactly Design & Advertising knows that a sharp strategy, creative storytelling and captivating graphic design are the keys to success. They have been helping businesses since 2002 with these expert tips and they are currently offering free advice during these difficult times. 
Xactly has worked with some of the biggest names in business and they use their experience to help brands connect with people through their message. If you want your brand to be successful, you need to contact Xactly Design & Advertising!
"I had a great experience designing my new website with the team at Xactly. They were professional and patient with me throughout the whole process and were able to navigate any questions I had or any issues that came up."
3) JoyGrafika Design Studio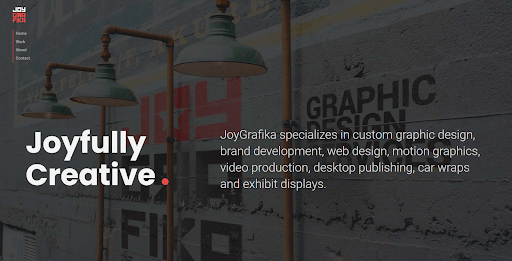 JoyGrafika is a full-service graphic design studio that can customize everything from business cards to website graphics. They have been the go-to for many company's website design, hosting and other electronic presence work. 
Their team is responsive to any request that you might have. They always provide excellent service at an attractive fee with great turnaround time on projects as well! The end result will always exceed your expectations! 
If you need help with your business's branding or marketing, be sure to contact JoyGrafika. You won't be disappointed!
"I have contracted JoyGrafika for a number of design, campaign, website development, and video production projects. They have always been excellent at quickly getting an understanding of the project and what is needed and turning that into a quality product on time and on budget. "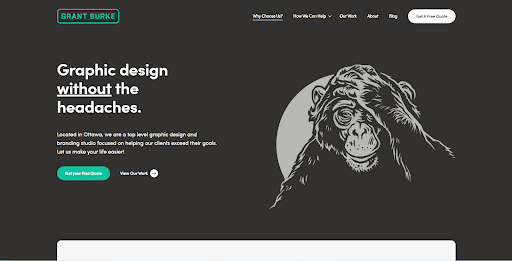 Grant Burke Design is one of the top Graphic Design and Branding studios in Ottawa. They have a team of amazing designers with years of experience. They will help you focus your ideas into a clear vision. They are very knowledgeable and will help you avoid any potential pitfalls while also highlighting the benefits of certain aspects of the logo.
Grant Burke Design will create a beautiful logo for your business and their communication throughout the process is always top notch. They are always responsive or getting back immediately on any questions that come up along the way.
 If you're looking for a top-notch design studio, look no further than Grant Burke Design! 
grantburke.com
+16134244200
1455 Youville Dr Unit 203, Orléans, ON K1C 6Z7, Canada
"Grant was fantastic from start to finish. In fact, we still work with him whenever we need changes to our branding or website. Grant designed our logo, business cards, email signature and website. At the time we were very much a start-up business and Grant worked within our budget while delivering big firm results. We would recommend Grant without question."
FAQs About Graphic Designers
A good website or logo can be the difference between a thriving business and a struggling one. Make sure your customers can reach you through your wonderful new website. With the help of Ottawa's best graphic designers, you can visually communicate with your customers!
So if you want to attract customers through great design, you have to call the best graphic designers in Ottawa!