The best photographers in Ottawa can capture any moment!
Hiring a photographer isn't just for milestone occasions like weddings and graduations. Professional photographers are a great option for family portraits or for business or commercial purposes. Whatever the event or reason, you want a pro behind the camera, someone who can take the perfect shot of their subject!
There are many Ottawa photographers who can take on any project, but these are the best. We selected these photographers based on customer reviews, experience, reputation, different photography styles, and their skills as a photographer.
If you're going to be on camera, you're going to want to look your absolute best! Book an appointment with the best makeup artists in Ottawa and the best facial salons in the city!
What's the Average cost of Hiring a Photographer in Ottawa?
On average,  hiring a professional photographer can range anywhere from $75 to $500 for a single session. 
Some factors that will affect your rate include:
The number of hours you book them for 

The number of people in your party 

What kind of photo shoot it is (ie. headshots, family portraits, engagement photos, etc) 

It's important to find a photographer that fits both your budget and your needs. Thankfully, there are a few things you can keep in mind to help you find the right photographer at the right price. First, take a look at their portfolio to get an idea of their style and skill level. 
Then, check out their rates and see if they offer discounts for certain occasions. Finally, don't be afraid to negotiate – after all, the worst they can say is no! By following these simple tips, you're sure to find a great photographer that fits both your budget and your needs.
The Best Photographers in Ottawa
Now that you know what to look for and how much you should expect to pay, it's time to start your search for the best photographers in Ottawa!
1) Alan Dean Photography Ottawa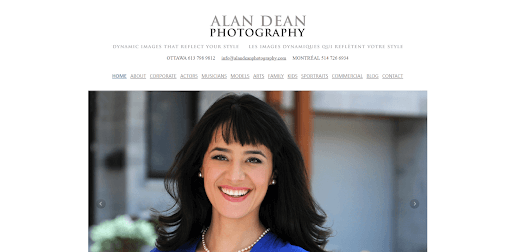 Alan Dean is a photographer who specializes in headshot photography. He has a portrait studio and company that offers Business portraits, corporate photography, government portraits, actor's headshots, musician's promo, family and children's portraits, modeling portfolios, fashion, commercial and editorial photography.
That's not all, he has a team of professionals who do make-up and other setups required to take the best photo imaginable. Alan Dean is clever and his work reflects that. When you book him for a session, you can be sure that you will get the best possible photos. 
Whether you are looking for business portraits or family photos, Alan Dean is the photographer for you.
"Alan is a kind and most generous person I have come across in Ottawa. He agreed to move the shoot timings to suit my availability. I did not have an extra jacket with me for the shoot, but Alan and Anne-Marie helped by giving me a couple of spare shirts and blazers that they had in the studio. Alan is extremely professional and played some beautiful music with his guitar which is his hobby. His photographs speak for themselves as they were excellent and I literally have no complaints. He is indeed the best Photographer in town. Thank you Alan and Anne-Marie for a special photo shoot memory."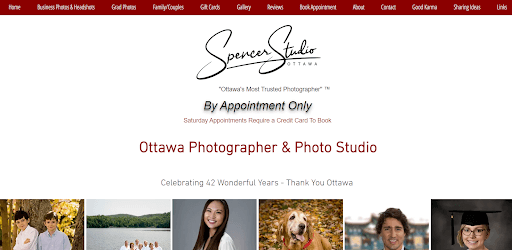 Spencer Studio is a one-of-a-kind photography studio run by the talented Robin Spencer. Robin is a professional photographer with years of experience shooting in a wide range of environments, from his native Canada to various locations around the world. This gives him the skills and expertise needed to get the perfect shot no matter what the setting.
Whether you're looking for graduation photos or just want some amazing pictures to hang on your wall, Spencer Studio is the place to go. Robin's unique ability to bring out the beauty in any background will leave you speechless. 
Don't miss out on this incredible talent – book your appointment today!
"I highly recommend Spencer Studio! I had my graduation photos done by Robin and I am SO happy with how they turned out! Robin was incredibly friendly and so very talented. I also appreciate the very quick turnaround time and the various packages offered. All around, it was a great experience. Thanks so much, Robin!"
3) Stephanie Beach Photography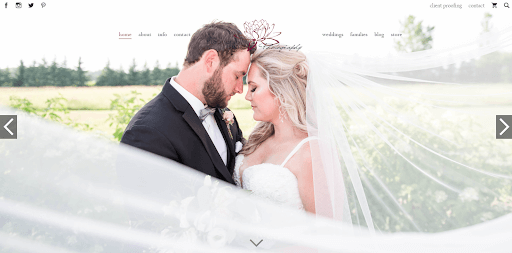 Stephanie and Dave are an award-winning husband-and-wife duo running a premium photo studio. They specialize in wedding and newborn photography, but their unique perspective is what sets them apart from other photographers. 
Stephanie and Dave have an unwavering dedication to minimalism, increasing the impact of everything caught in the photo and making it even more memorable and special when caught in the camera's lens. 
This careful attention to detail has made them one of the most sought-after photography teams in the country. And as they continue to push the boundaries of what is possible with a camera, there is no doubt that Stephanie and Dave will only become more popular in the years to come.
"Stephanie and Dave captured our intimate backyard wedding (September 2021) and we are so impressed and happy with the photos. They are so fun and professional at the same time and helped us feel more at ease in posing. They captured every special moment of our wedding and some great family pictures with our young children as well. They took the time to make sure everything was captured and were so fun to work with. They even captured some spontaneous moments of the kids and our dog. I would recommend them to everybody!!!! Thank you both again for making our special day so memorable."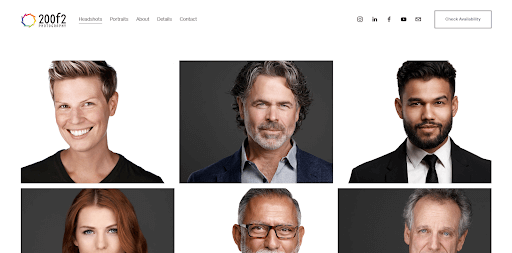 Robert de Wit is an Ottawa-based headshot and portrait photographer who has built a reputation for himself as being one of the best in the business. His firm, 200f2 Photography, is a premium photography studio that provides premium portraits for a variety of purposes.
If you're looking to get a headshot from Mr. de Wit, all you need to do is make arrangements beforehand on an available date – which can be checked on their studio's website. He uses high-end equipment that will satisfy the needs of even the most discerning customers who come through his doors. 
So if you're in the market for a headshot or portrait that's of the highest quality, be sure to contact Robert de Wit!
"Robert was awesome to work with. I went in with no experience getting professional headshots done, but he guided me through the whole process so patiently and made it a very enjoyable experience. His work is the best I've seen in Ottawa and now I know why; he's a total pro. I feel lucky to have worked with him and highly recommend him if you're in need of headshots. He's also very responsive and quick to fit you into his schedule if you're in need of a quick turnaround. Thanks, Robert! Hope to work with you again soon."
Professional photographers can take a simple idea and turn it into a beautiful photo. These Ottawa photographers all offer different types of photography, so there's a photographer for any occasion. Consider hiring a photographer if you want to memorialize a special day or take high-quality pictures for your business.
If you're in the city looking for a highly-skilled photographer, you have to hire any of the best photographers in Ottawa!