The best dental clinics in Ottawa will make your pearly whites even pearlier!
Going to the dentist doesn't have to be a scary ordeal. Ottawa is home to many more than qualified dentists who can help you with all your teeth problems and questions. There are many dental clinics in the city, but we managed to find the very best. Whether you have a cavity, want a whitening, or simply are due for a checkup, these Ottawa dentists have got you covered! 
We selected these Ottawa dental clinics based on patient reviews, the different services they provide, their team of knowledgeable dentists, and the cutting-edge technology in their offices. Whatever dental services you need, you can trust the best dental clinics in Ottawa to take care of you!
For more dental services in Ottawa, be sure to visit the best dental implants and the best teeth whitening services in Ottawa!
What's the Average Cost of a Dental Check-Up in Ottawa?
An adult exam (full permanent dentition) will cost $157. An adolescent exam (mixed dentition) will cost $112, while a child's exam (primary dentition) only costs $79. 
These are the average costs for a dental check-up in Ottawa. However, the actual cost may vary depending on the specific dentist and clinic you visit.
To get an idea of how much a dental check-up would cost in your city, it's best to contact a few local dentists and ask for their rates. 
The Best Dental Clinics in Ottawa
Now that you know how much a dental visit will cost in Ottawa, it's time to find the best clinic for you and your family.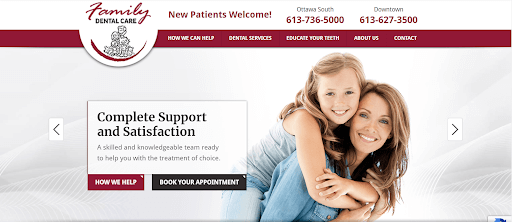 At Family Dental Care, they believe that your natural and healthy teeth are a priority. That's why theyplace a strong emphasis on preventative therapy, performing routine care and patient education to protect the health of your teeth for as long as possible. 
Their team of dedicated dentists and hygienists are the best in their field, especially when it comes to emergencies and sharp pain reduction. They offer comprehensive care for patients of all ages, including gum therapy, tooth extractions, wisdom teeth removal, invisalign and many other services. When it comes to dental care, you can trust the experts at Family Dental Care.
"Honestly the most comforting & friendly dentist team I've had the pleasure of meeting. They are always so thoughtful & concerned about how you're feeling! I always go at the same day/time & I look forward to it."
2) The Downtown Dental Clinic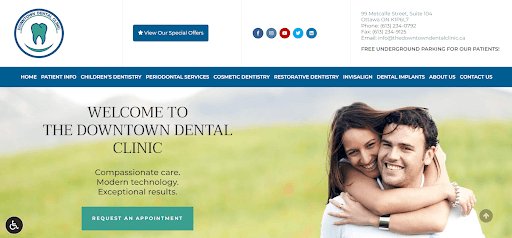 At Downtown Dental Clinic, they offer a wide range of dental services for both adults and children. Their new state-of-the-art facility is now equipped with a kids room where you can bring your little one to get high-quality treatment that is fun and caring! 
They specialize in laser dentistry, cosmetic dentistry including veneers and periodontal surgery and implantology. Their doctors are quick and attentive to details and will make sure that your teeth are in the best shape. 
Their quality dental care, paired with the latest advancements in dental technology, ensure that the patient care is ahead of the curve. Come see us today and experience the Downtown Dental difference!
"This is an awesome clinic. Dentists are highly professional, kind and humble. I had treatment, extraction, surgery and crown. I am totally satisfied and recommend this clinic."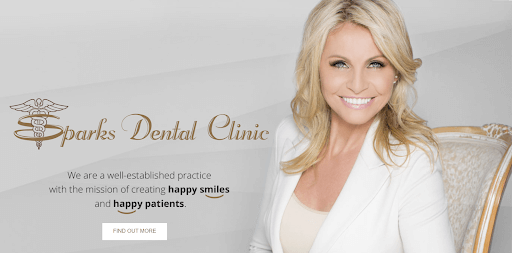 When Dr. Smith opened her dental clinic in Ottawa over 20 years ago, she had one goal in mind: to provide quality care and services to everyone who walked through her doors, regardless of their circumstances. 
To that end, she and her team have always been focused on patient comfort and convenience, as well as keeping their prices affordable. This commitment to accessibility and excellence has made Sparks Dental a go-to destination for all kinds of dental needs, from cosmetic procedures to general dentistry and oral surgery. 
No matter what your dental needs may be, you can rest assured that the team at Sparks Dental will be able to help you achieve the healthy, beautiful smile you deserve.
"I've been going to Dr. B and Sparks Dental Clinic for almost twenty years. Dr. B and her team are amazing!... always so professional, kind and clearly care about their patients. While they are always thorough, I've never felt pushed into anything I didn't need or want. They truly have what's best for me in mind, always."
4) Pretoria Bridge Dental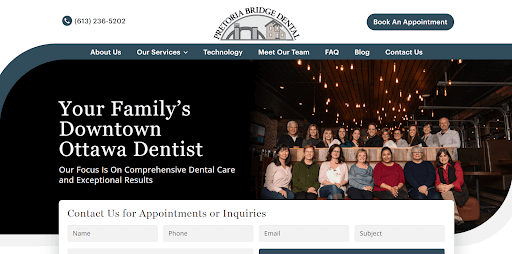 At Pretoria Bridge Dental, the doctors truly care about their patients. They want to provide a warm and welcoming environment where you can address any dental concern or goal without feeling uncomfortable. They are dedicated to treating everyone equally, no matter what gender, age or beliefs the person is. 
They use modern technology in order for optimal oral health opportunities. The clinic is very family oriented and has children's play zones and a television. Their doctors have a depth of training for advanced dental care and you can count on their experience, accuracy and proper diagnosis. 
You'll be in good hands at Pretoria Bridge Dental!
"The best dental clinic that I know of. Dr. Hoeschen gave me 8 veneers and they look fantastic! I am always receiving compliments about them and I no longer try to hide my smile. The procedure was done very professionally and I was comfortable the entire time over multiple appointments. He and Aline are an amazing team that will deliver exceptional care."
5) Albert Street Dentistry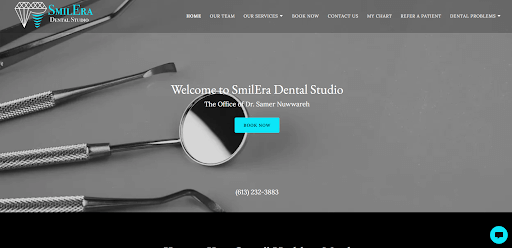 If you're looking for an amazing dental experience, look no further than Albert Street Dentistry. The doctors are incredibly welcoming and understanding, which is especially important if you have dental anxiety. 
They'll take the time to explain procedures and be honest about any potential risks or complications involved in treatment. Plus, they work quickly and efficiently – which is key if you have painful conditions like cavities that need to be filled or teeth that need to be removed. 
To help you relax, they'll let you listen to your own music and answer any questions you have. So don't hesitate – book an appointment at Albert Street Dentistry today!
"Dr. Samer is amazing! I was very avoidant of dentistry before meeting the team at Albert St Dentistry. I have had initial exams, cavities filled, cleanings and 2 wisdom teeth extractions completed here with 0 complications, and they have been exceptionally accommodating. My wisdom teeth were taken yesterday and today I have no pain, no swelling, no bleeding. Excellent job!"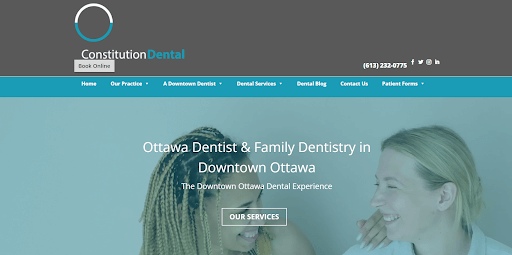 At Constitution Dental, they have a team that believes in providing you with the best services, whether it is routine check-ups or restorative procedures. You can expect nothing less than professionalism from their dentists who will go above and beyond your expectations. 
The latest technology is available for their patients such as digital imaging and x-rays or integration of biolase lasers in general dentistry treatment. Their years of experience and expertise ensure that you will receive the highest quality of care possible. 
They are committed to excellence and to providing you with the best possible dental experience.
"Clean, comfy and modern office. Extremely accommodating and convenient downtown location. I go for clean teeth, but keep coming back for the employees - Holly is a great hygienist who always goes the extra mile to ensure I understand the process and am confident with my smile."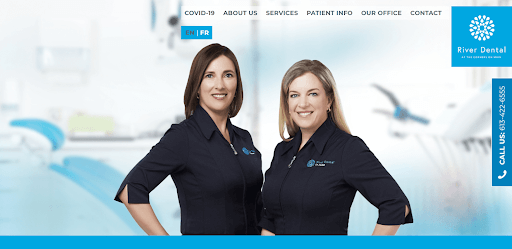 River Dental is a bilingual clinic that has been providing high quality dental care to patients for over 20 years. They offer a variety of services, including restorative dentistry, cosmetic dentistry, early orthodontics, and family dentistry. They pride themselves on making dental care accessible to all patients and providing a comfortable experience. 
During appointments, they will answer any questions you have and provide you with the information you need to make an informed decision about your dental care. They also offer email support so that you can get answers to your questions at any time. 
Whether you are looking for a new dentist for yourself or your family, River Dental is an excellent choice.
"The best experience ever in Ottawa! The staff are professional and super nice! They even offer me amazing gifts after the teeth cleaning. I would definitely visit there again!"
8) Kent Street Dental Centre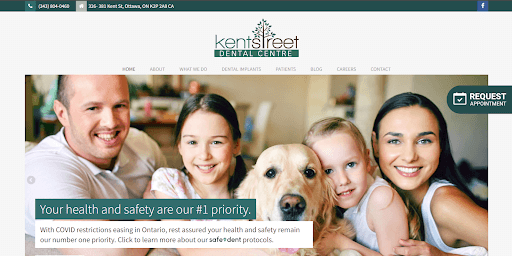 When it comes to finding a dental team that you can trust, Kent Street Dental Centre should be at the top of your list. With over 20 years of experience, they know how to put their patients first and make sure that their needs are always met. 
They specialize in services like orthodontics, general dentistry, and hygiene, so you can rest assured that your smile will be in good hands. But it's not just their experience that makes them stand out – it's also their compassion and care. 
They understand that many people are scared of the dentist, and they go above and beyond to make sure that everyone feels comfortable and safe in their care. So if you're looking for a dental team that you can trust, look no further than Kent Street Dental Centre.
"Great dental experience! Dr Hacking and Dr Yassine are top notch dentists who provide excellent care with no pain! They work in tandem so if one of them is absent, the other simply takes over. The office staff are highly efficient and welcoming! Bravo!"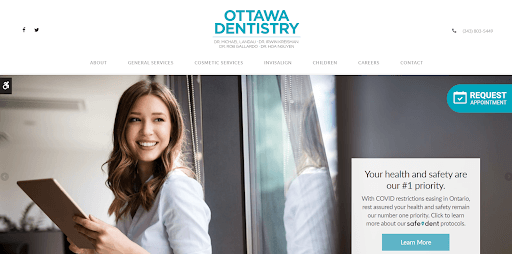 At Ottawa Dentistry, they provide more than just top-notch dental care. They offer a complete experience that will leave you feeling refreshed and rejuvenated. From the moment you step into our office, you'll be greeted by their friendly staff. 
They'll take the time to get to know you and your unique needs. Then, they'll provide you with a customized treatment that exceeds your expectations. Whether you're coming in for a simple cleaning or an advanced cosmetic procedure, they promise to deliver exceptional care. 
With the latest technology and a commitment to excellence, they're proud to be your go-to dental office in Ottawa!
"Dr. Landau has been my dentist for 21 years and also my daughters. He is a totally professional, excellent dentist and I recommend him highly. His team from the front reception, to the hygienist to his support staff are equally welcoming, thorough and a pleasure to take care of all my dental needs."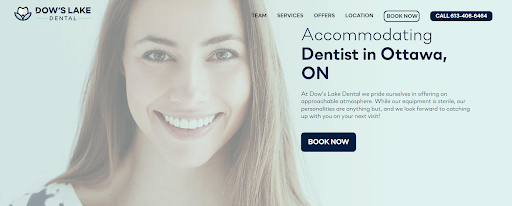 At Dow's Lake Dental, they offer a wide range of services to meet your needs. Whether you're looking for teeth whitening, crowns and bridges, or extractions, they can help. They're also happy to offer the latest in dental techniques and technology, including sedation, to ensure that your visit is pleasant and efficient. 
Plus, they offer text message appointment reminders, Arabic interpretations for patients who speak the language, and French or Dutch translations on request. So if you're looking for an English-speaking dentist with efficient service and welcoming walk-ins, look no further than Dow's Lake Dental. 
They'll be glad to help you with all of your dental needs. Thanks for choosing us!
"I had a great experience here and can say I have now found my new Ottawa dental team! Very friendly staff and Dr. E has a great approach to her practice which ensures you are informed and comfortable. Highly recommended!"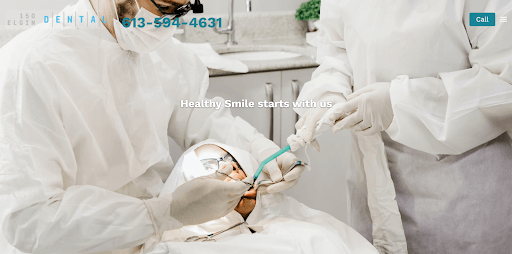 At 150 Elgin Dental, they understand that going to the dentist can be a daunting experience for some. That's why their team goes above and beyond to ensure that every patient feels comfortable and relaxed during their visit. 
With over 35 years of experience in the industry, they know exactly how to put their patients at ease. From the moment you walk through their doors, you'll be greeted by their friendly faces and welcoming demeanours. 
Their goal is to make you feel like family, and they'll do everything in their power to make sure you have a positive experience. Whether you need restorative work done or are simply coming in for a routine cleaning, you can trust that you're in good hands at 150 Elgin Dental.
"It's an amazing place - the dentists and hygienists are extremely friendly and patient with any questions that I have. The front desk staff were also warm and welcoming. It shows how much they like working at the clinic and care about their patients."
12) Gilmour Dental Centre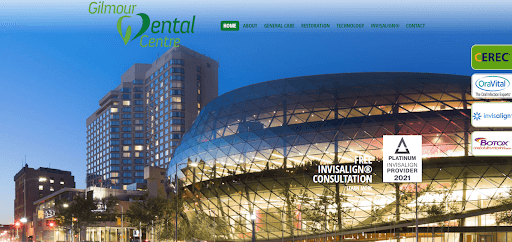 Gilmour Dental has been providing quality care for the last 35 years. With expert dentists like Dr. Paul and Dr. Adriana your health will be well taken care of. 
They are equipped with the latest technology like an intraoral camera with which they can see every aspect of your teeth and mouth with incredible detail, uncovering cracked teeth, plaque deposits, cavities next to fillings, and excessive wear. 
Thanks to that, they can discover oral problems early on, so your treatment is much less invasive and much more cost-effective. Gilmour Dental is the best place to go for your dental needs!
"Very professional and incredibly skilled Dr and team. I completed an invisalign treatment here and I am so pleased with the results. It went faster than originally planned and every appointment I had with Dr Amzar and her assistants was enjoyable. The team kept me well informed throughout and provided an incredible level of care. "
13) Bonavista Dental Centre

At Bonavista Dental Centre, their goal is to provide you with a comfortable experience. Whether it be for your teeth cleaning or dental check-up, they are committed and passionate about what they do! Preserving their patients' natural teeth, jawbone and gum tissue's structures creates sustainable results that can last a lifetime! 
At your first appointment, they will listen to your concerns and conduct a thorough comprehensive dental examination. Then they will proceed with an explanation of all options available for treatment before any procedures begin so there are no surprises later down the line! 
Their team is gentle, caring and always looking out for what's best for you long-term! Visit Bonavista Dental Centre for peace of mind and healthy teeth for years to come.
"Now twenty years a client at this dental office and always a 5-Star experience from the entire team at BONAVISTA Dental Centre, I couldn't be more pleased with their work! Led by Dr. Andreea Birsila, the TEAM is professional, friendly and always welcoming--they go out of their way to ensure your experience personally is to your complete satisfaction and that you leave with a bigger Smile on your face than when you came in. THANKS!"
14) Confident Smiles Dental Hygiene and Teeth Whitening Boutique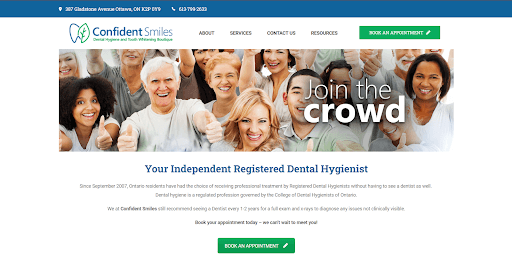 At Confident Smiles, they specialize in dental hygiene, preventive services and tooth whitening. They have switched to as many autoclavable (sterilisable) items as possible to reduce our waste and footprint on the environment. 
The atmosphere in the office is calm and relaxing because they use aromatherapy with different essential oils to make it feel cozy. They offer 1.5 hours in-office tooth whitening with the "Wicked White" system.  The Wicked White system uses 3 x 15-minute treatments of two different types of whitening agent gels depending on the sensitivity of your teeth. 
Their mission is to provide the highest quality dental care possible while maintaining a sustainable and eco-friendly practice.
"I had a wonderful experience at Confident Smiles and Shannon made me feel so comfortable and at ease with the whitening. She's very caring, kind and easy to talk to with any questions I have. She made the experience easy, positive and enjoyable. I am happy that my teeth are looking whiter, it does make one look younger. Thanks again Shannon, you're awesome! Caroline"
15) Dentistry On Catherine Street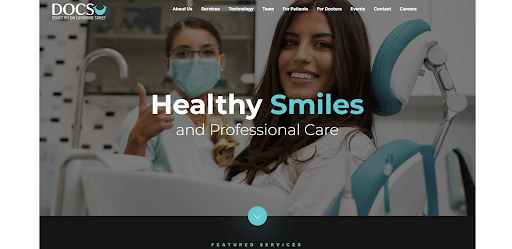 Dentistry On Catherine Street is a state-of-the-art dental facility that offers comprehensive services to treat a variety of conditions. The highly experienced and skilled team of doctors provides personalized treatment plans that are tailored to each patient's individual needs. 
Whether you are suffering from periodontal disease, receding gums, missing teeth, or bone loss, DOCS has the latest equipment and technology to provide the best possible care. In addition, the relaxing and comfortable atmosphere allows patients to receive the dental care they need without feeling anxious or stressed. 
If you are searching for a dental facility that can provide quality care and exceptional service, look no further than Dentistry On Catherine Street.
"No-one truly enjoys having periodontal work being done. But if you do need it done, I highly recommend the Gum Docs. Preoperative screening and check-in were comprehensive and smooth and things just went smoothly from there. You know what is going to happen when you get there and you know what will be happening when you leave. No surprises; I like that."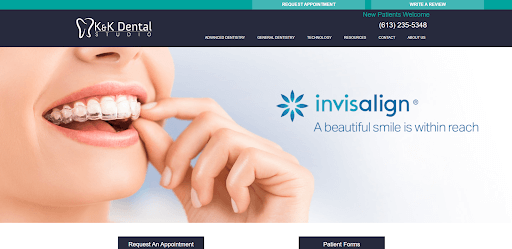 Drs. Konstantin Pliev and Karine Plieva care about your smile because they understand that it is an important part of who you are. They want to make sure that your teeth, skin, and overall health are all functioning properly so that you can feel confident when smiling. 
They know that dental care can be expensive, so they offer "payment flexibility" to give families an opportunity to get professional care with convenient payment options. The Plievs specialize in oral surgery, orthodontics, smile makeovers, and cosmetic dentistry. 
So whether you're looking for a children's dentist or someone to help you achieve your dream smile, they are here to help you.
"Amazing and super friendly service! Dr. Pliev is the best dentist I have ever had. Would definitely recommend this dental office to family and friends."
17) Braceology Orthodontics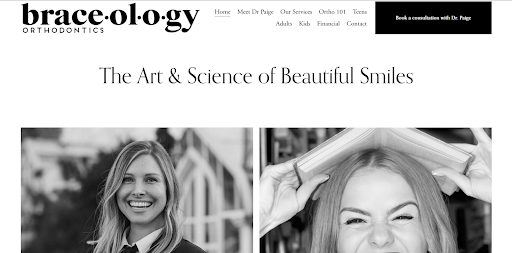 Dr Paige and her team at Braceology have been helping patients achieve beautiful, healthy smiles for over 20 years. As an Ottawa dentist, they're passionate about your dental health as well as the smile on that beautiful face of yours! 
She's board certified in Orthopedic Dentistry and can help you achieve beautifully aligned pearly whites. They are offering specialized orthodontic care, including Invisalign® as well as traditional braces – your child can enjoy a beautifully aligned smile and a healthy bite. 
Book an appointment today and let them give you something to smile about!
"Dr Paige and her team are great with kids and have an enthusiasm for what they do. Both of my kids (9&14) were treated at Braceology and had success with Invisalign. I would highly recommend"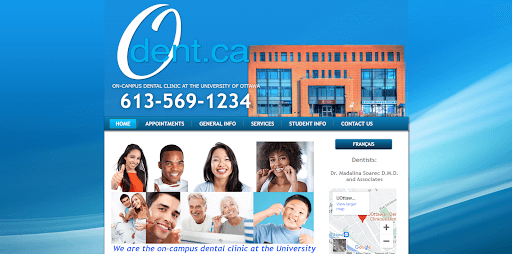 The University of Ottawa's on-campus dental clinic is a great place to go for all your dental needs. The staff are very friendly and welcoming, and they offer a wide range of services. Whether you need a filling, an implant, or just a general examination, they will be able to help you. 
They also offer emergency services, so if you have a dental emergency, you know that you can count on them. And if you're looking to get your teeth whitened, they can help with that too. 
So if you're in need of a good dental clinic, be sure to check out the University of Ottawa's on-campus dental clinic. You won't be disappointed!
info@odent.ca
+16135691234
100 Marie-Curie Private #204, Ottawa, ON K1N 1A2, Canada
"Everyone I met at this office was friendly and patient with me. Dentist was very personable and answered all my questions and concerns. Had my tooth fixed quickly and painlessly. Great experience, definitely left with a smile."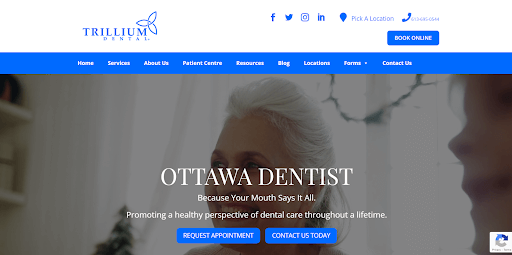 At Trillium Dental, they are committed to providing you with the exceptional service and quality care your teeth deserve. They know that going to the dentist can be a daunting experience for some, which is why their professional staff go above and beyond to make sure every aspect of your visit is top-notch – from check-ups on reception to cleanings. 
Their dental team provides patients with a full array of services including general and preventive dentistry, cosmetic dentistry, sedation dentistry, restorative dentistry, as well as neuromuscular and periodontal care. 
Trillium Dental is equipped with modern technology that has been specially designed for patients like yourself, so they can help you reach all of your oral health goals in just one visit! Schedule an appointment today to see why they're considered one of the best dental practices around.
"Dr. Nagra at Trillium Dental is wonderful! I really appreciate how informative and effective she is. She tells you exactly what is going on in your mouth in easy to understand terms. The front desk staff are also extremely kind. Perfect dental clinic."
20) Floss Dental Collective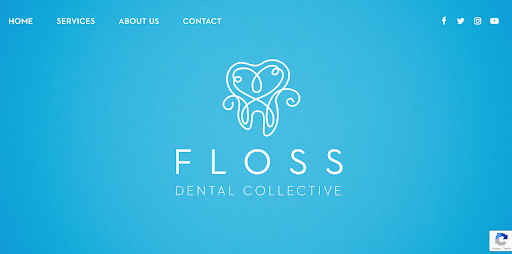 At Floss Dental Collective, their number one priority is giving you a smile that you're confident in–but that's not all. They also want to ensure that you feel welcomed by their team of dedicated professionals every time you come in for service. 
From checkups to emergency dental procedures, you can rest assured that you're in good hands with Floss Dental Collective. They also specialize in custom prosthetic teeth that are both beautiful and functional. 
No matter what your age, Floss Dental Collective can help you get the smile you've always wanted. So why wait? Schedule an appointment today!
"I have been going to Capital Dental Hygiene for two years and I fully recommend them. The venue is clean and conveniently located in downtown Ottawa. My hygienist Freya is friendly, professional, and very accommodating of my busy schedule. I alway leave feeling great after an appointment with a fresh smile and clean chompers."
FAQs About Dental Clinics
Don't let anything stop you from getting the dental care you need! The dentists in Ottawa are some of the best in the country. They have many happy, satisfied patients and you can be the next. You can trust the best dental clinics in Ottawa to help you with any and all of your dental needs!
So if it's time for your checkup or you need more specialized care, then don't hesitate to visit the best dental clinics in Ottawa!