The best teething whitening services in Ottawa can give you a winning smile!
Your smile is one of the best parts about you. But if they're an off-white colour you might feel a bit embarrassed. So if you're a little self conscious about your smile or just want them a little brighter, visit the best teeth whitening services. Professional teeth whitening is a simple, effective and almost painless method. In Ottawa, there are many teeth whitening experts who can help you get a stunning smile!
We selected these teeth whitening providers based on customer reviews, welcoming atmosphere, professional dentists, and effective results from their teeth whitening treatments.
For more beauty services in the city, visit the best laser hair removal and the best plastic surgery clinics in Ottawa!
What's the Average Cost of Teeth Whitening Services in Ottawa?
The average cost of teeth whitening services in Ottawa is $200 to $1000. Most dental clinics offer a free consultation to discuss the best treatment option for you.
Some factors that affect the price of teeth whitening services include the type of treatment, the severity of stains, and the number of sessions required.
The different types of teeth whitening services offered by dental clinics in Ottawa are:
In-Office Teeth Whitening
In-office teeth whitening is the quickest way to achieve dramatic results. The dentist will apply a bleaching agent to your teeth and use a special light or laser to activate it. This type of treatment usually takes one to two hours and the results are immediate.
The average cost of in-office teeth whitening in Ottawa is $650.
At-Home Teeth Whitening
At-home teeth whitening is a more affordable option that you can do in the comfort of your own home. The dentist will take an impression of your teeth and create a custom-fit tray. You will then be given a bleaching agent to use at home.
At-home teeth whitening usually takes two to four weeks to see results. The average cost of at-home teeth whitening in Ottawa is $200.
Laser Teeth Whitening
Laser teeth whitening is a popular teeth whitening treatment that uses a laser to activate the bleaching agent. This type of treatment usually takes one hour.
The average cost of laser teeth whitening in Ottawa is $1000.
The type of teeth whitening service that's right for you will depend on the severity of your stains and your budget.
The Best Teeth Whitening Services in Ottawa
Now that you know a little more about teeth whitening, it's time to find the best provider in Ottawa! Here are our top four picks for the best teeth whitening services in the city.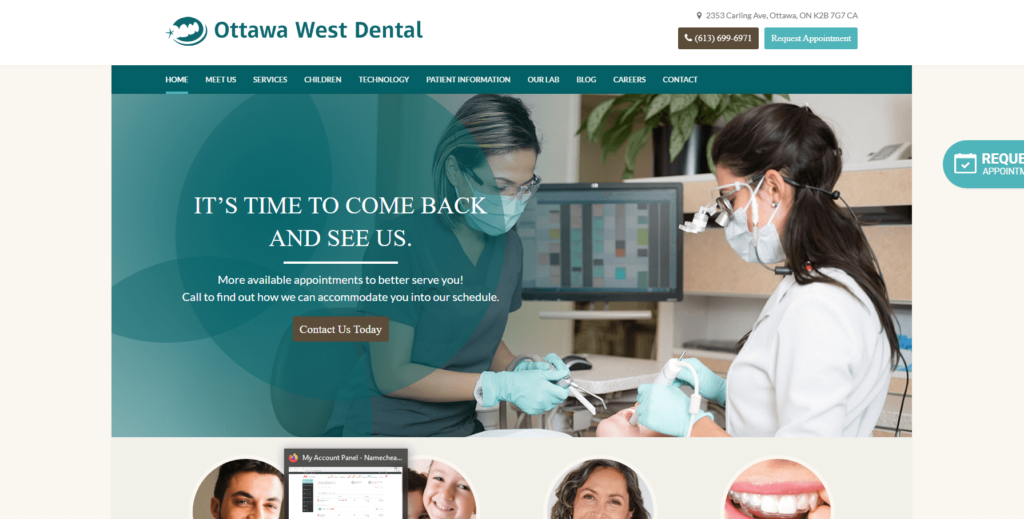 At Ottawa West Dental, they are committed to your oral health and they put their patient's needs first. They have a highly trained team who specialize in many teeth whitening options. If you want to restore your confidence and have problems with stained teeth, they also offer custom kits for home treatment. 
They provide in office appointments as well, that are tailored to meet the needs of everyone's schedule! Their number one goal is to ensure that their patients leave with a smile on their face – both figuratively and literally. 
So if you're looking for a dental office that puts you first, look no further than Ottawa West Dental!
"Very professional and relaxed atmosphere. Staff are friendly and go beyond to accommodate times requested. Dr. Denardo provides his very best and thinks outside the box for dental services. We are fortunate to have him as our dentist."
2) House of Smiles Teeth Whitening Inc.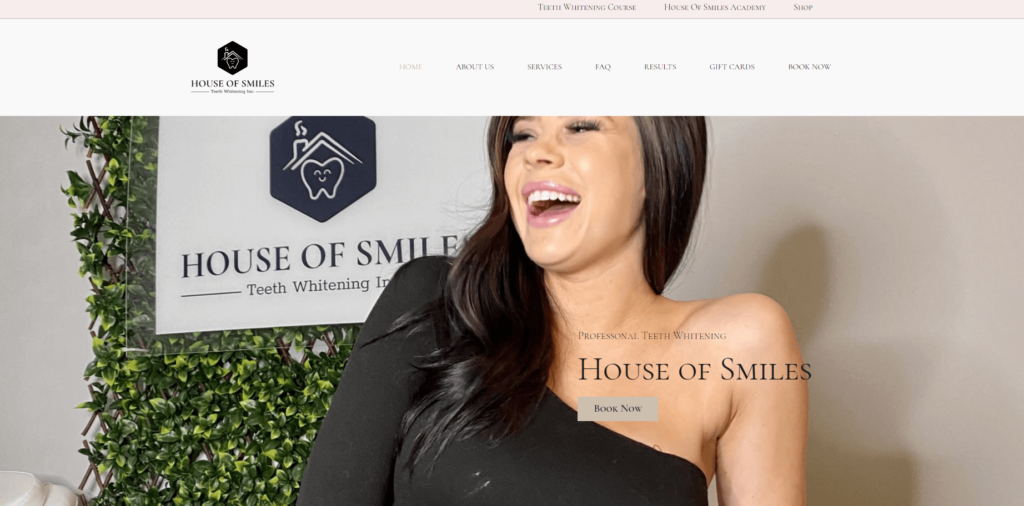 At House of Smiles, they understand that your smile is important to you. That's why they offer a variety of services to help you achieve the smile you've always wanted. Their Triple White Smile treatment is one of our most popular options, and it's perfect for those who want to make a dramatic difference in the look of their teeth.
In just 90 minutes, you can expect your teeth to be up to 12 shades lighter than they were before. So if you're looking for a bright, beautiful smile, House of Smiles is the place for you. 
Contact them today to learn more about our services or to schedule a consultation. 
"Everything from the experience to service to how white my teeth came out, was exceptional! Beth was so personal and made the whole session go so smoothly. I'm so happy with my results, I would 100% recommend anyone to go to House of Smiles if they want real results."
3) Yazdani Family Dentistry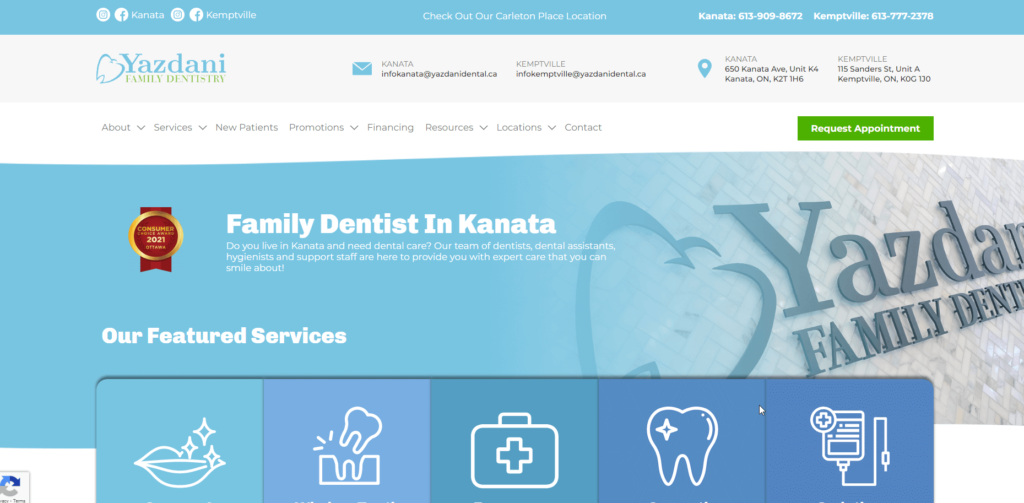 Yazdani Family Dentistry is a dental practice that ensures new and long-time patients alike receive the best oral health care possible. With services handled by an experienced team from their Kanata office, you can rest assured knowing your teeth will be well looked after with professional treatment geared towards achieving optimal results for all types of mouths. 
No matter the reasons for wanting whiter teeth, their dentists in Kanata have a solution. Whether you're looking to give your smile an upgrade or just need help with discoloration from coffee stains – today's technology is safe!
"I have recommended this clinic to my friends who also live in this area. The service is excellent and impressive. The first time I walked in this clinic, I was impressed by the new design of the office. Everything is new, clean and well organized. The environment is amazing as well. The staff there are very friendly and patient! Overall, wonderful experience in this clinic."
4) Confident Smiles Dental Hygiene and Teeth Whitening Boutique
Confident Smiles is the best place to go for white teeth. Shannon will provide you with an amazing experience and make you feel comfortable! She is always happy to talk through any question or concern that comes up during your visit. 
The new "Wicked White" system can have you smiling brighter in just one visit! The 3 x 15 minute treatments use two types of gel, which means they will customize your plan so it's less sensitive if you already have sensitive teeth. 
And there are no worries about sensitivity or damage because this cool LED light doesn't produce heat. So whether you're looking for a whiter smile or just wanting to talk to someone about your teeth, Confident Smiles is the place to go!
"Shannon is my go-to gal for cleaning and whitening. Her office is nice and clean and she is very friendly and easy to talk to. She also goes above and beyond with her services... She was extra patient with me and was able to lift the colour of my teeth as much as possible (several shades for me, everyone is different and there is a limit!). I highly recommend her."
FAQs About Teeth Whitening Services
Don't let a little discoloration stop you from smiling. If you're a little insecure about your smile, these Ottawa teeth whitening services can help you regain your confidence. With the help of these professionals, you'll be flashing your pearly whites in no time!
If you're in search of a good place to get a whiter smile, visit the best teeth whitening services in Ottawa!