Dental implants are a great way to replace missing teeth, and Ottawa boasts some of the best dental implant clinics in Canada. If you're considering this type of tooth replacement surgery, read on for information about six top-rated clinics in Ottawa.
All of these clinics offer high-quality services and use the latest technology in their procedures. They also have experienced dentists who will work with you to ensure that your experience is as positive as possible. 
So if you're looking for reliable dental implants in Ottawa, look no further than these six excellent clinics!
1) Prosthodontics on Chamberlain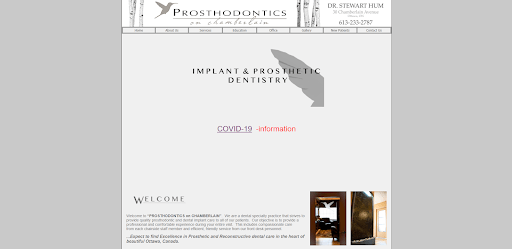 Dr. Sakai and the Prosthodontics on Chamberlain team are great dentists who really make you feel at ease and ensure that everything will go smoothly during your appointment!
At this prosthodontic clinic, they provide comprehensive treatment that may collaborate with other dental specialties. Their goal is always to create an optimal outcome for their patients. 
The staff are friendly and helpful, but most importantly they make you feel cared for during your appointment because their professionalism shows in every detail from start-to-finish. They will bring your natural looking smile back with the best implantology services. 
"Dr. Sakai made an extra effort to accommodate my schedule; the prosthodontic work was excellent. Better experience than any of my many previous adventures with implants elsewhere. Thank you!"
2) Dental Implant Ottawa - DR. KONIOUCHINE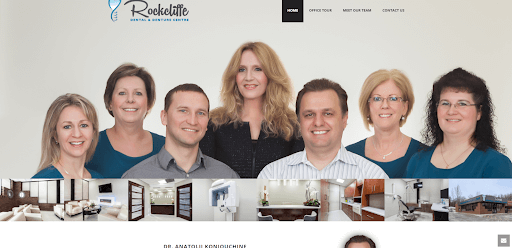 Dr.Koniouchine is a dentist who has received years of recognition for his work in general, cosmetic and implant dentistry . He combines 14+years experience with cutting-edge technology to create beautiful smiles that his patients can wish for!
Dr.Koniouchine is known for his excellence in the dental community – his patients and referring dentists alike have nothing but good things to say about him. 
His services are always clean and he makes sure to keep the office safe for customers. The staff also offers honesty, joyfulness of their work place with a smile on their face!
"Dr. Koniouchine and staff have always provided my family and I with outstanding care. The staff are trusting and highly trained and every time I've gone for a cleaning, checkup, or filling I've always been very comfortable and happy with the work provided. We will continue to travel from out of town for our dental treatment to this exceptional office!"
3) Rockcliffe Dental and Denture Centre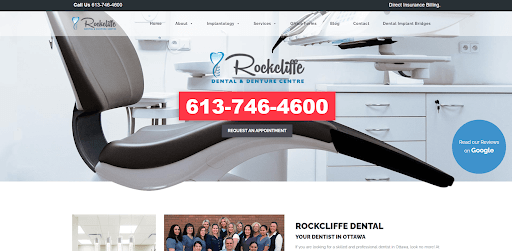 Come visit Rockcliffe Dental and Denture Centre, they are committed to providing you with high-quality oral health services especially implantology. 
They foster relationships based on excellent customer service and personalized patient care so that your teeth can be restored, enhanced or maintained using advanced procedures while still adhering strictly by conservative guidelines!
Rockcliffe Dental & Dentures Centre is a leading provider in the area of dental implants, as well as, bone grafting for patients who have lost their teeth to periodontal diseases or accidents. 
Their expert team will provide you with an implant supported crown that blends seamlessly into your adjacent natural tooth so it's impossible not only recognize what was replaced!
"This is truly the best dental service. Clean, happy and very professional. After 10 years of never smiling. Rockcliffe Dental gave me back my smile. You are all amazing!!!"
4) Smile Denture & Implant Clinic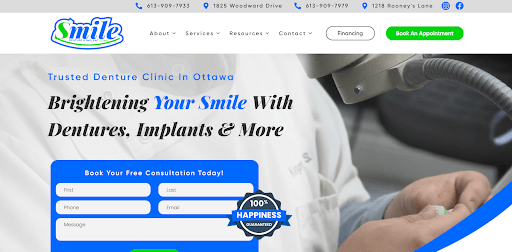 At Smile Denture & Implant Clinic, they know that a smile is the most important thing in life. That's why their commitment to you has been built on quality service and long lasting results! 
Their dentures are custom made for your face so they will feel comfortable from day one. 
At the Smile Denture and Implant Clinic they specialize in quality dental implants for patients who want better solutions than just chewing on dry gum or plastic materials that don't feel right! 
They offer implant supported prosthetic devices which provide superior fit and comfort compared to conventional methods.
"Sometimes life gives us hard times and you feel alone and lost, incapable of smiling, I was in those moments when I meet these people, most specifically Mr. Caner, who is amazing at his work and honestly a true craftsman in his field and amazing as a person. God bless his life with plenty of smiles. Thank you very much."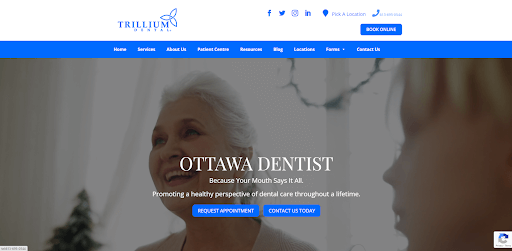 Trillium Dental is dedicated to providing you with the exceptional service and quality dental care that you deserve. 
Their comprehensive services make them one of Ottawa's most trusted practices, while their modern technology ensures a safe procedure for all patients – no matter what type they need help achieving their smile goals! 
They offer soothing oral, IV, Nitrous Oxide sedation so that your visit with them is as comfortable and relaxing as possible while they perform implantation. Their dental implants offer you a solid choice for wearers who want to stop the discomfort and embarrassment of slipping, sliding dentures.
"Professional staff and dentists, helpful reminders and very responsive administration. I've been a patient for several years now and think this office provides excellent service and quality dental work. They even follow-up after procedures to see how everything is going—a nice touch."
6) Sean Denture & Implant Centre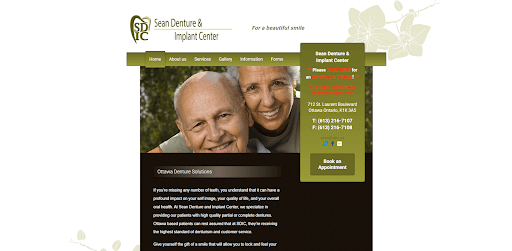 At Sean Denture & Implant Centre, you'll find a highly skilled team of licensed denturists with over 20 years experience in this field. No matter what your needs may be, the team at Sean Denture & Implant Centre will work tirelessly to help you achieve your desired results and regain full confidence again! 
First, they'll assess your oral health to see if you're a candidate for implants. If not, they'll discuss alternatives that can encourage bone growth in the jaw – so don't worry, there's always something that can be done!
"Hisham and Angelica make an awesome team. They treat you with great care and always make you feel at ease, which is a real bonus for nervous patients. I have recommended many people to Sean Dentures and they have all been greatly satisfied."
FAQs about Dental Implants
If you are in need of a dental implant, the list above provides some of the best options in Ottawa. Dental implants are a great way to replace missing teeth, and with so many qualified professionals available in Ottawa, you're sure to find someone who can help you achieve your smile goals.
Be sure to do your research before choosing a dentist, as not all clinics offer the same level of quality service. By taking the time to compare prices and reviews, you can be confident that you're making the best decision for your needs.