The best boat repair shops in Ottawa will have your boat up and running in no time!
If your boat is calling out "Mayday!" maybe it's time to get her fixed. But worry not, Ottawa is home to many boat repair shops that can fix up just about any broken ship. But boat repair shops aren't just for damaged ships, remember to get your boat serviced every year to keep it in good condition!
We selected these boat repair shops based on customer reviews, the variety of services they offer, and staff who are experts on all things to do with boats. You can count on these boat repair businesses to take on any boat repair and do a great job!
In the meantime, if you just can't wait for your boat to get all fixed up, visit the best boat rentals or if it's time to buy a new boat, head on over to the best boat dealers near Ottawa!
What is the Average Cost of Boat Repair?
The average cost of boat repair can vary depending on the type of repairs needed. For example, a minor repair such as fixing a cracked hull can cost around $500, while more major repairs such as engine work can cost upwards of $5,000. 
Here is a list of common boat repair costs: 
Hull repair: $500 – $5,000

Engine repair: $1,000 – $5,000

Sail repair: $100 – $1,000

Fiberglass repair: $500 – $2,500

Electrical system repair: $500 – $2,000

Bottom paint job: $500 – $4,000

These are just estimates, and the actual cost of boat repair will vary depending on the severity of the damage and the type of repairs needed. Always consult with a professional boat repair shop before getting any work done!
The Best Boat Repair Shops in Ottawa
Now that you know the average cost of boat repair, it's time to find a reputable boat repair shop in Ottawa! Here are our top 4 picks: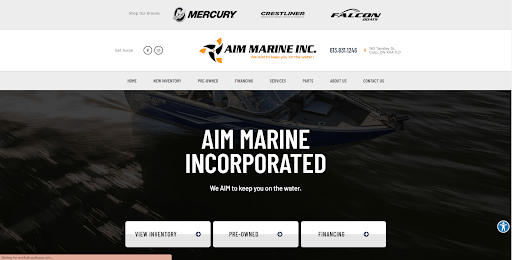 Aim Marine is a trusted name in the boating industry, specializing in repairs, reconditioning, and restoration of outboard motors. With over 3,000 customer recommendations, they have a proven track record of providing quality services at competitive rates. 
Whether you need parts for a Mercury outboard from 1950 or a Yamaha from the current year, Aim Marine is your go-to source. They pride themselves on being able to get the job done quickly and efficiently, so you can get back to enjoying your time on the water.
So if you're in need of boat repair or service, be sure to give Aim Marine a call. You won't be disappointed.
"Treats the boat like he owns it! We went for winter storage and he noticed and fixed all the things we had been struggling with from the trailer to the soaked seats to the engine issues. What a great caring man with excellent knowledge. We will definitely keep him as our mechanic and we recommend for sure."
2) Laurentian Marine Sales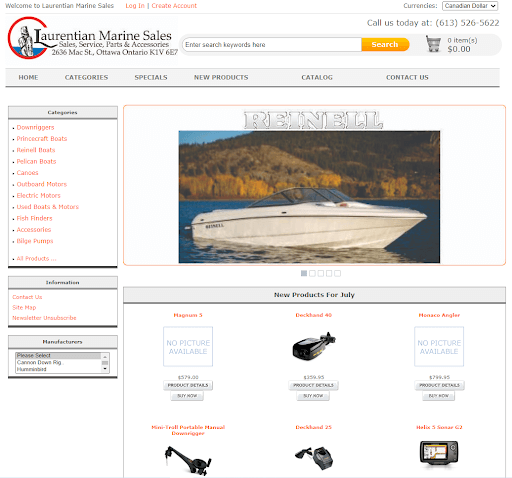 Laurentian Marine Sales is your one-stop shop when it comes to boating repairs. They have a team of highly qualified workers who are dedicated to providing the highest quality of service. No matter what type of boat you have, they will be able to provide you with the repair services you need. 
They even offer a simple part replacement if you don't need their dedicated technical repair services. This makes them the perfect choice for all your boating needs. So, if you're looking for a company that can provide you with the best quality of service, then look no further than Laurentian Marine Sales.
"Recently dealt with Al for the purchase of my new fishing boat. Couldn't be happier with the level of service and knowledge that Al provided. Al was always available to answer any questions with regards to my boat and when I wanted to make changes last minute to my electronics setup it wasn't an issue, he even offered to store it for me until I am able to put it in the water. 100% I will continue using Laurentian Marine for all my boats needs."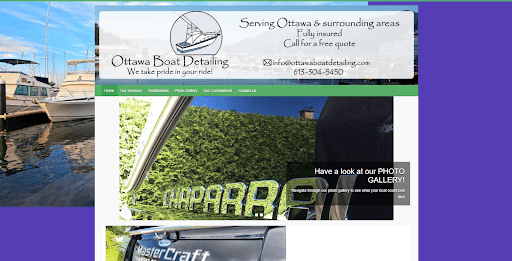 If you're in the market for a boat restoration company, look no further than Ottawa Boat Detailing. They use only the best parts on the market, and their goal is to keep their clients delighted with their work. 
They service all types of boats, large and small, and they have a gallery on their website that showcases their successful jobs. Their basic services include waxing, polishing, wet sanding, and acid hull washing, but they also offer shrink wrapping, winterizing, and winter storage. 
If you're looking for a company that will go above and beyond to make sure you're happy with your purchase, Ottawa Boat Detailing is the right choice for you.
"I have owned multiple boats during my lifetime so I am familiar with the care a boat needs. I own a 2009 Larson 180 that needed a lot of love and reached out to Ottawa Boat Detailing which was recommended by a friend of mine. Oliver was absolutely terrific with understanding my needs and expectations and was able to deliver a superb end product. From the initial phone call to the project delivery, everything was great. Oliver takes great pride in his work, and it shows! Would absolutely recommend, a very knowledgeable and professional young man. Thank again!"
4) Capital City Acrylic Repair Inc.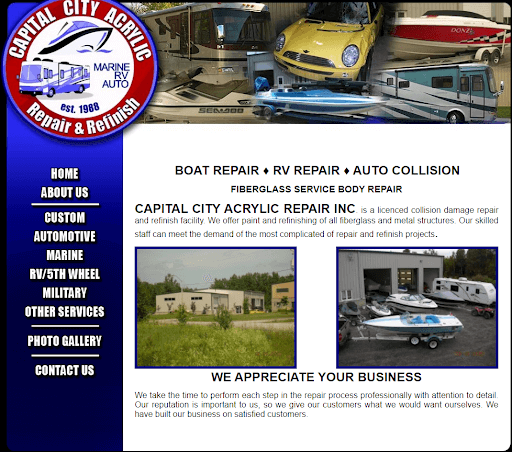 Capital City Acrylic Repair is not your average boat or auto collision repair business. They don't just handle the easy jobs – their staff members are experts in fiberglass and metal refinishing, and they're always up for a challenge. 
Whether it's a complex repair job or a complete refinish, you can be confident that Capital City Acrylic Repair will get the job done right. And because they're always up for a challenge, you can be sure that they'll take on any job, no matter how difficult it may be. 
So if you're looking for a collision repair business that can handle the most challenging assignments, look no further than Capital City Acrylic Repair.
"Hi, I would like to thanks Tim and his crew for his excellent work on my boat. For taking the time and to go above and beyond when dealing with my insurance company. His knowledge and experience is outstanding, I would highly recommend him to anyone that needs their boat repaired. Also, a shout out to Louise for keeping me in the loop! 5 stars rating !!!"
5) P.Parent Marine Services Inc.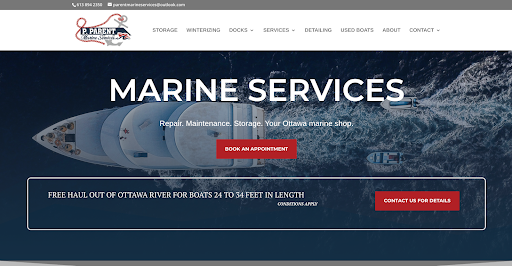 P.Parent Marine Services Inc. is an authorized C.C Marine Dealer that offers a complete range of services for all types of boats and engine configuration, including outboard and sterndrive dealerships. Patrick Parent has been involved in the marine industry for over 10 years, which gives him the expertise needed to service any type or boat or engine configuration. In addition to providing repairs and maintenance on both new and used vessels, P.Parent Marine Services also sells parts and accessories for all types of engines as well as provides training courses on various topics related to boating. 
Boat maintenance is important not only for the longevity of your vessel but also to protect your investment. A few simple things like washing and waxing it regularly, lubricating all parts properly, and using proper fuel can help keep your boat in good condition. They can do it during regular inspections by a professional which are critical to ensure that everything is still functioning as intended. This helps to avoid any potential problems down the road which could potentially cost you more money or require additional repairs.
"We had a great experience using P. Parent Marine Services. We arranged a time and date for our boat repairs at our house. Patrick was on time and did all the work required and more! He came prepared as we needed extra parts that he had with him. He also took his time to explain things as we had many questions. We will definitely use P.Parent Marine Services again."
Your boat is a precious and huge investment; it's one you want to put only in good hands. Well, these Ottawa boat repair shops are the very best in the city. You can entrust your boat to these repair shops, worry-free. They have years of experience and have done great repair jobs on many boats. Your ship will be no exception!
If your boat is in need of a fix or simply needs its yearly checkup,  you have to bring your boat to the best boat repair shops in Ottawa!