The best sneaker stores in Ottawa will give you a pep in your step!
There's nothing like a fresh pair of sneakers. In Ottawa, there are plenty of sneaker stores than can help you find the perfect pair of shoes. At these stores, you'll find hype brands like Nike and Jordan, so whether you're a sneakerhead or simply just need a new pair of shoes, there's something for everyone at these Ottawa sneaker stores!
We selected these Ottawa shoe stores based on customer reviews, helpful staff, and the variety of fashionable sneakers they have on the shelves. These stores have teams of expert employees who can help you find the right shoes for you and amazing sneaker finds!
Shake up your wardrobe! For more shoes and clothing options, check out our lists of the best shoe stores and the best vintage clothing stores in Ottawa!
How to Check if a Store is Legit?
As most of us know, there are a ton of fake sneaker stores out there. When looking for the best sneaker stores in Ottawa, it is important to check if the store is legit. 
There are a few things you can look for: 
The store should have a physical address that you can visit. 

The store should have a return policy that is fair and reasonable. 

The store should have a good reputation with other customers. 

The store should have a wide selection of sneakers to choose from. 

The store should have a fair price for the sneakers they are selling. 

If you are able to find a store that meets all of these criteria, then you can be sure that you are dealing with a legit store. 
The Best Sneaker Stores in Ottawa
Now that you know how to check if a store is legit, here are some of the best sneaker stores in Ottawa:

The Running Room is a family-owned company that began in 1984. Founder John Stanton had an idea to purchase quality running shoes from someone knowledgeable about the sport, and he made his dream come true by creating The Running Room.
The company's reputation was built on product innovation, quality and knowledge of running. They have the sneakers you need, no matter what colour or size you're looking for. They also offer a wide selection of popular brands and styles so that any customer can find something they love! 
Their private label assortment came with fashionable features at an affordable price point that is unmatched by any other brand in their industry. They make you feel like you are their only client and they are willing to provide you with the most quality service. 
They help you explain what exactly your needs are, even though it might be hard at first glance! The Running Room has been dedicated to providing customers with innovative footwear designed specifically for those who love to run.
" Had a great experience buying new running sneakers here. The salesperson understood the various characteristics well, and was able to provide a suggestion for a new shoe for me to try out, which I'm excited to do. Knowledgeable, helpful, and friendly service. "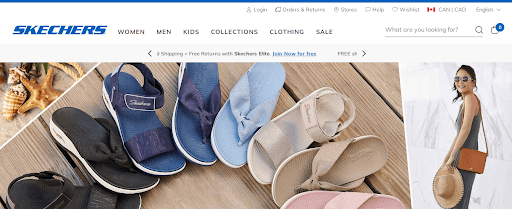 Skechers is a shoe company that offers everything from footwear, and apparel to accessories. They are well known around the world for their wide variety of options in men's shoes as well women's fashion wear including sports bras or dresses with matching jockstraps! 
Whether you need a new pair of athletic or casual shoes, they've got it covered with any colour and size imaginable! They offer a variety of styles for every type and preference with comfort innovations from lightweight and breathable knitted materials to memory foam cushioning – that are sure not only look good but feel great too! 
The brand's innovative and ahead-of-the-curve styles ensure that they never get left behind in a trends cycle. Their commitment to comfort, quality materials paired with unbeatable prices has made them one of America's favourite brands for decades! 
The company Skechers knows how to make shoes that are not just a pleasure for your feet, but also an extension of yourself. They're talking about the latest trends and comfort innovations through its larger-than ever athletic lifestyle shoe offering. 
Website: ca.skechers.com
Telephone: +16137895959
Address: 50 Rideau St #115C, Ottawa, ON K1N 9J7, Canada
" Excellent assortment of Skechers shoes and clothing at this location. Displays are well-organized and the store provides plenty of benches to sit and try on shoes. Staff were friendly and attentive and helped us find what we need. Also discovered their line of light-up sneakers, one of which is bluetooth-compatible and bound to make wearing shoes that much more fun. Light up shoes come in children's sizes, but if you're lucky enough to have small feet, you're in luck! "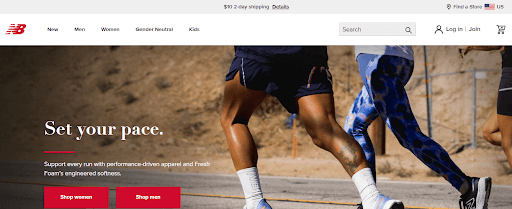 New Balance is a brand that carries both high-quality running shoes and apparel for those looking to stay active. You'll find all of your favourite styles at their stores, including the latest trends in footwear! 
Your feet are special. That's why they take the time to get them fitted just right! Their trained Fit Specialists conduct a 3D scan and expertly assess your needs, then find New Balance styles that will be perfect for you – with their innovative technology in mind. 
They have the ultimate sneaker collection for any occasion. No matter what your taste or style, they will be able to complement it with one of their many options available in different colours and sizes! 
New Balance offers a variety of shoes to fit any need, and now you can buy them online. Simply select your size from the menu on their website or visit one of their stores where they'll be ready for pick-up in just two days!
Website: stores.newbalance.com
Telephone: +13439250166
Address: CF Rideau Centre, 50 Rideau St Suite #215, Ottawa, ON K1N 9J7, Canada
" I picked up a pair of walking shoes for my husband this morning. I had called yesterday and spoke to Devon. I came by early and Devon not only was very nice and helpful, but he also wore a mask, knowing that I had concerns due to health issues. In a new reality where society has become so impatient and intolerant that level of service and kindness was a breath of fresh air and a reminder of how things used to be. Devon could teach many of us a lesson about what customer service should look like. I will be back to this store again. Thank you Devon:-) "
4) DSW Designer Shoe Warehouse

DSW Designer Shoe Warehouse is the go-to destination for fabulous brands at a great value. First introduced to Canada in 2014, DSW has quickly become a household name and favourite amongst shoppers.
With 27 stores nationwide, they're sure to be able to customize an experience that will make any customer happy! Whether you're a sneaker aficionado or just getting started with your collection, they have sneakers from brands like Adidas, Puma, Skechers and New Balance in every size for women, men and kids. 
With an extensive range that covers all shapes and colours – there is something here to suit everyone's taste! DSW has a huge selection of designer shoes, making it the perfect place to find that special pair. 
Plus customers can earn DSW VIP rewards points towards $5 certificates and free shipping every time they shop, so don't wait long enough – visit them today!
" Lots of selection for shoes, boots and every type of footwear. They also have purses and sports jerseys and hats. Staff is helpful and or cashier was bilingual which definitely shows that customer service is important. Parking right in front of the store is OK with more around if needed. "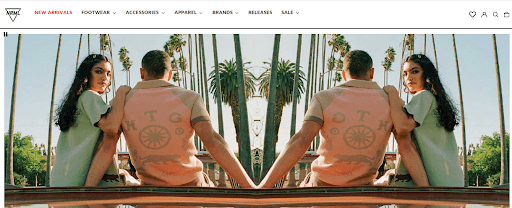 NRML is Ottawa's one of the most famous and biggest shoe stores which specialize in sneakers. They have been perfecting their craft for 24 years and you can find them throughout all five boroughs!
 Over the years, NRML has grown from humble beginnings as a small neighbourhood store to an international destination for shopping. Today you can find them at 10K sq/ft with three levels of retail offerings – all under one roof! 
With a wide selection of sneakers in every colour, shape, size and top brands like Adidas, Nike and New Balance for men, women or kids – they have something that will fit your needs. Their customer service is top-notch, the shipping is fast, plus their prices cannot be beaten. 
So if you're looking for quality products with unmatched customer service – look no further than NRML!
Website: nrml.ca
Telephone: +16135622043
Address: 184 Rideau St, Ottawa, ON K1N 5X6, Canada
" Solid online navigation got me a coveted release with less hassle than usual. Great customer service and quick delivery. Shipping costs higher than normal but time is money and they saved me some. Will return. "
6) One of a Kind Ottawa (OAK)

OAK is the go-to spot for shoe lovers in downtown Ottawa. The store has been open just prior to when pandemic strikes, but luckily was able withstand its effects with only minimal disruption.
They are poised now more than ever before – having opened up two new locations this past year alone! They've curated 100% of the selection available in stores and online, based on what people are asking for. 
They base their inventory on hot trends so you can be sure to find something new every time! 
Whether it's regular sneakers or an exclusive set for your next photo shoot – their team will have what's right! They have sneakers for everyone, from the fashion-forward sneakers you need to slip on when it's hot outside to comfortable shoes that can be worn all day long. 
You'll find brands like Adidas, Nike and Jordan in their selection so there is something perfect here no matter what your taste may preference happens to be! 
Website: oakshop.ca
Telephone: +16135690000
Address: 158 Rideau St, Ottawa, ON K1N 9J9, Canada
" This place is a vibe! I been looking for nice shoes for my girlfriend and I, & thanks to Joe, we were able to get some nice Jordan 4's.His customer service was impeccable , he actually took his time to find us the right shoes, kept great energy and good conversation throughout the whole time we were shopping.I am definitely coming back again to break my wallet! "
FAQs About Sneaker Stores
Finding a great pair of sneakers is easy with the help of these shoe stores. When you visit any of Ottawa's best sneaker stores, you're sure to find some great steals. You'll be the envy of all your friends, all in a comfortable pair of brand-new shoes!
So if you're in the market for some sneakers, head on over to the best sneaker stores in Ottawa!