The best storage companies in Ottawa can store and keep your things safe so you don't have to!
Storage facilities are a lifesaver for people who are moving away for a bit or simply have too much stuff. Thankfully, there are many storage companies in Ottawa, but we found the very best. Just because you don't have space for something doesn't mean it's not precious. These Ottawa storage companies have reliably stored people's things for years and your belongings are no different!
We selected these Ottawa storage units based on customer service, state-of-the-art facilities, friendly staff, great rates, and the measures they take to keep your things safe. You can rely on these companies to safely store your things for however long you need!
Storage units are a popular option for people who are moving. If this is you then visit the best moving companies and the best short-term rentals in Ottawa!
What's the Average Cost of Renting a Storage Unit in Ottawa?
The average cost of renting a storage unit in Ottawa is $187 – $250 per month. 
The price will depend on the size and type of storage unit you need, as well as the length of time you need it for. 
Here are the average prices for the different type of storage units in Ottawa:
5×5 unit: $80-$120 per month 

10×10 unit: $140-$200 per month 

10×20 unit: $200-$300 per month 

Climate-controlled unit: 10% – 20% more expensive than regular units

Some other factors to consider are whether you need insurance for your belongings and if the storage facility offers any discounts.
The Best Storage Units in Ottawa
Now that you know what to expect in terms of price, let's take a look at the best storage companies in Ottawa!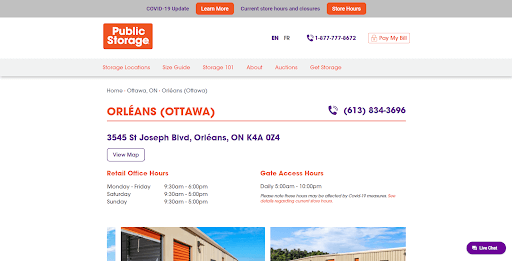 Looking for a convenient and affordable way to store your belongings? Look no further than Public Storage Canada. Since 1979, they've been the trusted name in self-storage, offering Canadians a wide range of storage solutions to meet their needs. 
Whether you're looking for a small unit to store a few boxes or a larger space to accommodate furniture or seasonal equipment, they have you covered. Plus, their online reservation system makes it easy to get started – simply choose your desired unit size and move-in date, and you're all set! 
No deposit or credit card is required. So why wait? Get started today with Public Storage Canada.
"This storage place is very clean, 24 hour cameras for security and their own code to get through the gate 24/7. Staff is very friendly and will go out of their way to meet your storage needs, tell you about deals and show you physically the locker to ensure that it's the size you require."
2) DYMON Storage Coventry
Dymon has been a successful company since its inception in 1995. They initially provided services for other companies but quickly realized they could make a bigger impact by developing their own storage brand. 
Dymon Storage launched with the goal of pushing boundaries and providing innovative ideas and services like never before. They offer distinct advantages over their competitors, such as climate-controlled units that protect against mould, mildew, insects, and warping. 
Their facilities are always clean and brightly lit, making the customer experience more enjoyable. If you're looking for a storage solution that goes above and beyond, Dymon is a clear choice.
"This place is amazing! The staff were kind and helpful over email and over the phone before I got there, giving me all the information I needed. When I got there, the facility was incredibly clean and well-maintained, and the staff was again super helpful and nice. Everything went smoothly and I trust them completely with my belongings."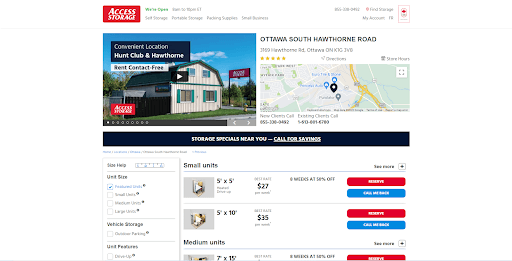 From humble beginnings in 1998 to becoming the largest storage company across Canada, their journey has been about keeping your belongings safe and secure. This is what drives them every day of work – making life simpler for you as a customer by providing quality service with affordable prices that are tailored just right for each neighbourhood they serve!
Moving made easy, whether you're moving across town or country. Their flexible lease periods and contact-free online rentals deliver peace of mind so that you can focus on other aspects in your life without worrying about storage solutions for everything from the big stuff like the furniture to smaller belongings such as bikes!
"My experience with this service was very pleasant, for the good price, a very amazing staff who help you according to your financial needs. And that was amazing, I am so happy to have chosen this company."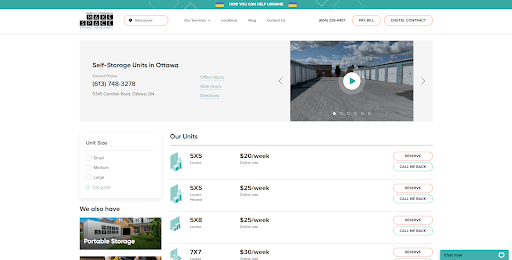 Make Space Storage offers a variety of affordable and accessible storage options near Ottawa. Whether you need short-term or long-term space, they have something for everyone! There are heated lockers that will keep your items safe during the winter months when temperatures drop below -19 C. 
Make Space Storage offers a variety of sizes to accommodate your needs. You can easily access your storage unit during gate hours at the Make Space Storage Ottawa-Canotek facility. So whether you are storing a few items, a vehicle, or an entire 3-bedroom house, Make Space Storage has the right size for you.
"Rick and the lads run a great business and have helped accommodate my storage needs in a pinch. Great facility with climate controlled and outdoor access lockers and it's pretty easy to get in and out of even with a not so maneuverable vehicle."
5) Cubeit Portable Storage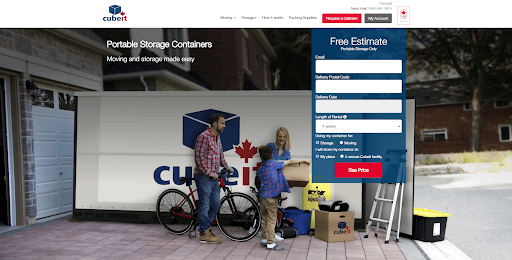 Cubit Portable Storage offers stress-free moving and storage solutions for individuals, and businesses alike. Their Cubeits are durable containers that can withstand the harsh conditions of Canadian winter from coast to interior; they also offer an easy horizontal lifting system so your goods don't shift during transport!
Cubeit offers a variety of container security options to ensure that your belongings are safe and secure. They have storage sites across the country! They also sell boxes, tape, locks, bubble wrap and mattress covers to protect your belongings. No matter where or when you're moving, they have all the materials to meet your needs.
"Prompt, received a call within an hour of subtmitting online request. Box dropped off at agreed time, constant updates on the day of pick up and drop off, from call center and driver. Great experience"
6) Discount moving and storage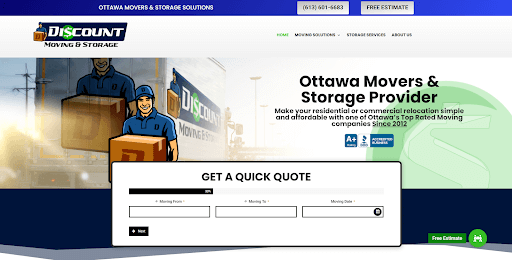 Discount Movers has been providing exceptional moving services in Ottawa since 2012. Their word is their bond, and the reputation they've built across Ontario comes from experienced movers who are well-trained with modern equipment for your convenience as a customer!
They offer customized packages at competitive rates that will suit any need you might have. They provide affordable storage spaces that are perfect for making your life easier.  Their various-sized units come ready with everything you need, no matter how long it takes!
 If a move isn't in progress then simply hire our professional team to take care of packing up or shipping out what's left behind. 
"Amazing service!! I called them on short notice and they were able to fit me in right away. The crew was very courteous, friendly and went above and beyond for us. I would highly recommend them to anyone."
Our lives can get so busy and keeping all are things safe and sound can be tough. But that's what Ottawa's premier storage facilities are for. These businesses will make sure your belongings are monitored and stay in good condition. They'll keep your stuff safe while you're gone!
So if you're running low on space, then bring your stuff to the best storage companies in Ottawa!