The best rollerblading stores in Ottawa will get you racing through in no time!
Rollerblading is a hard-core, thrilling sport that's for everyone. But the first step is to get a quality pair of rollerblades that will last for years. n Ottawa, there are many rollerblading shops that can sell you rollerblades that will last through every step of your rollerblading journey, but we found the very best. Beginners and seasoned bladers alike will love everything these stores have to offer!
We selected these Ottawa rollerblading stores based on customer reviews, customer service, budget-friendly prices, and their variety of high-quality products. These stores have extensive size ranges and excellent staff so they can find you a pair of rollerblades that's truly perfect for you!
Can't get enough of being on wheels? Visit the best skateboard shops in Ottawa and learn a trick or two! 
Put your new skates to use at the best places to roller skate in Ottawa!
What's the Average Cost of Rollerblades?
The average cost of a pair of rollerblades can depend on several factors but is typically in the $100-$300 range. 
When choosing a pair of rollerblades, it is important to consider the quality of the skates as well as the price. In general, higher-priced rollerblades will offer better performance and durability. However, there are also many affordable options that can be great for beginner or casual skaters.
Make sure to try on several pairs of rollerblades before making a purchase to ensure a good fit. It is also important to choose the right size wheels for your skating style and skill level. 
The Best Rollerblading Stores
There are many great stores that sell rollerblades, but some stand out above the rest. Here are a few of the best:
Decathlon has been providing their customers with high quality sportswear for more than 65 types of sports. They have been around 1976 and are ready to serve even more. They also have one of the largest selection of rollerblades. 
You will surely find the right model in their kids and adult selection. Decathlon's FIT 500 in-line skates have a smooth glide thanks to ABEC 7 bearings, an aluminium frame that's stiffer than plastic and handles well. 
They also come with new 80 mm rubber wheels for better grip but still allow you enough push when needed! 
"Absolutely amazing service. I bought a pair of rollerblades and the employee did an incredible job on getting me what I needed. If I could give this place a 100 star review I would."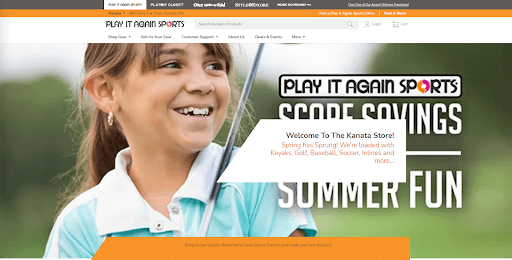 Looking for an affordable, yet high-quality pair of rollerblades? Then head on over to Play It Again Sports! They offer a wide selection of both new and gently used rollerblades, so you're sure to find something that fits both your needs and your budget. 
And if you're new to the sport, don't worry – they have plenty of options for beginners, too. Their rollerblading shoes are designed for comfort and stability, with extra wide supportive shells that make it easy to balance on your board while learning the basics. Plus, with composite frame construction, these shoes are built to last. 
So whether you're a seasoned pro or just getting started, be sure to check out Play It Again Sports for all your rollerblading needs!
"Good place to shop for hockey, ski and other sports and outdoor equipment (new as well as used). They also have skate sharpening services. I picked up a Bauer skates and helmet. Friendly and helpful staff. Good selection of items in all price ranges."
3) Figure 8 / Hockey One Skate Specialists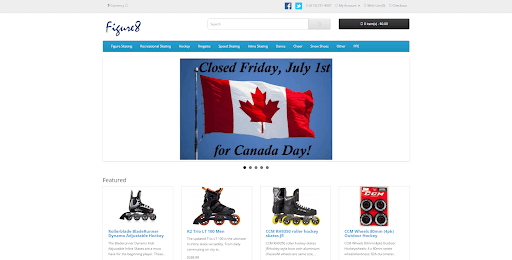 Figure 8 Boutique has been the go-to skating shop in Ottawa for over many years. It all started with Mrs. Madeleine Simard, who began selling skates out of her basement for her neighbors' enjoyment. Mrs. Simard quickly saw the potential in her new business venture, and with the help of some local banks, Figure 8 Boutique was born.
Today, the boutique is still run by Mrs. Simard's family, and it remains the oldest and most established skating store in Ottawa. Whether you're a professional rollerblader looking for new wheels or a beginner who needs some help getting started, Figure 8 Boutique is your one-stop shop for all things skating.
"Bought my rollerblades here two years ago during the pandemic. They were nice enough to allow me to try them on before purchasing. I decided to come here as a way to support locals instead of big box stores. Overall pleased with my purchase and the service I received."
4) Pro Hockey Life Ottawa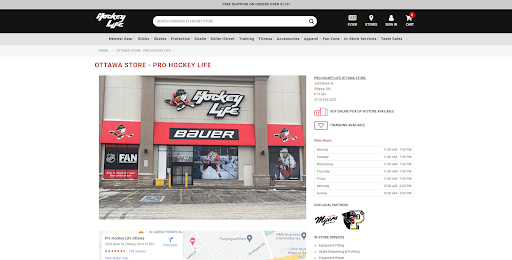 Pro Hockey life is the world's largest hockey-centric retailer and provides Canadians with a one-of-a-kind megastore. They offer everything related to hockey including sticks, skates, protective gear, and fanwear. 
They also have a PHL Price Guarantee which promises the best price for their products. You can also find rollerblades for all your needs at the best price. They have shipping and guaranteed authenticity so you're sure to find what you're looking for in their selection of men's, women's, and kids' skates!
"Staff was very helpful and knowledgeable on gear.. Derrick was very helpful in fitting skates and didn't pressure a sale. Lots of other merch, and I plan on a long visit."
Whether you want to buy your first pair or your rollerblades are worn out, these Ottawa rollerblade stores have something for everyone. Visit these stores to get assistance from knowledgeable, friendly staff that will help you find the right pair for you. Experience the thrill of a new pair of rollerblades with the help of Ottawa's best rollerblade stores!
So if you need a new pair of rollerblades, then head on over to the best rollerblading stores in Ottawa!