Ottawa is home to many health food stores that offer a variety of healthy and organic products. Whether you're looking for supplements, natural remedies, fresh produce or gluten-free snacks, there's sure to be a store near you that fits your needs!
In this article we will introduce you to 9 of the best health food stores in Ottawa. We have done all the hard work for you and selected these stores based on their quality merchandise, customer service and overall value.
So without further ado, let's get started!
1) Kardish Health Food Centre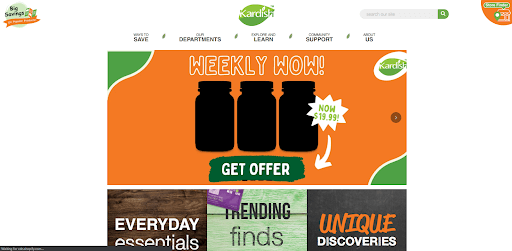 Looking for a healthier life? They offer better solutions at their stores near you! With seven locations across Ottawa, there's sure to be one nearby. Their clean facilities are stocked with natural products from around the world including gluten-free options so that everyone can experience better health in their own way.
They sell everything from all natural, non-GMO, local, specialty diets and sustainable groceries to best quality supplements. AYou can also buy a variety of bulk like fresh almonds or pumpkin seeds. All of their products are certified Organic, Vegan, and Fair-Trade.
"Clean, well-lit store with extraordinarily spacious aisles. Shelves were neat and fully stocked during my shopping trip yesterday, and I was able to find all the vegan and health food items I was searching for (plus a new vegan-friendly treat). Staff were friendly and efficient at checkout."
2) Sports Supplement Experts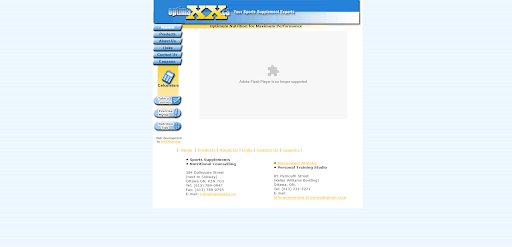 Sports Supplement Experts is the premier Ottawa shop for all your supplement needs! They offer the most scientifically advanced sports nutrition, diet & exercise prescriptions under one roof – with prices that make quality value accessible to everyone interested in maintaining their health and fitness levels at a comfortable price point.
They have products that can help you with muscle building like different proteins, fat metabolizers and energy boosters as well as vitamins, minerals and herbs.
"Seriously awesome environment as soon as you walk in the door. Huge selection to choose from including both big known brands as well as small cool brands. The owner is extremely knowledgeable and spends considerable time listening to the needs and/or goals of both old and new customers, then proceeds to put together a stack that suits their needs."
3) Nature's Care Health Products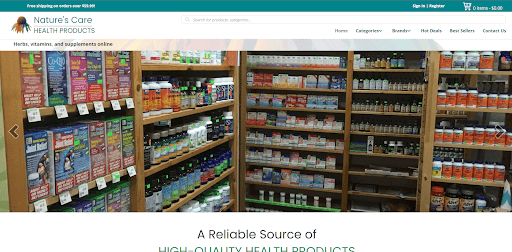 Nature's Care is here for you. Whether it be to help support your immune system, address common ailments such as colds and headaches or enhance energy levels—they've got a product that will work!
You can buy staff for digestion, cardiovascular health, glandular health and vitamins for your hair, nails and skin. Not to mention that the service there is grass and the owner will help you choose the product depending on your needs and priorities. The prices are also super affordable.
"Friendly owners, great service, reliable, affordable, are always there to offer advice and opinions if asked. Love this place and would recommend it to everyone!"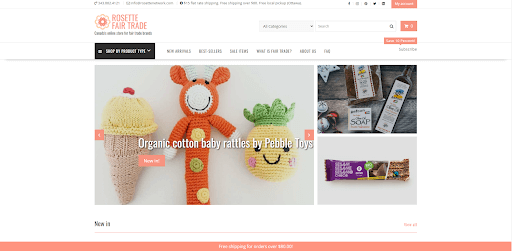 The online store, Rosette Fair Trade is a haven for all your favorite Canadian and even some international brands. Most of these small businesses struggle to get their message out in today's increasingly competitive market; luckily you have this great resource that can help them do just that!
You can buy anything organic there from summer harvest traditional forest African honey to coconut biscuits and chocolate sesame seeds bars. They also offer free delivery on orders more than 80$.
"Excellent choices for fair trade food. Delivery was quick and the products were fresh and intact on arrival. We'll definitely order from Rosette again once we run out!"
5) Herb & Spice Shop Wellington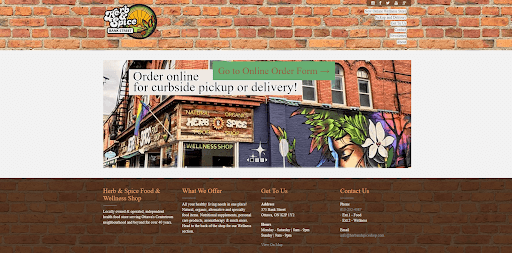 Come to the Herb & Spice Shop on Wellington Street West for all your food needs! They have an extensive selection of fresh fruit and vegetables, including locally grown organic options. Their store also carries gluten-free goods as well as salt/sugar free items.
Fresh baked goods, locally roasted coffee, local honey, cheese, eggs, and a large dairy selection is always available for you to satisfy your cravings for good quality food that will be healthy for you and your family.
"One of the best small, fresh food stores in the city. Friendly knowledgeable staff and a great selection of fresh produce. The store has serviced Wellington West and Westboro for decades."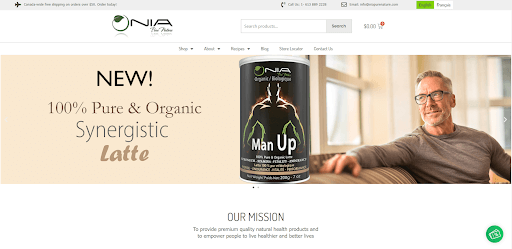 Their commitment to you is that they will always provide only the highest quality ingredients. Nia Pure Nature uses 100% natural and organic farming practices, which not only follow strict standards for certification but go beyond them with rejuvenating soil antics as well!
That's why the products are guaranteed fresh – because they were made from plants grown right here in Canada. They use 100% cruelty-free and natural botanical ingredients that are vegan, organic and GMO-free.
"I really love this product! From it's rich vibrant chlorophyll to it's staggering amounts of antioxidants and phytonutrients. I use it in everything I eat. More than satisfied with the purity and quality of this product."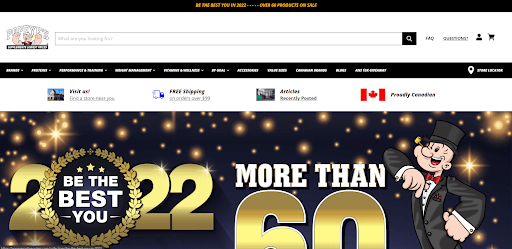 Popeye's Supplements has been the number one retailer of sports nutrition products in Canada with over 120 locally owned stores across this great nation!
They pride themselves on helping everyone be their best self by promoting health and wellness. It's because our team members are so passionate about what they do that we can provide an exceptional customer service experience at every level.
You can choose from more than 2000 products from 70 different companies in categories like weight management, performance and training, vitamins and proteins as well!
"As always, the staff is very friendly, knowledgeable, willing to help and a pleasure to deal with. I enjoy the non pressure atmosphere of Popeye's which is why it's the only supplement store I shop at."
8) Nature's Signature "Health Food Store" Ottawa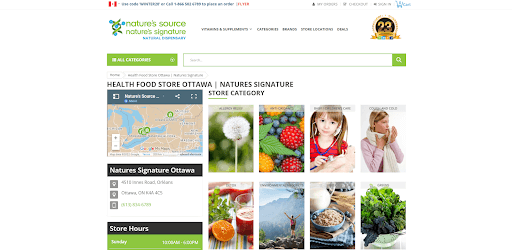 Nature's Signature Health Food Stores is a natural dispensary that offers vitamins, supplements and health foods. They're one of the leading "health food" stores in Canada so they can help you find what your body needs!
They started 21 years ago and now can provide health foods, herbal supplements, homeopathic remedies, nutritional supplements, vitamins, sports nutrition, health and beauty products. Their store is staffed with professionals who are familiar with naturopathy, natural medicines, homeopathy, and nutrition.
"Nature's Signature is an AMAZING store within a local Metro grocery store. They carry many different supplement lines, and we have excellent advice and guidance from the staff regarding supplements. Lisa is extremely knowledgeable and helpful!"
9) Healthy Planet Trainyards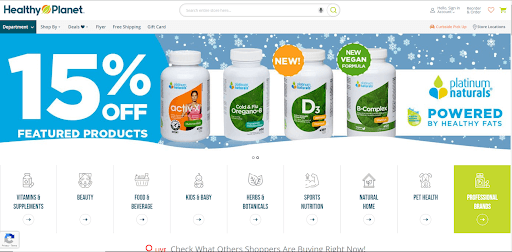 Healthy Planet is the leader in holistic nutrition with a focus on health and wellness. They offer our customers access to real doctors, who can help them make better diet choices for their individual needs— no matter what those might be!
They are one of the best–known brands in health foods, supplements, sports nutrition and beauty care categories. You can find great savings and discounts on many of their products each month— they make it affordable for everyone to stay healthy.
"An amazing store I am very pleased with my experience! All the workers are so kind and helpful and its just a great all around experience! Very clean and organized store with an amazing selection of products and positive workers! Definitely will be going back!"
There are many great health food stores in Ottawa, but the 9 listed above are some of the best. These stores offer a wide variety of healthy foods and supplements, as well as knowledgeable staff who can help you find what you need.
Whether you're looking for organic produce or vegan protein powder, these stores have got you covered. So if you're living a healthy lifestyle or just trying to eat more nutritious meals, be sure to check out one of these top-notch health food stores in Ottawa!