When looking for a mortgage, it's important to work with a qualified broker who understands the market and can find you the best deal possible. Ottawa has many excellent brokers to choose from, but we've compiled a list of five of our favourites to help get you started.
All of these brokers have extensive experience in the industry and are more than capable of helping you secure the mortgage that's right for your needs. 
They also offer competitive rates and unparalleled customer service, so be sure to contact them today!
1) Ottawa Mortgage Broker - Steven King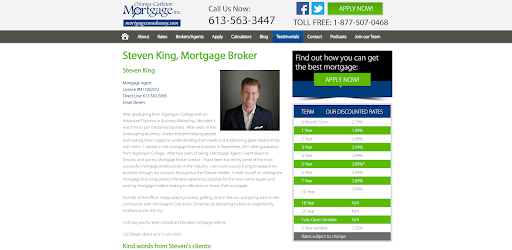 Ottawa Mortgage Brokerage is a company that always puts their clients first. They want you to be satisfied with the service they provide and are committed to being an important part of your community! 
Steven is a reliable and dedicated agent who will definitely take care of you during the mortgage process. He'll communicate with you every step of the way, and will work hard to find rates that fit your needs from his portfolio of providers. 
It can be really stressful trying to get a mortgage – but Steven is here for you so that doesn't have to be the case. 
He'll make sure that your best interests are always at heart, and will do everything he can to keep costs down for you
"Where do you start with a legend like Steven. He was very professional and prompt with our inquiries. He was very thorough and patient with us through the process of securing a mortgage. He was very helpful in explaining the process in terms that your everyday person would understand. He went above and beyond what I would expect from a mortgage broker! I would give him ten stars if possible!"
2) Mortgage Specialist - Tim McCarroll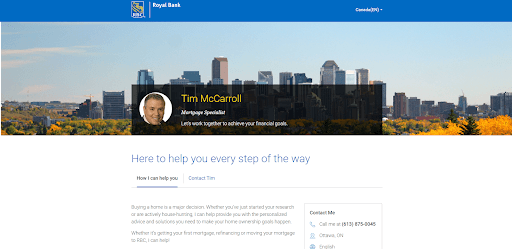 Tim is the perfect person to contact when you need help as a first-time homebuyer. He'll go above and beyond for your family by answering any questions or concerns quickly – even giving advice on things other than just mortgage loans! 
His experience will help make the buying process run smoothly from start to finish. Plus, with great rates and a purchase price that will enable you to get your dream home, Tim can give you the best mortgage possible. 
With years of experience in the industry, he knows exactly what it takes to ensure that you're getting a fair deal on your mortgage loan.
"Tim I can't thank you enough for all your help and support you had getting me my mortgage. You we're very punctual, reliable, and man of your word on getting the job done. I can't show enough gratitude on how much you helped me and my family for getting us our first purchase. Thank you again and best believe this is just the very beginning in our first chapter on property purchases."
3) Mortgage Brokers Ottawa - Thiet Le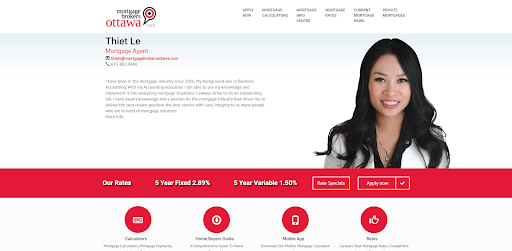 Thiet Le has been in the mortgage industry since 2016 and knows everything there is to know about it. 
With her Business Accounting background, she's able to keep track of all aspects of your loan application and finances – ensuring that you receive top-notch service throughout the entire process. 
She's always available to answer any questions you may have, so don't hesitate to reach out if you need help with anything! 
In addition, Thiet is very reliable and responsible; she'll go above and beyond what's expected in order make sure that everything goes smoothly for you during this major life event. 
Getting a mortgage can be stressful enough as it is – but with someone like Thiet on your side, things are bound to run a lot more smoothly!
lemortgage.ca
+16138828686
1701 Woodward Dr Suite 300, Ottawa, ON K2C 0R4, Canada
" This is my first time as a Realtor in Toronto to do the business with Ms Thiet Le - a mortgage broker in Ottawa. Extremely Responsive, very straightforward - and professional. All good experience to work with Thiet. You will get the answer either yes or no on your application in five business days. That's impressive! Highly recommended to any buyers in Ottawa/Ontario/Canada."
4) Mortgage Alliance , Mortgage Broker , Isko Safic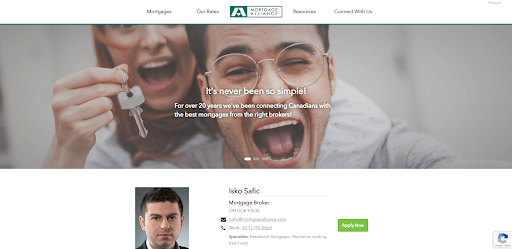 Mr. Safic and his team at Mr. Mortgage provide free services that aim to simplify the mortgage process for you. 
They pride themselves on providing a level of service that is unmatched, and they are responsive not only to changing market trends but also how it affects their clients! 
Their goal is nothing less than getting people into their dream homes – whether this is your first time or fifth time trying! 
Mr. Safic and his team will provide you with detailed information about all your options as well as get you the best rates available on mortgages so that your dreams can become a reality sooner rather than later!
"Mr. Safic and the whole Mortgage Alliance Mortgage broker team gave me the best options that fit my situation with my mortgage. At the same time, they were very responsive with their communications, great value as well. They were always in a very professional manner and worked with me on what I needed exactly for my mortgage. I really appreciate you guys and you'll always have my referral to all my family and friends."
5) Smart Debt Mortgages - Debbie Belair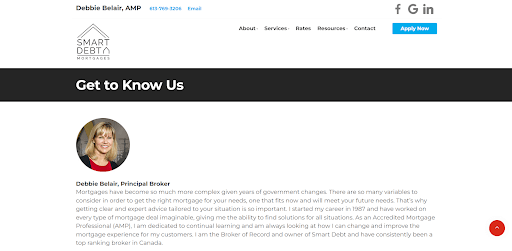 Debbie Belair at Smart Debt Mortgages is your go-to mortgage professional when it comes to buying a home. With over 30 years of experience in the industry, she has worked on every type of mortgage deal imaginable and knows how to find solutions for any situation. 
As an Accredited Mortgage Professional (AMP), Debbie is dedicated to continual learning and always looking for ways she can improve the mortgage experience for her customers. 
She'll give you all the facts your bank won't tell you about financing your next purchase, plus access to multiple lenders means that she will help you find the best rates and best mortgage options available!
"Debbie was amazing to work with. She was patient through nearly 2 years of per-approvals, financing letters, and attempted purchases. When our offer was finally accepted her guidance, diligence and effort were all invaluable. I would highly recommend Debbie to anyone looking for a Mortgage Broker."
FAQs About Mortgage Brokers
When it comes to finding the best mortgage broker in Ottawa, there are many factors to consider. The list above provides a snapshot of some of the top brokers in town, so be sure to do your research before selecting someone to work with. 
By choosing a qualified and experienced broker, you can rest assured that you will get the best deal possible on your mortgage.