When something in your home breaks or needs to be repaired, it can feel like a huge headache. You don't have the time or the knowledge to fix it yourself, but you also don't want to spend a fortune on hiring someone else. What do you do?
Luckily, Ottawa is home to some of the best handymen in Canada! These professionals are skilled at fixing everything from leaky faucets and broken windows to major construction projects. They are available for hire 24/7 and offer competitive rates that will fit into any budget.
In this article, we will introduce you to our top 6 favorite handymen in Ottawa who are always there when you need them!
1) Friendly Handyman Ottawa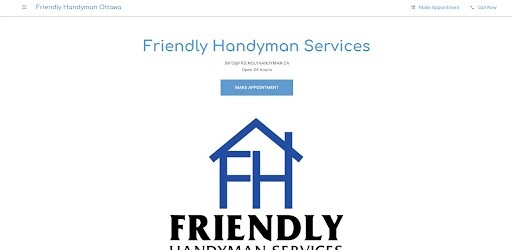 Friendly Handyman Ottawa  are the perfect people to call when you need help with your home improvement projects. They offer a wide range of services, from painting and tile installation to drywall repair and more!
 Plus, their team is super quick – they'll finish the job quickly and on-time, even if it's bigger than expected. And good news for budget-minded shoppers: their prices are very fair for the quality of work that they provide. 
So what are you waiting for? Call Friendly Handyman Ottawa today!
Website: friendlyhandyman.ca
Phone:  +16137100046
Address: 78 George St #204, Ottawa, ON K1N 5W1, Canada
"I used Friendly Handyman to remove a set of french doors and rebuild the wall in my home. They were extremely professional, fast, clean and their work was of the best quality. I was very satisfied and would recommended them for any similar work."
2) Ready Home Maintenance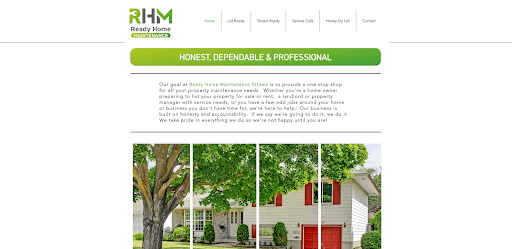 Ready Home Maintenance is dedicated to providing all of its customers with one-stop shopping for all their property maintenance needs.
Whether you're a home owner preparing your house for sale or rent, a landlord or property manager with service needs, or you just have some odd jobs around the house that you don't have time for – they're here to help! 
Their business is built on honesty and accountability; if they say they're going to do it, then they'll make sure it gets done. 
No matter how big or small the job may be, Ready Home Maintenance will always communicate accurate quotes, timelines and details about their process so that there are no surprises down the road.
"Johnny did an awesome job at my house. He has a very pleasing personality and is punctual. He gave me cost effective suggestions in and around the property for long term hassle free preventative maintenance. He was able to handle both plumbing and electrical installation work with ease. I will recommend him to all my friends."
3) Gillespie Handyman Services Inc.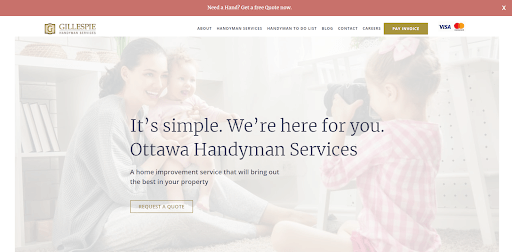 Gillespie Handyman Services is an experienced company with years of knowledge and skill, ready to help you make your next project a success. 
Whether it is repairing or installing anything from sinks and toilets; painting walls and ceilings ; removing old carpets -they have got the skills that will leave everything looking great!
They specialize in residential as well as commercial services and facilities management. So if you are in need of someone with construction experience, renovation skills, on-the-spot creativity—and options that suit your budget don't hesitate to contact them.
"Gillespie came in with a reasonable estimate and date for completion. From the staff in the office to Ryan who came out to do the work it was courteous, professional and excellent workmanship. I look forward to dealing with Gillespie Handyman Services again! Thanks for a job well done."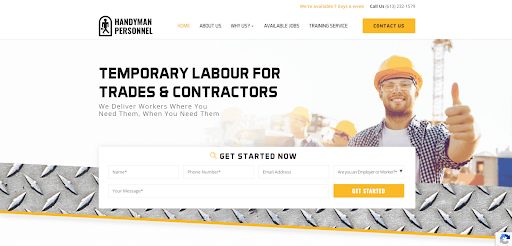 Handyman Personnel is the perfect solution when you need qualified help for your construction or maintenance project. Thanks to their depth of experience and knowledge across a wide variety of sectors, they're able to provide you with the best candidates for the job – no matter how big or small it may be. 
With over 20 years of industry experience, Handyman Personnel is Ottawa's go-to source for all your handyman needs!
Whether you're a small business owner or just need to find someone for your home project, Handyman Personnel is the team that will help make it happen.
"Awesome people to work with. They are willing to go the distance to get you trained and into the workforce. They are not just a labor agency by no means."
5) Devine Hands, Handyman Services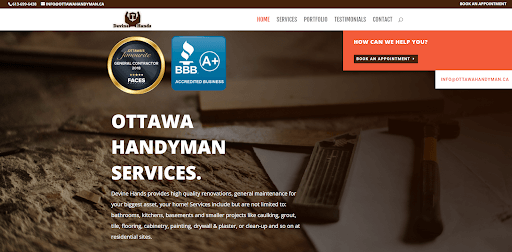 Devine Hands are here to help you maintain the quality of your home! They provide high-quality renovations, general maintenance for residential sites. 
Their services include but are not limited to: bathroom remodels and updates; kitchens basements and smaller projects like caulking, grout, tile, flooring, cabinetry, painting, drywall & plaster, or clean-up and so on at residential sites.
When you have a long list of things to be done around your house, it is time to hire Devine Hands. They can secure the closet systems and cut an opening for lights. Their handyman can do everything from fixing up broken windows or installing new ones –  using only high-quality materials.
"Randy and his team completed a section of wall framing in my basement recently. I appreciated their attention to detail in their workmanship. In addition, their customer care - especially their above-and-beyond effort to make sure all of my requests and needs were met - was commendable! Finally their price was fair and not outrageous like some of the other renovation contractors that I had gotten estimates from."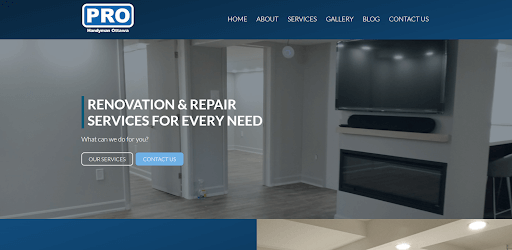 Jakub at Pro Handyman Ottawa is an experienced contractor who's excited to start working on your projects. He has years of experience in a variety of different trades, from new builds to renovations. 
Jakub always keeps his work area clean and organized, so you can be assured that he'll treat your home with the same care as he would his own. Plus, he's always punctual and reliable – you can count on him to get the job done right without any delays. 
With the right tools, knowledge and skillset, Jakub is ready to take on any project head-on!
"We had purchased a window and nobody in the city would install it until we found Jakub. His installation was fast, clean, with very little disruption, and it looks amazing. We have since asked him to fix a couple of items, replace a utility sink, replace a vent, and had to do it with very little notice. Jakub was fast to reply and able to get to us with us giving him such short notice. Again, great work."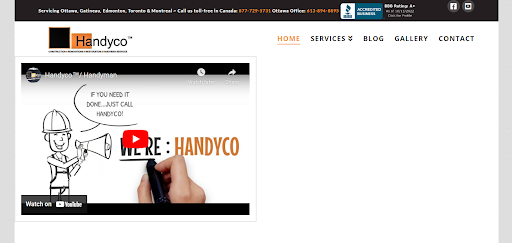 Handyco is a company that specializes in general maintenance and renovations. The company has been operating for over 30 years, and its focus has always been on customer satisfaction. Whether you need basic repairs done or a complete renovation, Handyco will take care of it with a smile and handshake. Because the quality of their workmanship is important to them, they make sure that all of their employees are highly trained and experienced in their respective fields. 
They offer the Ottawa residents a professional and affordable choice. From wall repairs to basement developments, minor tasks to electrical/plumbing work, you can trust Handyco to take care of you. 
They pride themselves on being reliable and efficient; so if you're looking for a handyman who can handle any type of job – big or small – look no further than Handyco!
"I have now completed my second project with HandyCo. An exceptional and professional company who has provided me with quality work that has met or exceeded my expectations. Michel and his crew are so easy to work with and go out of their way to make the customer happy. I would highly recommend HandyCo to anyone. Time for my third project with them!"
Handymen are a necessary part of any household, and Ottawa is no exception. By choosing one of the six best handyman in Ottawa, you can rest assured that your home will be in good hands. 
These professionals offer a wide range of services, from basic repairs to full-scale renovations. So whether you're looking for someone to fix a leaky faucet or install new cabinets, there's sure to be an Ottawa handyman who can help.