The best French bakeries in Ottawa can give you a taste of France right here in the city!
Though not quite France, Ottawa is home to plenty of delightful French bakeries baking up all kinds of treats. These bakeries are perfect for people looking for authentic and delicious French baked goods. Whether you're looking for a classic croissant or a decadent mille-feuille, there's a French bakery for you!
We chose these French bakeries based on their experienced and talented bakers, the premium ingredients they use, and the wonderful baked goods they're serving up!
Whether you're looking for more baked treats or more French flare, you're in the right place! Check out our lists of the best bakeries in Ottawa and the best French restaurants in the city!
What are the Most Popular French Baked Goods?
There are so many different types of French baked goods, that it's hard to know where to start! Here are a few of the most popular French treats that you can find at Ottawa's best French bakeries:
Croissants: A classic French treat, croissants are buttery, flaky pastries that are perfect for breakfast or a snack.

Mille-feuille: A decadent pastry made with layers of puff pastry and filled with custard or whipped cream.

Macarons: delicate almond meringue cookies sandwiching a flavoured ganache or buttercream.

Pain au chocolate: A chocolate twist on the classic pain au lait, this bread is a favourite breakfast treat.

Eclairs: A classic French pastry made with choux pastry and filled with custard or whipped cream.

Tarts: Sweet or savoury, tarts are a versatile French pastry that comes in many different flavours.

These are just some of the delicious French baked goods that you can find in Ottawa! Each bakery has their own specialties, so be sure to check out all of the different bakeries to find your favourite.
The Best French Bakeries in Ottawa
The Best French Bakeries in Ottawa Now that you know what to look for in a French bakery and what some of the most popular French baked goods are, it's time to check out some of Ottawa's best!
1) Les Moulins La Fayette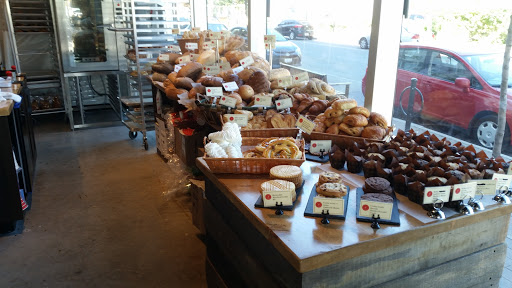 Les Moulins La Fayette is a French bakery that is operated by Mr. Johnny Jeulin. He is a fifth-generation baker, pastry chef, and chocolatier. This bakery offers an array of delicious baked goods, including bread to serve as starters, delicate viennoiseries, and other treats for everyone's enjoyment. 
The folks here also know how to prepare delectable chocolate, so you will surely be surprised just by simply tasting 1 item on their menu! They even provide unique events for special days of the year like mothers/father days or any other holiday where they make amazing and unique tasting pastries! 
So if you're ever in the mood for some French baking, be sure to check out Les Moulins La Fayette! You won't be disappointed.
"Lovely place in the neighbourhood. I went on a Sunday afternoon, therefore the variety was smaller but nevertheless impressed by the quality. I had only a danish and a butter croissant, which means I need to go back for more items. So far they delivered on the quality. Bonus points for the lady at the counter. She was very friendly and helpful. I did notice that the place was quiet busy as many tables were occupied. Always a good sign regarding the prices and the quality."
2) La Maison du Kouign-Amann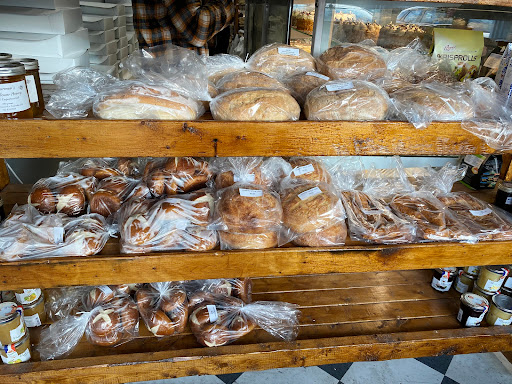 La Maison du Kouign-Amann is a family-owned bakery specializing in offering its customers delicious French cuisine in Kanata North, Ottawa.  This is a reliable bakery that cooks up delicious pastries with traditional glazed, raspberry, lemon, Nutella, and caramel flavours in addition to using only the freshest local produce!
They also offer a special creperie menu with menu choices that use traditional recipes from ages ago if you want something more than just simple pastry. This is an amazing spot to eat pastry or have an overall good time with French cuisine; a must-visit if you are passing by!
"Amazed by the great selection of French desserts and pastries. The pistachio cranberry tart is just at the perfect sweetness with full body of nutty flavor from real pistachio. The subtle fruity acidity from cranberry perfectly balanced off the sweet taste. The creamy chocolate croissant is also beyond expectation. The light sugar crust upgrades the crispness of pastry dough. The inside is tender and soft. The "caramelized" chocolate finishes the bite with pleasant chewiness. Totally a joy companioned with a sip of black americano."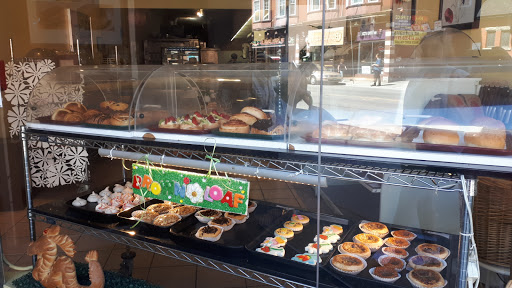 Brown Loaf Bakery is a small French bakery renowned for its pastries, bread, cupcakes, cookies (decorated & regular), scones, biscuits, and more. Their customers love the selection of healthy food options like their Bacon Onion Cheese scones. Also, many customers love cakes as well. 
They work to provide the community with a fantastic experience when it comes to anything baked or dough-related, so everything here is top-notch and tastes amazing. Be sure to drop by here if you are visiting Ottawa, as their treats are simply to die for!
"It's the most affordable and delicious bakery in the area! I go about twice a week, usually for their fresh croissants in the morning and then a post-work treat in the afternoons. I've been working my way to try everything in the bakery. Favourite: plain croissant, perfect feuilleté layers and SUCH A GREAT PRICE! Pleasant surprise: The cinnamon roll has a cinnamon caramel coated between the layers, that is perfect consistency and not too sweet. Won't find anywhere else: French Basque cheesecake. It's the perfect balanced cheesecake! EVERYTHING IS HANDMADE AND FRESH!!!"
4) Mamie Clafoutis Ottawa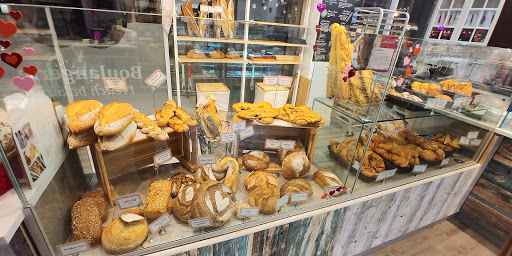 The Mamie Clafoutis café in Ottawa is an amazing place to go for a quiet meal, whether it's for breakfast, lunch or dinner.  They serve a wide variety of tasty treats, pastries, as well as complete meals you can take your time enjoying! 
They also have a children's corner with a kids' table and chairs, toys, books, and drawing boards for the little ones to enjoy while eating up their snacks. Additionally, they offer their customers the option to click and pickup.
With delicious baked goodies, plus a comfortable dining space, there's no reason not to stop-by Mamie Clafoutis!
"Mamie Clafoutis is quickly becoming one of my favourite pastry shops. This little shop is a popular place in Westboro. The menu is what you would expect; a great selection of breads, prepared dishes, treats and pastries of course! I come mainly for their delicious bread; although, I treat myself with the occasional pastry. The prices are what you would expect from a fashionable pastry shop on a busy street in this trendy part of Ottawa. There is plenty of staff to serve you and seating is available indoors and on the sidewalk, outside. Come prepared with an appetite and friends!"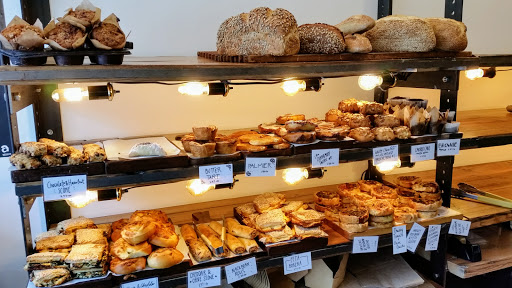 Bread and Sons is a city bakery opened in 2005 by Yoav D'Vaja; it is one of the first bakery restaurants in Canada to specialize in homemade, all-vegetarian fare. Their pizza is known for being made from scratch in their bakery's brick oven. 
Bread and Sons have also expanded into pastries that are as stunning and delicious in their appearance as they are to taste! Some of their most popular baked goods include cookies which come either with chocolate or hazelnut, as well as their croissants, muffins, cakes, and even pies of various flavours!
They are also known to host a coffee master who makes some of the best coffee on the block. All of this combined makes this one of the best French bakeries in Ottawa.
"I work across the street from your bakery and I have to say that I am a HUGE fan. Your baked goods are always fresh and delicious. I particularly love the spinach and feta spiral with sesame on top...oh so good! The only feedback I would like to give you from a customer standpoint is that your store front really should stand out more. I had no idea that there was a bakery there if it was not for my co-workers raving about you. I had a hard time finding the name of your store on the sign outside. Either way, I am so happy to have found you!"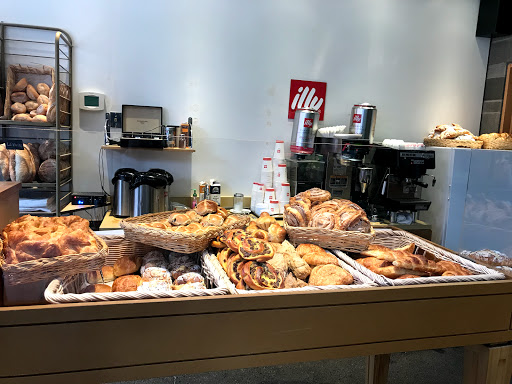 The French Baker – a unique French Bakery offering delicious desserts with personnel from France, and it is very similar to a "boulangerie de quartier".  They take pride in the variety of their products, employing fresh, natural ingredients that produce bread and other food products that are rich in fibre and low in fat and sugars.
Aside from delicious fresh bread, they offer various pastries such as croissants, chocolates, and Chausson aux Pommes, mostly made daily to keep the freshness going, and the taste kept amazing!
They also offer delicious desserts where they use natural and real cacao butter and local and seasonal fruit whenever possible, pure butter, cream, and bourbon vanilla to ensure superb quality.
So if you consider yourself a true French Cuisine connoisseur, visit the French Baker, as they will make your taste buds go wild with the assortment of delicious goodies they have instore for you.
"Drove by several times always meaning to drop in and just happened to be open today so today was the day. Picked up chocolate eclairs and they were delicious ! The quaint shop brought back memories of my childhood when I lived in Belgium. So happy to have found the boulanger . Will definitely be back for the croissants!"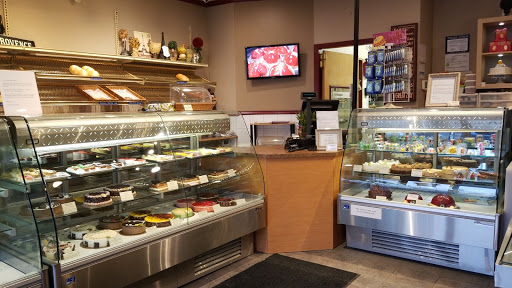 La Provence is the real deal when it comes to scrumptious baked goods. You'll find an unparalleled variety of fine cakes, French pastries, breads, pies, quiches, chocolates, cookies, and more – all freshly baked daily on the premises using only the finest ingredients.
They don't use artificial additives and preservatives to prolong shelf life, and they don't believe in expensive over-packaging. The products at La Provence are created from proven recipes and time-tested baking procedures, filling the bakery with a truly taste-tempting aroma.
In other words, if you're looking for a baking experience that's the next best thing to homemade, La Provence is the place for you. Bon appetit!
"We love this bakery. They have a good and delicious choice of cakes and pastries. Although I would recommend visiting them in the first part of the day if you expect to have a better selection of pastries. They also do custom cakes on request, but I never ordered them yet. Overall, I don't know any other places in Kanata that would compete with these guys."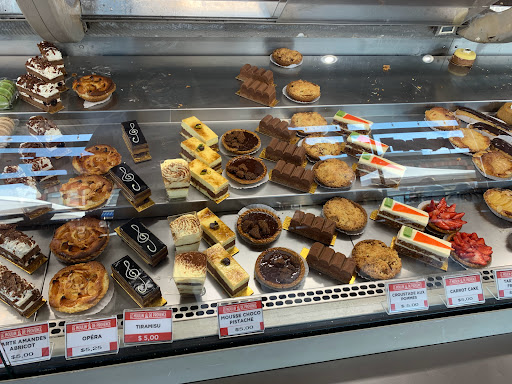 Le Moulin de Provence is a beloved Ottawa landmark, located in the heart of the city's storied Byward Market. For over two decades, the store has welcomed millions of visitors from all over the world, providing them with freshly-baked French pastries, artisan breads, coffees, and bistro fare.
The Moulin's welcoming open community atmosphere has made it a favourite destination for both residents and tourists alike. In addition to its delicious sandwiches, croissants, quiches, pizzas, and other savoury items, the Moulin boasts an impressive array of pastries, tarts, macaroons, and cookies.
With its focus on artisanal food made with only the freshest ingredients, it's no wonder the Le Moulin de Provence is Ottawa's go-to spot for authentic French cuisine.
"When you walk by and the place is packed, you have to walk in. Not disappointed !! The pastries we fresh and rich in taste. People were very nice and courteous even though they were going crazy with all the rush. A nice patio to enjoy the weather and breakfast."
FAQs About French Bakeries
In Ottawa, there are many pleasant bakeries, but why go to a regular bakery when you can go to a French one? The French bakeries in the city all employ highly-trained staff who definitely know what they're doing. These bakeries all have impressive offerings like macarons and madeleines just waiting for you to bite into!
So if you're looking for a wonderful place to buy some baked goods, you have to visit the best French bakeries in Ottawa!