You know you've been in Ottawa for a while when you start to notice how many dry cleaners there are, and the large number of options. It can be hard to find one that suits your needs. There's no point in settling for an average cleaner if there is a better one just around the corner!
The best cleaners have been around for years and have been vetted by customers so you can trust their quality of work! Here are six of the very best dry cleaners in Ottawa.
How Much Does It Cost to Have Your Clothes Dry Cleaned?
The cost to have your clothes dry cleaned varies depending on the company you choose, but also depends on the type of fabric that your clothes are made up of, and what kind of work they need done.
Below is a table of the average prices you can expect to pay for certain pieces
| | |
| --- | --- |
| Pants | $15 – $20 |
| Shirts | $8 – $13 |
| 2-Piece Suit | $20 – $30 |
| 2-Piece Dress | $30 – $40 |
| Sweaters  | $8 – $15 |
| Duvets/Comforters | $30 – $70 |
| Ties | $5 – $10 |
| Skirts | $9 – $25 |
| Coats/Jackets | $15 – $30 |
| Vests | $8 – $20 |
| Blouses  | $7 – $13 |
The Best Dry Cleaner in Ottawa
Now that you know how much it actually costs to have your clothes dry cleaned, here are the best cleaners that Ottawa has to offer. Whether you're pressed for time or have some really challenging garments, these dry cleaners are able to handle the job!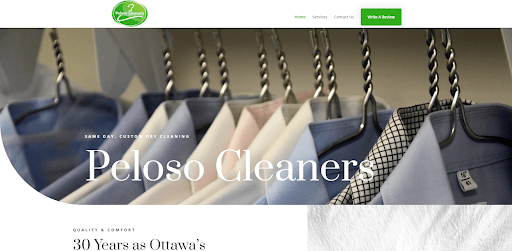 Trust Peloso with all types of clothes to make sure you are clean dressed for success this season. Their family business has serviced the Ottawa Community for 30 years, specializing in providing their clients VIP SERVICE at no extra cost! FREE Pick-up and Drop Services available too!
They clean all types of clothes from winter jackets and leather to wedding gowns and house items like rugs and carpets. If you are in need of overnight deep cleaning for major coffee stains on the white shirt or skunk odor they will come to your rescue. Your clothes will be better than new!
"These lovely people got me out of a pickle! I dropped off a TON of stuff. Loads of sleeping bags and clothes that stunk of camping. Not only did they turn it around super fast… I lost track of time and the exceptionally kind owner CAME BACK to the shop to meet me AFTER closing time! I needed all the stuff for that night again. He really went above and beyond and I was very grateful for him. Thank you so much for being so fabulous and making all the stuff smell so nice!"
2) Riverside Cleaners & Alterations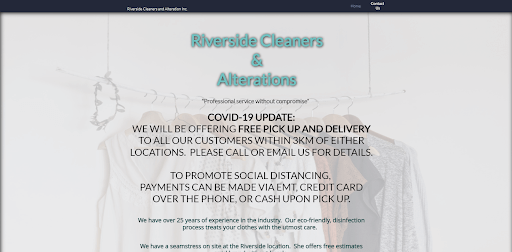 They are the industry experts. With over 25 years of experience, their eco-friendly process ensures that your clothes will be treated with utmost care and professionalism from start to finish! For those who want it all done for them (or don't have time) they offer free pickup/delivery within 3kms.
If you're looking for the best prices and service, then look no further thanRiverside Cleaners. They offer exceptional service for you coats, jackets and even couches.
"Wonderful neighborhood business. Always cheerful, excellent service and always happy with their cleaning."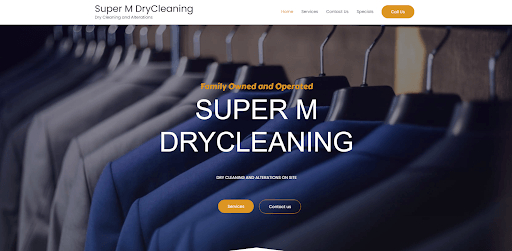 At Super M DryCleaning you can get everything that you need cleaned. They will take care of your wedding gowns, Suede and Leather, Drapery and Area Rugs and many more. With the professionals that are working there you can also alter your clothes on site to have the perfect clean look and fit, they can restore your wedding dress too.
You will love the way that the staff at Super M DryCleaning are always so friendly and welcoming.
"I am more than happy with the drycleaning of my clothes, delivered on the same day, and the owner is pretty professional and friendly!!"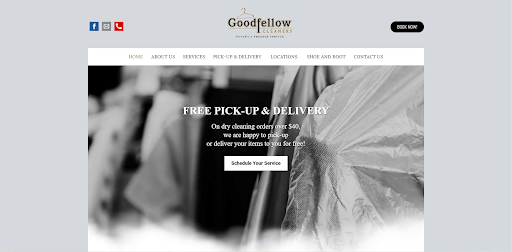 They have been providing the best dry cleaning service in Ottawa for over 25 years. With a family-run business, you can expect personalized customer care and excellent workmanship from experienced hands who know their way around a scissors or needle case! They also get involved with local charities.
They do the same day dry clean which is really impressive. Whether you need a stain removed on your favorite shirt, or you have dress pants you need cleaned in time for a party, they know what to do!
They also have shoe and book cleaning except who can do miracles and restore your favorite pair so they would look just like new!
"Exceptional service is what I have come to expect at Goodfellow Cleaners. Kind, courteous and knowledgeable staff. When it comes to caring for your garments I would recommend this service wholeheartedly. Always going above and beyond!"
5) Monson Deluxe Cleaners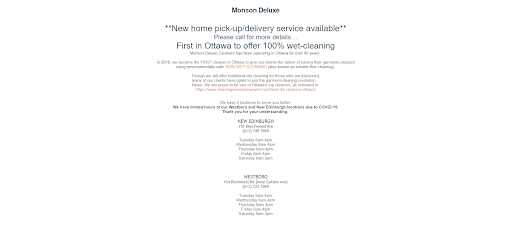 Monson Deluxe Cleaners has been operating in Ottawa for over 90 years. They became the FIRST cleaner to offer the clients an environmentally-friendly option: wet cleaning (also known as solvent-free cleaning)!
Though the traditional dry cleaning is still available as a service. They will take care of the most unpleasant stains on your clothes and make sure you're fresh and clean. Their service is exceptional and the staff will always help you with any question or problem.
"I really like them! The gentleman who helped me was really nice, and they did a great job with my fall jacket. I wore sunscreen on my face and there were stubborn sunscreen and foundation stains at the top of the jacket. Very happy to see the sunscreen stains completely gone."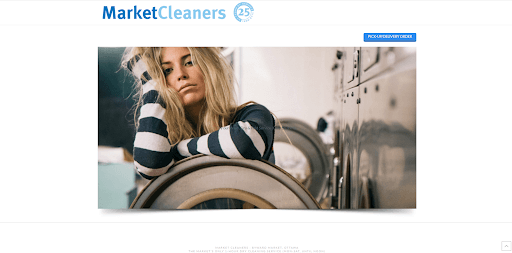 Market Cleaners is a unique company with more than 25 years on market. They offer a one-hour cleaning service that you can't find anywhere else! You can also receive credit for recycling your old hangers. They have a loyalty program so you can have every twenties cleaning for free!
At Market Cleaners you can whiten your coat professionally so you don't have to wear your yellowish clothes again. They also have exclusive shirt service which will be great for the people who wear shirts every day.
"After my outdoor wedding, I took my wedding dress to them. It had a very long train and a lot of dirt on the dress! Not an easy job. They did a fantastic job for the main body of the dress - restoring it to pristine condition. They went above and beyond to try and remove the staining around the bottom of the dress hem which could just be hemmed to make it brand new, but they took the time to return to as much as possible original condition. I appreciated how they took the time to explain the processes they used to try and remove some of the most difficult staining around the bottom hem. I also used them to steam my dress prior to my wedding day and I couldn't have been happier with the result and service. Highly recommend it."
Dry cleaning is a major part of life here in Ottawa. Luckily, there are some great cleaners around town who will do a great job without breaking the bank. Here's hoping that your favourite dry cleaner made this list!
If you're also interested in getting your car cleaned, we have a list of the
best car washes in Ottawa
as well. Check it out!