If you're looking for a reliable, experienced electrician in Ottawa, look no further than the six businesses below. 
These companies have been providing quality electrical services to residents and businesses in Ottawa for many years, and they are all dedicated to customer satisfaction.
Whether you need someone to upgrade your home's electrical system or repair a faulty outlet, these electricians will get the job done right – guaranteed. So if you're in need of an electrician in Ottawa, be sure to check out the businesses below!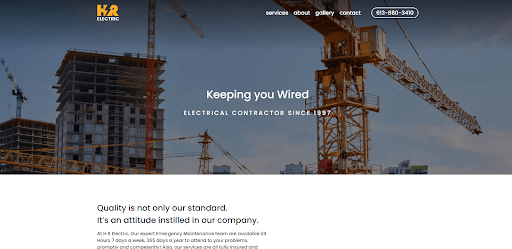 Hiring an electrician is one of the most important decisions you'll make. You need someone who can get your job done quickly and professionally, 24 hours a day 7 days per week 365 days in a year! That's why at H R Electric they offer emergency maintenance services around town. 
Their experts have over 20 years of experience providing premier electrical services to builders, commercial contractors, property managers, and home and business owners. They offer residential help with panel upgrades, lighting design as well as remodelling, landscape lighting and many more. 
Website:  hr-electric.com
Phone:  +16138803410
Address:  2350 Stevenage Dr, Ottawa, ON K1G 3W3, Canada
"This is our second time using H&R Electric and they are always great! We had our power go out in a light fixture and 2 outlets in the same room. Mohamed found the problem - which was a room away - and fixed it immediately. Great service, great response time and friendly. Definitely recommend, 10/10."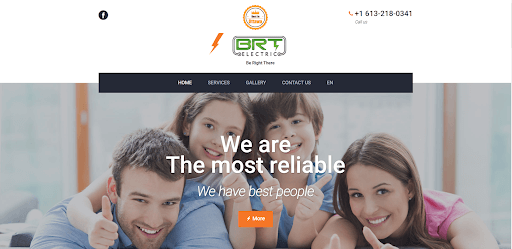 Their team of professionals is here to serve you and your home's electricity needs. If it has anything about power outages, they can help! 
Whether it's outdoor lighting or an entire generator installation for safety during blackouts; just let them know what type of service you are looking for so that their expert electricians will get right on the job as soon as possible. 
They offer 24/7 free emergency consultations for residential and commercial users. They specialize in troubleshooting, safety and hazard inspections, security lights, transfer switches and more.
Website:  brtelectric.ca
Phone:  +16132180341
Address:  80 Topley Crescent, Ottawa, ON K1G 4M6, Canada
"Amazing electrician and business person. Completely honest and explains every detail of the installation. Exceptionally clean also. Nothing to clean up after the installation. He has installed soffit lights, fixed all our kitchen outlets and made incredible suggestions for light fixture replacements."
3) Campbell Electrical Contracting Inc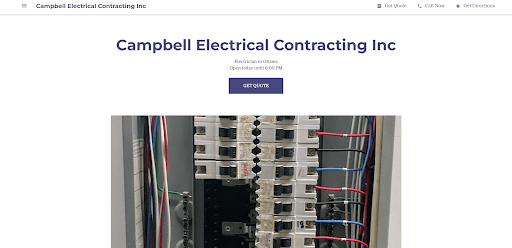 When you find yourself in need of an electrician for your home or office don't hesitate and contact Campbell Electrical Contracting. They not only have competitive pricing but also will show up on time and do excellent work!
They can handle any electrical need you may have, from installing new lights and fixtures to updating or repairing your existing wiring.
If you have an emergency electrical problem like troubleshooting they offer an urgent fix 24/7. The owner is extremely professional and quick in work.
"Excellent electrician, always on time, professional, extremely knowledgeable, and delivers high quality results. I would recommend it to anyone without reservation. Our first choice for all electrical work."
4) Mike Fuller Electric Ltd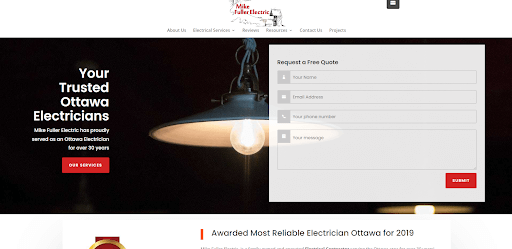 The family-owned and operated Mike Fuller Electric is a contractor serving the Ottawa area for over 30 years! They specialize in rewiring older homes, residential service calls (including security systems), outdoor lighting—to name just some of their many offerings. 
You can count on them when you need any home upgrade or commercial electrical work done big or small. 
With a 1 year warranty on all services plus products used – there really isn't anything that will stand between your happiness! And if you are an electric car owner they can install car charging system rights in your garage.
"Mike and his staff are committed to customer satisfaction and educating the customer about the best possible electrical solutions. I have used Fuller electric many times and they have never disappointed. The work is efficient, clean, and very reasonably priced."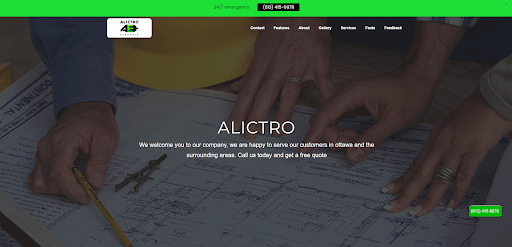 The professional team at Alicts Electrical is ready for your electrical needs no matter how big or small they may be. Whether you need help with renovations, home generators in case of an emergency power outage and more – their experienced electricians can do it all! 
They offer 100% customer satisfaction on all work done which means that if there's something wrong after installation then just let them know. 
They can upgrade your electrical panel from 100 amps to 200 amps or from fuses to breakers. Plus, they can repair any damage or relocate it to accommodate any changes you've made to your home.
Website:  alictro.ca
Phone:  +16134159978
Address:  2199 Melfort St, Ottawa, ON K1G 1H6, Canada
"Ali provided us with a number of electrical services including: pot lights, a dedicated microwave outlet, under cabinet lighting, peninsula outlet etc. I have found Ali knowledgeable, fast to respond and efficient and to top it off he was nice to deal with, timely in his services and reasonable in his fees. We received the certificate of inspection the next day after he completed his work. I am recommending Ali to my friends and family for their electrical needs."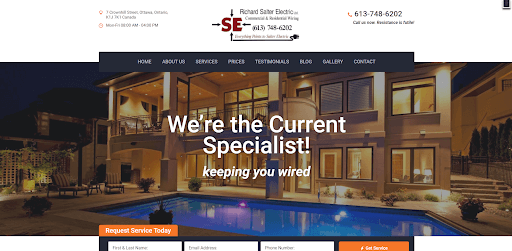 When you need an electrician in Ottawa, Salter Electric Ltd. has been providing quality service for over 50 years now! Since 1965 they have continued to grow with friendly technicians who are ready to provide an unsurpassed level of professionalism on every job.
They offer services such as installation, retrofit or renovation – whatever your needs may be; so contact them today if something has gone wrong with any aspects of home electronics. 
And if you need help installing new security cameras throughout the house or whole home generator that will keep your appliances working properly during a power outage they can do it all.
Website:  salterelectric.com
Phone:  +16137486202
Address:  7 Crownhill Street, Ottawa, Ontario, K1J 7K1 Canada
"Not only we were extremely pleased with their service, but we are also excited to have found a reputable, respectable, trustworthy company to use again in the future. The owner and his team were absolutely amazing. If you are looking to get new electrical done, you have repairs or cannot figure out what is the problem, Salter is your guy!"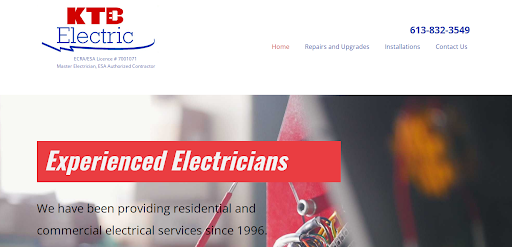 KTB Electric is a reliable provider of residential and commercial wiring services in Ottawa and surrounding areas. They provide top-quality electrical installation, repairs, and replacements for both homes and businesses. KTB Electric has been in the business since 1996 and has licensed professionals to handle a range of electrical and lighting fixture installations for customers in Ottawa, Nepean, Kanata, Stittsville, Vanier and Gloucester. They provide standby generator connections, hot tub and pool wiring, electric vehicle chargers, and search suppressors.
Their experienced professionals know exactly what needs to be done to get your home or office up and running again – from rewiring an older home to installing pool or hot tub wiring. You can also rely on their licensed electricians to handle your circuit breaker panel wiring. Whether you have a new fixture to install or an old fixture to replace, KTB Electric is an excellent option. 
Website: ktbelectric.ca
Phone: +16138323549
Address: no address, Ottawa, ON K1P 1B1, Canada
"I had two separate electrical issues (one a short circuit and the other a faulty breaker) and the technician, Ken, was able to efficiently diagnose and repair both issues. Problems are now fixed, I learned a lot, and feel that I received honest and extremely effective service. Highly recommend!!!"
8) Floodlight Electric Inc.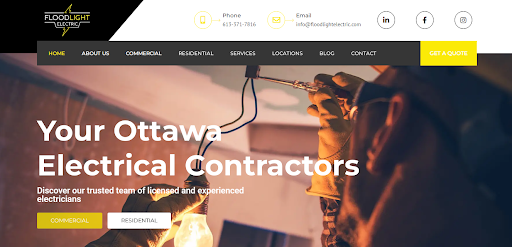 Founded in May 2016, Floodlight Electric is a residential, commercial and government electrical contractor company based in Ottawa, Ontario. With a growing team of experienced electricians, the company has quickly solidified itself as one of the top providers of reliable electric services in Ottawa. From home installations to full system audits and repairs, Floodlight Electric offers comprehensive solutions for all your electrical needs. 
Everything from electric vehicle charger installations, to HVAC units, they offer a full-service of electrical system solutions including electrical installations, repairs and maintenance. Thanks to their commitment to customer satisfaction and quality workmanship, thousands of residents and businesses in Ottawa rely on them for everything from minor fixes to major renovations. If you're looking for an honest contractor with years of experience who will go above & beyond duty-of-care standards then look no further than Floodlight Electric!
"Floodlight Electric provided excellent service on the two occasions we used them. Joel was punctual and professional. The first occasion was a problem with our electrical outlet and second was the installation of kitchen pot lights. In both instances Joel explained what he was doing and why. The work was done in a timely manner, as per the quote. I would highly recommend Floodlight Electric."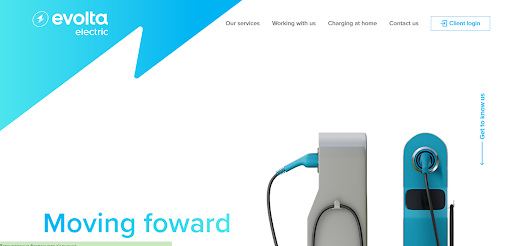 Evolta is a leading expert in the design, supply and installation of Electric Vehicle Charging Systems. They offer charging solutions for single-family homes, multi-residential buildings and commercial establishments. Their team has a passion for smarter energy usage, which is why they work with clients to find the best electrical solution for their needs. 
In addition to their low-carbon emission infrastructure services, they also have a passion for smart homes, energy management systems and energy storage solutions. Whatever your electrical needs they can help you get them done right – efficiently and with minimal environmental impact. Whether you're looking to upgrade your home's wiring or install an EV charger system at your business, Evolta can help you get started. Contact Evolta to learn more about how they can assist you on your journey to a low carbon lifestyle!
Website: evoltaelectric.com
Phone: +16139022386
Address: 373 Bronson Ave, Ottawa, ON K1R 6J4, Canada
"Just had a Tesla charger installed in my home with Evolta and Martin & Alex were both fantastic! Punctual, efficient and professional all around with reasonable pricing. Would definitely recommend them to friends!"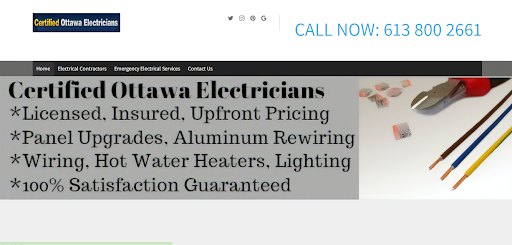 Certified Ottawa Electricians is a trusted electrician company in Ottawa that provides excellent customer service. Their dedication to their clients and their overall happiness takes precedence over everything else they do in their day-to-day life. The managers and electrical contractors at Certified Ottawa Electricians are not solely focused on the profitability of the company; they're also devoted to providing exceptional quality services to their clients. 
From emergency services to knob and tub replacement, they can do it all. This ensures that each individual client's needs are taken into account, regardless of the size of your project. In addition, certified and insured electricians offer competitive rates for all types of electrical work, which makes them an affordable option for property owners in need of repair or installation services.
"Great service. Would highly recommend!"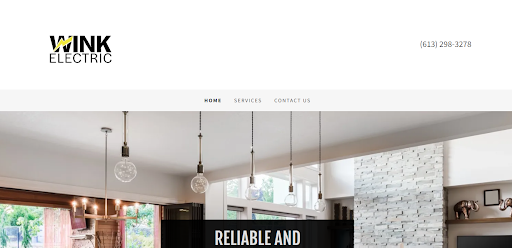 Wink Electric specializes in residential services, which can include everything from small wiring fixes to the installation of state-of-the-art smart home systems. They offer a range of innovative and high quality solutions that can get the job done right every time. From renovations to new builds, they have you covered! In addition to their standard services, they also provide hot tubs and electric vehicle chargers upon requests. 
Wink Electric has always been a reliable and trustworthy electrician in Ottawa when it comes to last minute fixes and change requests. Their services are impeccable, and they are always able to help clients solve whatever electrical problem may arise in a timely manner. Give Wink Electric a call and see it for yourself! 
Website: winkelectric.ca
Phone: +16132983278
Address: 123 Grenadine St, Stittsville, ON K2S 1B9, Canada
"Wink electric was a pleasure to deal with. Ryan and his crew were pleasant, showed up on time, did a clean professional installation and the final price was as quoted. Excellent service that I would not hesitate to use again and to recommend to friends and family."
Electricity is an essential part of our lives, so it's important to choose a qualified electrician when you need work done. The list above provides some insights into the best electricians in Ottawa, so be sure to do your research before hiring someone for the job. 
By choosing one of these professionals, you can rest assured that the job will be done properly and safely.