The barbershop is a staple of Ottawa's culture. For decades, it has been the place to go for any man who wants to get his haircut by somebody who knows what they are doing. These 20 shops have proven themselves time and again as the best in the city, so for your next haircut make sure you check out one of these fantastic places!
How Much Does it Cost to Get a Haircut in Ottawa?
One of the great things about Ottawa's barbershops is that they offer a wide range of prices to suit any budget. You can get a high-quality haircut for as little as $20, or you can go all out and spend up to $50 if you want something really special. No matter your budget, there is a barbershop that will provide you with the perfect look for your wallet as well as your head.
The Best Barbershops in Ottawa
Now that you know a little bit about how barbershops work and what they offer, let's take a look at the 20 best in Ottawa: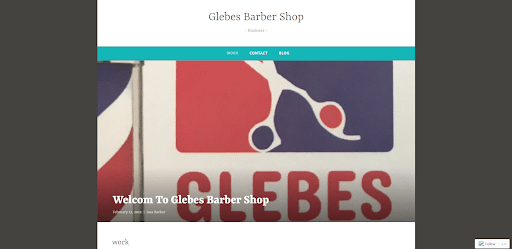 Glebe's Barber Shop is a great place to take care of your beard and improve your style. If you're looking for a barber that will give your hair the perfect cut, look no further. They have got it all – from professional service at an affordable price! They are talented with fading techniques as well as expert cuts on both: sides & back styles available.
The staff here is really knowledgeable and pay attention to details. They spent the time ensuring that you are entirely satisfied with the haircut and ask for feedback and any suggestions for your future cut.
Telephone: +16134060705
Address: 738 Bank St, Ottawa, ON K1S 3V4, Canada
"The best barber in town. He has great attention to detail and makes sure your cut is done correctly. Great Value as well. If You want a perfect line up, hot towel or a cut check this place out. 10/10"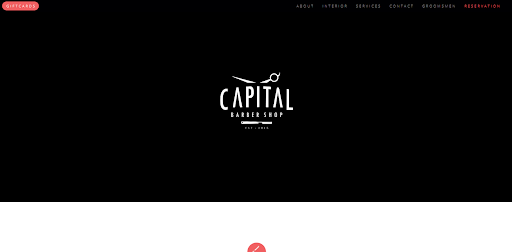 The Capital Barbershop was established to serve the elite group of gentlemen who strive for excellence and a level at which their greatness is beyond extraordinary. Get ready for a true man experience. Get your haircut and styled in the atmosphere of an old-fashioned barbershop, with hot lathery shaves available by request!
Barbers are skilled in giving you a premium service like shave, leaving your skin smoother than ever, tame your beard and give you the perfect style for any event. They will leave your hair looking sharp, fresh and simply amazing!
Telephone: +16132368838
Address: 590 Bank St, Ottawa, ON K1S 3T3, Canada
"The barbers at Capitol Barbershop are true artists who take pride in what they do and I always look and feel my best when I step out of their business."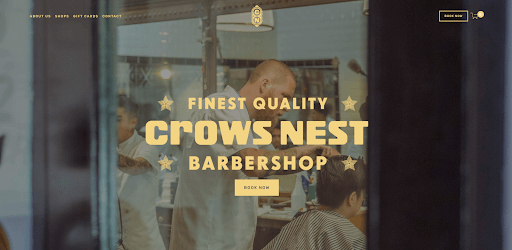 From the moment you walk in, the staff at this salon greet you with a smile and offer anything needed. They really take pride in their craftsmanship which can be seen by how personable they are towards everyone who enters, especially people with special needs!
They will help to transform your wacky head of hair into a modern, stylish masterpiece. The prices are very reasonable for the excellent service that these guys provide. They are always learning new techniques so you can try something new every time you visit or simply evolve your hairstyle while still maintaining the vibe that you are looking for. Also you may want to check out their great selection of beard oils and hair products for sale.
Telephone: +16136953899
Address: 990 Wellington St. W, Ottawa, ON K1Y 2X8, Canada
"Wanna cut that will make others stop and ask you where you got it? Hit this place up! The shop is friendly and everyone in the shop gets in on the convo. Whether gettin a trim you're with friends. Other shops talk big; Crow's Nest doesn't need to - they just bring it."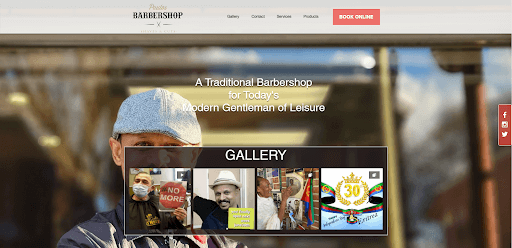 Paulo's Barber Shop offers a traditional barbershop experience with hot towels and shaves for today's modern gentlemen. The shop has been in business for a few years and made an excellent reputation. Wherever you have a short or a long beard and hair the professional barber is gonna take great care of it.
Paulo is the best! Clients love that he takes his time with everyone and makes sure you're satisfied. Plus, if anyone knows about maintaining style or just looking good in general – it would be him because he loves talking fashion tips. Also the cut is very quick and did not take too long at all.
Telephone: +16133172364
Address: 286 St. Patrick St, Ottawa, ON K1N 5K5, Canada
"So impressed by our experience here today. Both my son and husband look amazing. My son has red hair and if the fade is not perfect you see every line. His cut here was AWESOME. I will definitely be back. To top off this trip to the barber shop, he put on some cartoons for my son while we waited for Dad to be done. We will be back for sure!!! Thank you!!!!!!"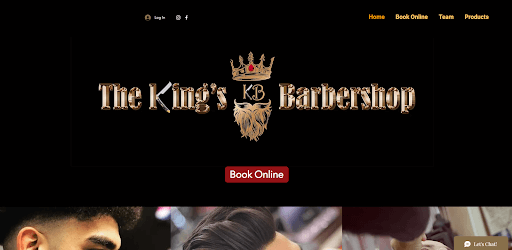 The King's Barbershop is a top-notch hairdressing shop that has been around for years. It always attracts customers from all over because of how clean and professional the place feels, not just when you're sitting in your hair being cut, but also while working there as well!
Each one of four barbers here give excellent haircuts every time – no matter what kind or style request it is -there is no one better than these talented individuals to give you both stylishly and refreshed casual cut.
If you haven't tried thiers straight razor shave you are missing out! You shouldn't be afraid to try it out because his place have excellent reviews and you are in good hands.
Telephone: +16138295464
Address: 2222 Carling Ave, Ottawa, ON K2A 1H3, Canada
"King's barbershop is the best in town. They are very professional and well trained. Amazing service, clean and fancy environment. Their online booking is the best, I booked my appointment, went on time and got my haircut. Thank you Omar for your business!"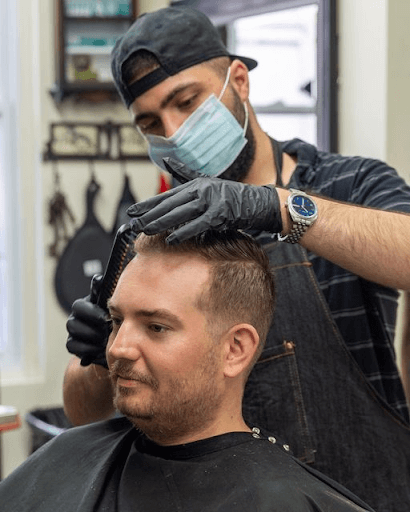 Mario, the barber with a particular sense of humor and friendly exterior makes you feel very reassured in his chair. He's easy going but will make sure that your hair cuts like the pros! His price point is satisfying as well due to his high quality workmanship which comes from years and decades worth of knowledge about how skin fades should look on each individual person's face type or plus he has plenty more tricks up sleeve when it comes to making sure whatever style/cut needs done looks great for every customer.
Plus, there is a really nice rewards card where you get a free haircut after 6 cuts! He uses only premium products for your skin and hair which is great for people with allergies.
Telephone: +16132307777
Address: 235 Laurier Ave. E Unit A, Ottawa, ON K1N 6P1, Canada
"I couldn't agree more with all the great feedback for Mario. I brought my two little dudes in and they have never been so calm getting a cut thanks to Mario's exceptionally relaxed vibe. There is even a little race car to sit in for the very young."
7) Khalil Barbershop Men's Hairstylist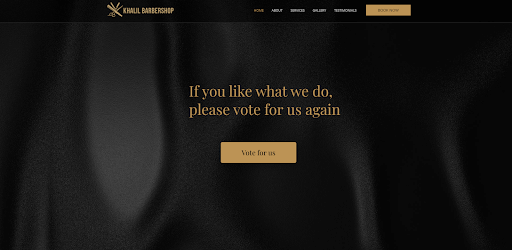 Men come to Khalil Barbershop for a variety of reasons. Some just need some clean shaves, while others want something more personal like the latest buzz cut or mohawk style on their head! They can meet all those needs with their professional barber staff.
From the moment you walk in, the barbers guarantee to relax you with their soothing shaves and aftershaves. They will finish off by giving your neck a massage. This experience isn't just about looking good – It's all part of feeling great because this is what shaving should feel like: refreshingly cool blades against smooth skin that leaves everyone feeling refreshed without any razor burns whatsoever. They also have "Mark of excellence" from the Top Choice Award for three years straight!
Telephone: +16137237686
Address: 1430 Prince of Wales Dr, Ottawa, ON K2C 1N6, Canada
"Top class in every realm. Staff are courteous, approachable and highly professional. My haircut was flawless and the conversation which accompanied it was memorable. Khalil Barbershop and it's staff are a shining example of a local business you simply must support."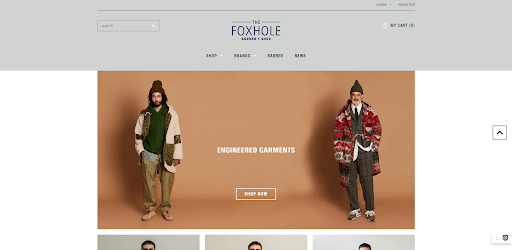 The Foxhole is a place where you can completely transform as a man. The professionals here are dedicated to giving you the best look possible. You can have a clean haircut and also shop for some really stylish and good quality clothing!
The barbershop has a massive space that's comfortable and feels like home. They remember exactly how it was last cut if you want to go back or have them help out! You get all of those trendy vibes as well such as straight razor cuts from skilled professionals who know what they are doing — but better service than any old classic shop could offer because these men really care about providing excellent results for their customers' needs.
Telephone: +16136957677
Address: 1206 Wellington St. W, Ottawa, ON K1Y 2Z7, Canada
"The owners of this Barbershop treat their customers like family and always ensure their work is done to perfection so you leave feeling refreshed and looking clean."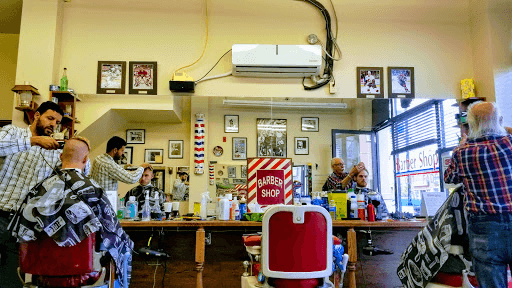 At Wellington barbershop, we pride ourselves on being one of the oldest and most respected shops in Ottawa. Their skilled barbers offer men sharp haircuts combined with a traditional wet shave to make sure you have an unforgettable experience from start-to finish! They can create the perfect mustache style for you which would match your face shape and personality.
With a modern touch of Barbers, fully versed in the latest men's styles and cuts and an old school charm interior will make you feel treated like home. They are also taking great care of children with special needs, always making them feel respected as "one of guys".
Telephone: +16134215521
Address: 1102 Wellington St. W, Ottawa, ON K1Y 2Y7, Canada
"Attention to detail, skillful with scissors, and extremely consistent. Absolute gem of a barbershop. Walk out a new man every time, thanks"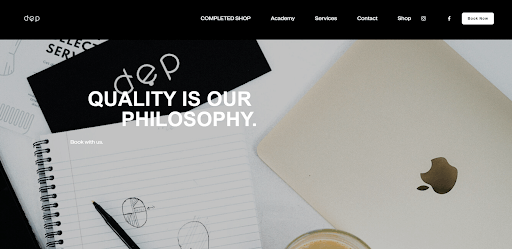 With an unmatched passion for everything barbershop, Dep is more than just your regular spot. Owned and operated by young entrepreneurs with a unique vision of what makes up the perfect experience in this industry, they give their all to satisfy every need that comes across their desk from start-to-finish – big or small!
They also have Ottawa's first modern Barber Academy which is dedicated to make you a professional and maybe start your own business! Their cutting skills are amazing! You will not believe how good your hair will look after they cut it. Plus, you'll find sneakers and clothing for sale too – perfect if shopping is on your mind 😉 The Dep can amaze you with the best beard line up you've ever gotten.
Telephone: +16134216566
Address: 683 Bronson Ave, Ottawa, ON K1S 4G1, Canada
"The best barbershop in Ottawa! Drippy has the knowledge of what hairstyle works best for each person. I trusted his recommendation and now I have the best haircut I've ever had in Ottawa. Thank you DEP!"
11) The G. O. A. T. Barber Shop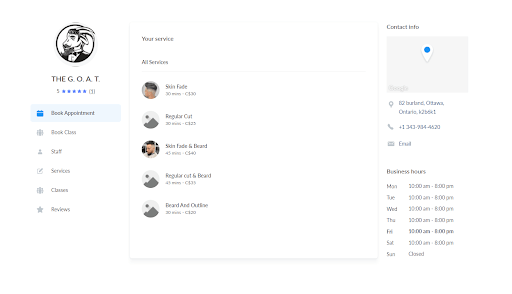 G.O A T Barbershop is the best place you will ever go to get your haircut! Not only do they provide an enjoyable environment for their customers, but also top-notch service with precision and care when shaving off all those extra locks from your head or beard into shape – you'll be amazed at how crystal clear it looks afterwards.
All the barbers have many years of experience so you can find the one to work with for years. They will take their time to discuss your future look with you and give professional opinion on what would look better on you. They do great hairstyles for kids as well! Their online booking system is really convenient and the shop is modern and clean.
Telephone: +13439844628
Address: 82 Burland St, Ottawa, ON K2B 6K1, Canada
"If you are looking to get the best fade in town, look no further. Jayms is truly a professional and a master when it comes to cutting hair in all styles. His barbershop is extremely classy and elegant. All the staff follow strict COVID guidelines, so do not worry about being in a sterile environment. If you are looking for getting compliments on your hair, Jayms should be your barber."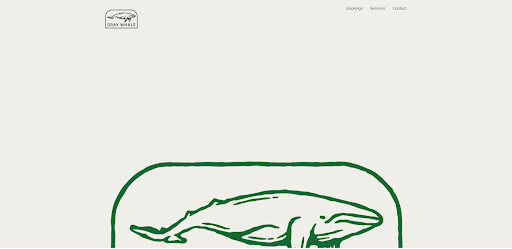 They are a small, experienced and dedicated team of professional haircutters. They take immense pride in our work; it's what drives them to always evolving as artists for clients' needs because nothing gives more satisfaction than providing them with an experience whereby they can relax or have meaningful conversation while receiving top notch services from some really talented folks!
They offer all types of hair and beard care like cutting, shaving and cleaning. The barbes will give you an awesome fade and professional advice on what would look best for thick or thin types of hair. The atmosphere at the shop is very modern and relaxing!
Telephone: +16136954777
Address: 1098A Somerset St W, Ottawa, ON K1Y 3C8, Canada
"Just had a beard trim, I won't trust any other place to touch it. Online booking is easy. Friendly and great atmosphere. The owner Gray has put together some of the most talented barbers in Ottawa."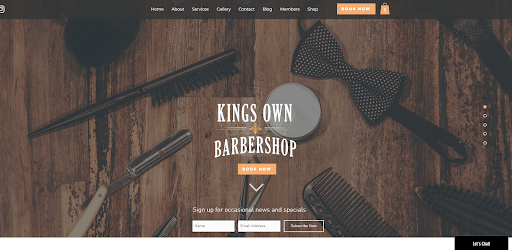 The Kings Own Barbershop is a professional and relaxing barber shop in the heart of our capital city. Come experience old-fashioned grooming techniques with top quality service, including straight blade shaves! They take pride in their work to provide top notch service for all customers who come through their doors.
Founded by Christopher Lord, Ottawa Faces Magazine Winner Best Barber 2019 and top 15 barbers in Ottawa by Narcity. They are also members of Hair Donation Ottawa (a cancer research organization).
Chris will give you hands down the best haircut and beard trim and also work well with thinning hair! He has a great attention to detail and makes sure you leave satisfied every single time. You can also buy a gift certificate there which will be the best gift for everyone.
Telephone: +16135816244
Address: 483 Gladstone Ave, Ottawa, ON K1R 5N7, Canada
"Unequivocally the best barbershop experience in Ottawa. Surpassed my expectations, service was top notch, great price for everything, and by far best fade and beard trim in town."
14) Royal Scissors Barbershop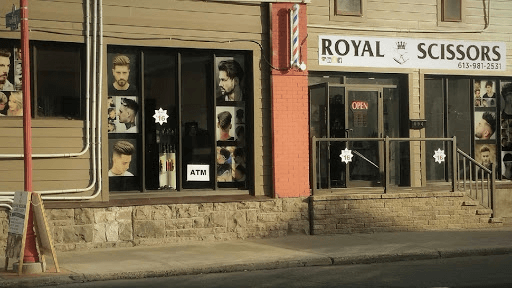 You'll feel like a Royalty when you step into this salon. The experienced hairdressers here really know how to cut hair and they will do it with precision, just as desired by their clientele over decades! So if your locks need an expert trimming from someone who has been doing what he does best then come see Royal Scissors Barber – they're ready for whatever kind of styling challenge that may arise.
They're great at children's haircuts, so you can trust them with your kids' style. The prices are reasonably cheap for the quality they provide.
Telephone: +16134210062
Address: 554 Somerset St W, Ottawa, ON K1R 6A2, Canada
"The best place friendly good price and awesome staff the place is extremely clean i recommend this place for anyone needs a decent haircut."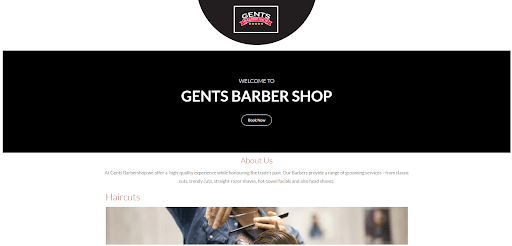 Gents Barbershop is a place where you can go to get your haircut, styled or even have the opposite—a shaver. Whether it be traditional cuts for all walks of life and tastes; trendy styles that are in right now but will soon become old news – they've got what every man needs! Haircuts at Thelers are clean, modern and of good quality. They have reasonable prices with quick cuts that don't take too long to wait for! You can expect friendly service from their stylists as well.
Telephone: +16137009390
Address: 93 Richmond Rd, Ottawa, ON K1Z 0A7, Canada
"Sam is an excellent barber, in fact the best barber I have had in my 60+ years. He styles each person's head in accordance with their head's unique requirements. I have never had a better haircut. I highly recommend him."
16) Joe's Sports Barbershop & Hair Salon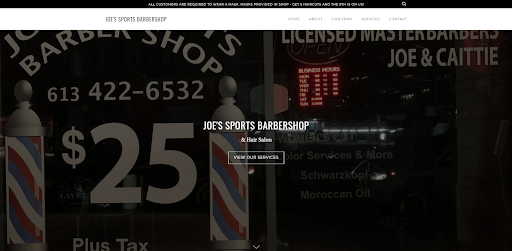 Joe's Sports Barbershop is committed to provide you with a convenient, quality barbershop experience. They only use premium products and make sure that our prices stay affordable! All of the stylists here have been hand-picked by Joe, the owner, so they can give your hair the best treatment possible while still maintaining an amazing look for any occasion or season – because when it comes down t o premature gray hairs nothing should stand between yourself & shiny baldness.
They have a sports theme and flat screen T.V.'s on every station so you never have to miss a sporting event. You can also get a free cut after every 5 and it works for all men, ladies and children.
Telephone: +16134226532
Address: The Galleria 2, 238 Besserer St, Ottawa, ON K1N 6B1, Canada
"Joe and the family are amazing at what they do. The haircuts are always beautifully done. Last week I had my hair double-processed and dyed blue on the bottom layer. I couldn't be happier with the result. I had been trying to get the orange tones out of my hair for months and Joe managed to do it in one day. It took a few hours for everything to be done and around lunch time they were making burritos and were kind enough to make some for me! I highly recommend coming in to the shop. You'll immediately feel like part of the family!"
17) The Hare & Hound Barbershop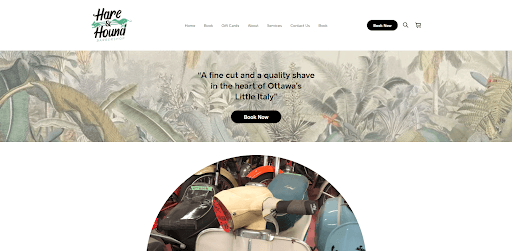 Haircuts can be a very personal decision. No matter who cuts your hair, you are always guaranteed good service and an amazing job overall because of their experience with different types of styles that will fit any personality or preference!
You should book your appointment ahead because it's a really busy place! The owner Tom will make you feel like family and treat you like royalty. They also have a shop where you can buy premium and organic hair treatment, shampoo and all types of fication gels.
Telephone: +16134061984
Address: 432 1/2 Preston St, Ottawa, ON K1S 4N4, Canada
"This place is wonderful! Been getting my haircut with these people for the past 6 years and plan on continuing this tradition"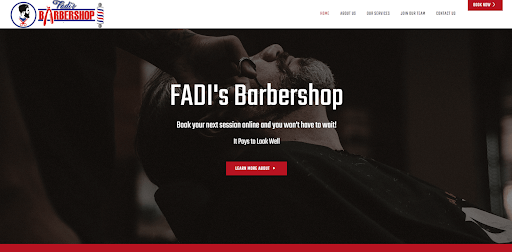 Gentlemen, if you're in need of a good cut and shave then look no further than Fadi's. They've been cutting hair for decades now – they know what makes an excellent man! Our owner has almost 20 years experience as one-of Ottawa's best barbers; he'll make sure that when it comes time to take care of you nothing but excellence will do: from the first blade touch all the way until his final flourish with scented oil.
At their place, you'll feel like a king. They have the perfect environment for total relaxation and they're always available to help if anything happens! The barbers are also fantastic with children – they will pull out all the distractions and treats to give an amazing and clean cut to the little ones.
Telephone: +16132275555
Address: 100 Shuttleworth Dr. unit 2, Ottawa, ON K1T 3W7, Canada
"Fadi's barber shop is one of the best in the city I have been a going to Fadi's barber for over 2 years since his last location and I would not recommend any other barber shop for anything you are looking to have done be it your fade, outline , taper cut , these guys will even give you a wax treatment. Very friendly and welcoming staff that make sure you feel at home when you arrive."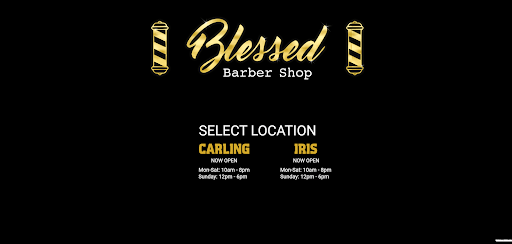 This barbershop is a place for men to get their haircut and clean up, or just have some time out from work. Mentioning that they give you the ability to enjoy complimentary services like Wi-Fi, and products like water bottles and hot towels absolutely free as well as other services like playing XBox, watching TV or just relaxing in their comfortable waiting area.
They have lower prices for 60+ people and kids under 10. The barbers also can wax your problem areas and give you a black mask to clean up your face pores. Their shop is very clean and you will feel at home here.
Telephone: +16138280000
Address: 1113 Cobden Rd, Ottawa, ON K2C 2Z1, Canada
"Outstanding service and incredible quality haircuts! This is the best barber in town! Very professional staff and I have never had a better haircut than Blessed Barber Shop. Thank you! If you need a great haircut, this is the place!"
20) Salad Days Barbershop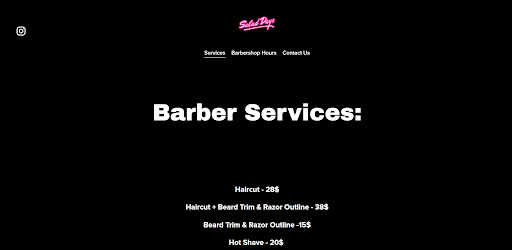 This cozy shop located near Carleton University is a favourite among locals for its no-nonsense approach to haircuts. Then only offer the necessary services which include haircuts, beard trim, razor outline, hot shave, and hair wash. Their no-frills approach allows them to offer some of the best haircuts in town at prices that are well below what other shops charge.
Telephone: +16137169546
Address: 41 Seneca St, Ottawa, ON K1S 4W9
"Simply put, Zach knows how to fade really well. I showed him a picture of how I generally wanted my hair to look and he did a stellar job. After I got my haircut, my family commented that it was the best cut I've ever received. High praise! The vibe of the shop is playful and inviting. I won't hesitate to come back the next time I'm in Ottawa."
A barbershop is a fantastic place for men to relax and enjoy a haircut. If you're ready for a change, make sure to check out one of these great shops in Ottawa! These 20 establishments have a long history of providing high-quality haircuts and impeccable service, so you can be sure you're in good hands.