Ottawa is a big city, so it can be difficult to find the best breakfast spots. But don't worry! This list will help you out! These 20 top-rated breakfast places in Ottawa are ones that use local ingredients, offer a variety of options and have a nice atmosphere too. So pick one today and start your day off right with these 20 great places for breakfast in Ottawa!
The Average Cost for Breakfast in Ottawa
Before we get to the list, let's take a look at the average cost of breakfast in Ottawa. The average price for a breakfast meal is around $10. This includes items such as pancakes, omelettes, bacon and eggs, and toast. Of course, you can find cheaper breakfast items if you're looking for something simpler. But if you're looking for a more hearty breakfast, expect to spend around $10.  
The Best Breakfast Spots in Ottawa
Now that you know the average cost, let's take a look at the best breakfast spots in Ottawa!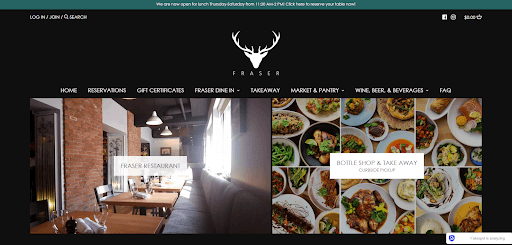 Look no further than Fraser for your next meal. It has been a favorite local restaurant in New Edinburgh since they first opened their doors back in May 2008. With a wide variety of dishes, including salmon rillette and irresistible appetizers like french fries and beets! You can also find delicious street meat on weekends if that's more up your alley.
This place has something for everyone; whether you're looking to enjoy a nice meal with friends or just want some good old fashioned cuisine in peace without loud music playing throughout – they've got it covered here. Their extensive menu changes frequently so there'll never ever be any boring meals again.
Email: info@frasercafe.ca
Telephone: +16137491444
Address: 7 Springfield Rd, Ottawa, ON K1M 1C8, Canada
"Love love love Fraser Café! The food is AMAZING, every bite is so flavourful. Portions are great. I like the atmosphere inside the restaurant and their decor. The servers are cheerful and enthusiastic to be serving you. The food is delicious, the restaurant is classy, we had a wonderful night. Highly recommend for a special dinner date."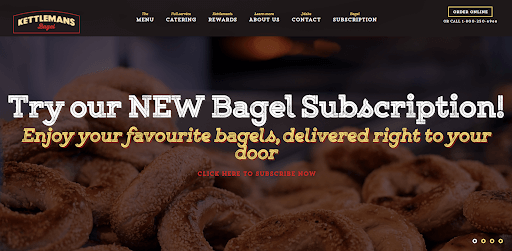 When founder Craig Buckley opened his first Kettlemans Bagel in Ottawa 25 years ago he simply wanted to create a high quality product that was as authentic and traditional for Montrealers as possible; this is what has driven them ever since – we know you'll love their goods!
This is an awesome breakfast spot. You can get bagels stuffed with classic deli sandwich ingredients and salads like classic caesar salad or special kettleman's salad and delicious coffee. Montreal's best-known bagel shop is open 24/7, 365 days a year (even holidays) and they make 6000 fresh Montreal style bagels every day. They have vegetarian and vegan options, everything is prepared fresh and the taste is always great!
Telephone: +16135677100
Address: 912 Bank St, Ottawa, ON K1S 3W4, Canada
"Amazing service. Fantastic bagels. Such a nice place to hangout and have a nice meal. Smells delicious inside. They've got all the traditional bakery treats and goodies. Would highly recommend."
3) Chesterfield's Gastro Diner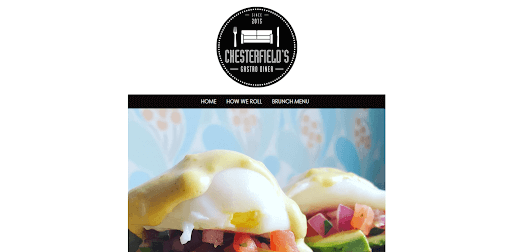 Chesterfield's Gastro Diner offers a selection of classic diner fare and incorporates different twists while paying attention to health conscious lifestyle choices that are more environmentally friendly, like using green electricity or recycling!
The servers are quick and friendly, the space is small but definitely packs a lot of character in such an iconic place! They have all sorts of sides like turkey bacon, breakfast poutine or loaded avocado which are perfect alongside your main dish as well if you're looking for something different than typical breakfast fare this time around.
"AMAZING! 5 stars isn't enough. I recently moved into the area and I kept seeing a line up outside. Figured I'd give them a try and WOW. Just found my new favorite breakfast/ brunch spot. SPOILER: the Mac n cheese might be the best thing on the planet"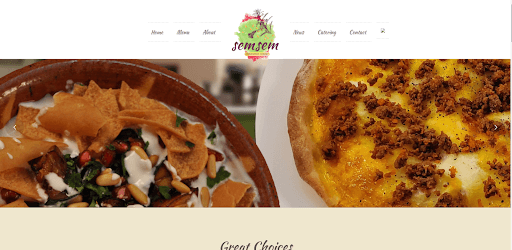 Mayssaa and Mohamed grew up on delicious traditional dishes of the Middle East that their mother made from scratch every day using ingredients like sesame; Now you'll find these ideas combined at SemSem – a place with exceptional food.
You can't go wrong with SemSem's delectable menu. Their fresh breads are what really makes this place stand out, as they offer many Middle Eastern favorites like minced meat manouche and hommos to satisfy your cravings for something different than the traditional Canadian cuisine that most restaurants provide in Canada today!
Email: info@semsem.ca
Telephone: +16137335736
Address: 2430 Bank St, Ottawa, ON K1V 0T7, Canada
"One of the only places in Ottawa that serves authentic mediterranean breakfast. It reminds me of my grandma's breakfast, truly homemade food. Also, they offer great vegetarian options if you don't eat meat. A must try restaurant if you are in Ottawa!"
5) Stella Luna Gelato Cafe Hintonburg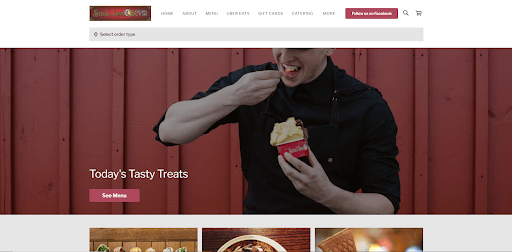 If you're looking for the best gelato in Ottawa, it doesn't get much better than this. This little shop is the perfect place to get your hands on some of that delicious, fresh gelato. You can select from an array of flavors and they're all guaranteed authentic! There's also other Italian products you won't find anywhere else. Not to mention their donuts are unbelievable as well; they have a great selection that will leave even your most critical critic satisfied. They have homemade soups, desserts and more! The owner is very nice and friendly!
The interior design and color distribution of the space is lovely. The facilities are top notch, with plenty to offer for everyone who comes through those doors- whether they're looking for indoor seating or outdoor ambiance! There's never any trouble finding parking near this location since it's in such an ideal spot; plus you can't beat how affordable prices were when compared against other cafes nearby (and even farther away).
Telephone: +16136956565
Address: 1130 Wellington St. W, Ottawa, ON K1Y 1P1, Canada
"I love this place, the gelatos are amazing. They are the real deal. Plus, you can get three flavors even when buying a small size. The sitting area is very nice as well."
6) Juluca's - Best Pizza in Barrhaven | Italian Restaurant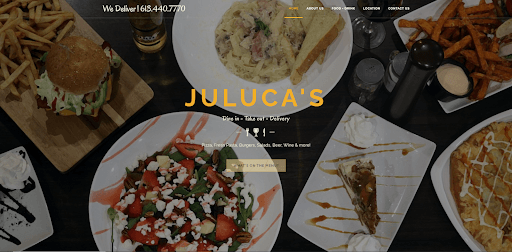 Juluca's Bistro Cafe is a restaurant that offers fresh Italian food in Barrhaven. They have been open since 2017, bringing their customers the best of both worlds with classic bar and Italian dishes to choose from on their menu! Located at 613 Longfields.
There's a reason why the locals love to come here. Their pizza is out of this world fantastic! The crust tastes like warm bread, and their toppings like goat cheese, capocollo ham definitely won't disappoint you with their abundant use for all your cravings. This place has an amazing selection of dishes that are vegetarian friendly.
Email: sales@julucas.ca
Telephone: +16134407770
Address: 613 Longfields Dr Unit 107, Ottawa, ON K2J 6J2, Canada
"I love having this cozy restaurant within walking distance. It was a quiet night, not too busy when we went, which was great. Service was prompt and very attentive. Pasta was fresh and the portion size was perfect. Pizza was fantastic, the cheese was golden, and the crust thickness was just right. Definitely going back."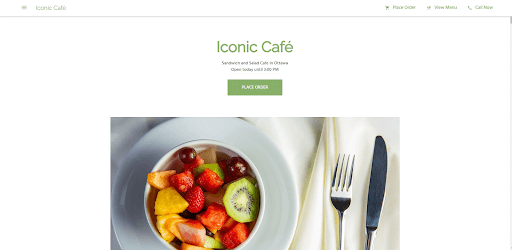 The first thing you will notice when walking into this restaurant is the aroma of fresh food perfect for breakfast. They have a variety to choose from: Italian and Mediterranean hot dishes, cold salads or sandwiches with Montreal smoked meat; plus some great snacks like granola cups on offer too! You will be amazed with the delicious soups and panini at this restaurant. They are also serving great smoothies with mango.
New breakfast specials are being offered every day. The food is always fresh, high quality but still affordable for students on a budget! The service at the restaurant is exceptional, always delivered with kindness and speed.
Telephone: +16132342200
Address: 123 Slater St., Ottawa, ON K1P 5H2, Canada
"The food is amazing. The soup and sandwich combo is my go to. Very reasonably priced and always delicious. The owner is very friendly, and clearly passionate about his business. Will definitely miss this place when I move. Cannot recommend enough!"
8) Les Moulins La Fayette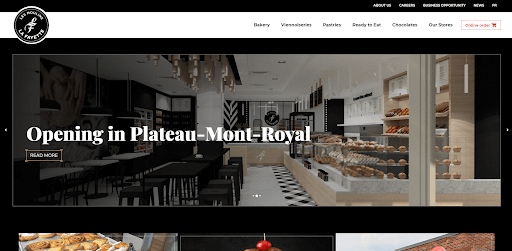 At each Les Moulins location you visit expect a warm atmosphere with impeccable service for premium products that will make your mouth water! Look out for delicious ready-to-eat breakfast meals like macaroons or fresh apple pie with delicious coffee. They also cook amazing sandwiches with homemade bread and fresh ingredients.
You can buy frozen pastry and bake it at home, it is great to have freshly made croissants for breakfast in the morning! The bakery includes instructions on how you can easily bake your own pastries.
Telephone: +16136805653
Address: 1000 Wellington St. W #103, Ottawa, ON K1Y 2X9, Canada
"The baked goods are amazing! We especially loved the almond croissants and the chocolate almond croissants. But we tried a bunch of different things and were impressed with them all. We'd go back anytime!"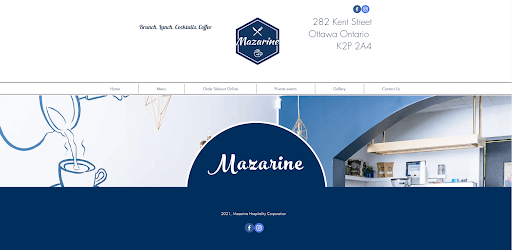 A really good breakfast place that serves Mediterranean inspired brunch made with Canadian local ingredients. They have a variety of options to choose from and almost all their dishes are just great!
Do try the Pistachio Pancakes, Omelets and Shakshuka (a type of eggs bake). Their Turkish coffee is also amazing as well. The fantastic food is combined with amazing customer service skills. It's really easy to fall in love with how cozy it feels as soon as you walk into this restaurant.
Telephone: +16135140153
Address: 282 Kent St, Ottawa, ON K2P 2A4, Canada
"Officially my favorite brunch spot. These pancakes were a delicacy; super soft and luxurious. Potatoes= crispy and amazing. I had the sun dried tomato and feta omelette, I swear it's the best omelette I've ever had. You have to try this spot; the servers are so friendly and kind."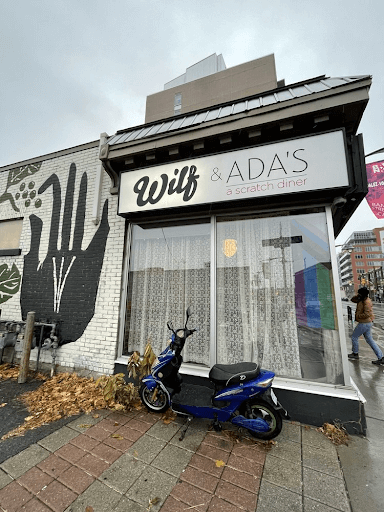 Wilf and Ada's has been serving all your breakfast needs since it first opened, with a cozy atmosphere that you'll be sure to enjoy. It's no wonder why the triple decker Dagwood sandwich is a must-have for any hungry visitor. Not only does it come on gluten free bread, but our chefs work hard to make sure you get fresh ingredients from their kitchen!
This popular breakfast pot has a hidden gem.
The staff are friendly and welcoming, with the smell of their smoked bacon and poutine providing just enough temptation to make you want some food before your meal starts! For those not in need of carbs or protein, there's also plenty for people who enjoy eating lighter fare like avocado eggs or lettuce sides- either way everyone leaves satisfied by what Wilf & Ada's serves up.
Telephone: +16132317959
Address: 510 Bank St, Ottawa, ON K2P 1Z4, Canada
"The meat is very high quality. It's filling, and really tasty and not in a guilty way. Service was extremely fast. The gentleman finished my order before I even tapped to pay. Will definitely be back soon! Ottawa needs more authentic places like this"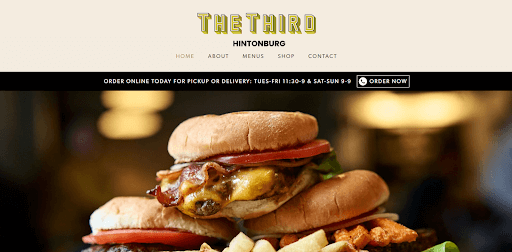 The Third Place in Ottawa's Hintonburg neighborhood is a warm, welcoming space for people to gather and enjoy thoughtfully prepared breakfast!
The next time you find yourself in the mood for some good, simple food try out their breakfast nachos, sandwiches or classic style English breakfast. The Third has vegetarian options which should please everyone! They also serve Mish Mash Hash which is a bean & ham and potato hash with side eggs— really delicious.
Telephone: +16137282965
Address: 1017 Wellington St. W, Ottawa, ON K1Y 2Y1, Canada
"Come to The Third for an extremely relaxed, focused menu executed with perfection every time.They may very quietly have the best fries in Ottawa, the menu is well priced and portions are perfect. A good selection of local taps with a rotating seasonal menu. The atmosphere is laid back excellence, as if you were being hosted by good friends! A couple sports screens above the bar, but not in an overpowering way."
12) Tamis Cafe & Restaurant
The owners of the Tamis Cafe & Restaurant moved from the Philippines to Canada and opened TAMIS – an appetizing food truck with dishes inspired by home-style cooking traditions.
The food at the restaurant is different from what you would expect. They take traditional Filipino ingredients and give them a new twist, by using vegetables in unexpected ways such as their Fresh Lumpia (Veggie Crepe) which features Sautéed Sweet Potatoes, Potatoes Carrots Green Beans Lettuce wrapped up into crepes topped with homemade peanut sauce or Spaghetti Bolognese sautée egg noodles!
The prices are really reasonable so if you're looking for something to fill that hunger pang then I recommend trying this place out.
Telephone: +16135677550
Address: 374 Bank St, Ottawa, ON K2P 1Y4, Canada
"Can't help but love this family business. My favorite things to have there are the sweets, especially the pandan pancakes for brunch and ube iced coffees. There's an array of delicious baked goods everyday with interesting ingredients like desiccated coconut, French buttercream, and cashew meringue."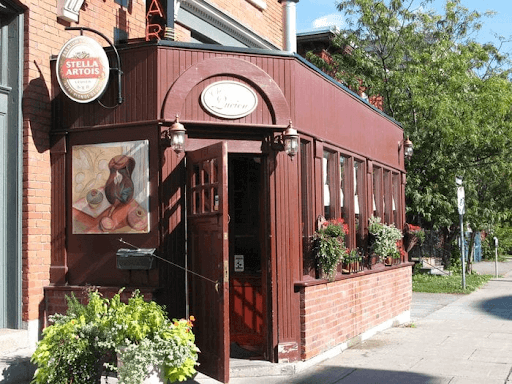 Chez Lucien is a great place for breakfast. It's a cozy bistro on the corner of the Byward Market. They serve only fresh and local food. You can have perfectly cooked eggs with lots of sides like baked potatoes or salads. Chez Lucien never disappoints with their delicious cheeseburgers and fries.
A perfect, juicy burger that always arrives at your table first! If you're in the mood for something sweeter they have a daily variety of cake flavors to choose from. The inside of this place is so cozy, especially in the winter with a fireplace going. On Sundays they have live jazz music- it's by far one of the best ways to spend time here!
Telephone: +16132413533
Address: 137 Murray St, Ottawa, ON K1N 5M7, Canada
"Probably one of my top 5 restaurants. Never disappoints. Nothing fancy, just everything done right. I normally get their grilled salmon burger, served with dill cream cheese, along with a side of their skinny fries and refreshing home salad."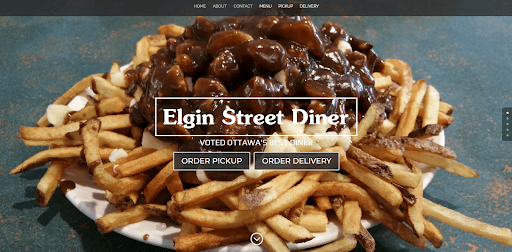 Nowadays, there's no shortage of great restaurants in Ottawa. But twenty-two years ago the only place to go for a good meal was Elgin Street Diner – and it still is! This local institution has been named the best breakfast spot by Xpress Magazine and one of the finest authentic English Breakfast places in Canada.
You can't go wrong with any of their dishes! They are famous for their pancakes especially with banana and bacon which go perfectly with vanilla, oreo or caramel milkshakes. Eggs Benedict and classic French toast are on point too.
Telephone: +16132379700
Address: 374 Elgin St, Ottawa, ON K2P 1N1, Canada
"What a place to go to eat!! Home made eatery!! The service is excellent!! Fast, courteous and totally friendly! Hadn't been in a while but it's the same....such a great feeling! I had their OMG Benedict Breakfast and my guest had a strawberry milkshake, saying it was the best, hamburger and poutine! He loved it!! Fabulous!"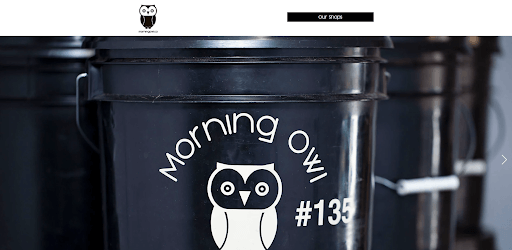 When you're looking for that perfect cup of coffee for breakfast , it can be difficult to find a better place in Ottawa. The Morning Owl Coffeehouse has been serving up organic and direct trade coffees since 2009 with franchises owned by independent franchise owners!
London fog drink with soy milk is a perfect balance of sweet and salty. The breakfast also has interesting options such as BBQ chicken sandwiches or Mango curry. Their scones are out of this world! Not to mention the friendly staff.
Address: 538 Rochester St, Ottawa, ON K1S 4M1, Canada
"Excellent service. REALLY good coffee. I occasionally get the Art-is-in bread sandwiches which are quite delicious."
16) The Keg Steakhouse + Bar - Ottawa Market
If you want to experience first-class meats and great service in an elegant, casual atmosphere then head on over for some fine breakfast at The Keg Steakhouse + Bar. This steak house has been around since 1971 so they know what makes a good meal!
The House salad with the Dijon vinaigrette it's a highly recommended option for a light breakfast. Besides meat they have a huge variety of seafood to choose from like fresh shrimps or salmon steak.
Telephone: +16132418514
Address: 75 York St, Ottawa, ON K1N 5T2, Canada
"One of the best Keg restaurant my wife and I had been too the services was amazing. The hostess and waitress are very friendly and very intuitive to our needs. Never once I had to wait to get their attention and the curiosity they offer to check on our experience ever moment they get was amazing. The food without a doubt excellent."
17) Cora Breakfast and Lunch
Inspired by the traditions of her family, requests from customers, owner of the place Cora designed a variety of new breakfasts. One after another she improved on traditional dishes while conjuring up others unlike anything anyone had seen before in this country or abroad for generations past!
Try out delicious French toast, flavored with a touch of cinnamon and nutmeg. Also their sandwiches are made with fresh ingredients like smoked salmon, egg, tuna or chicken salad to make them taste incredible! The Panini-crêpe Passe-partout which is eggs, bacon and cheddar cheese rolled up in a grilled crêpe and served with fresh fruit is truly an amazing thing to eat for breakfast.
Telephone: +16132417642
Address: 179 Rideau St, Ottawa, ON K1N 5X8, Canada
" Nice cheery place that is family friendly. Lots of seating. Ordered the savory spinach and cheddar crepe that was good and actually looked just like the picture in the menu."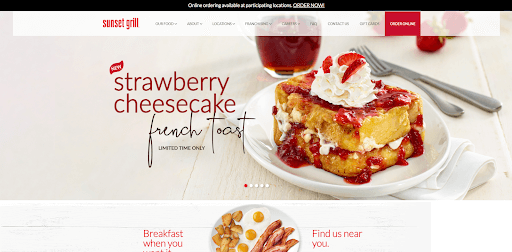 Sunset Grill is Ontario's number one destination for great breakfast.
They use fresh ingredients to make their menu items using healthy methods: flat top grills, pat dry bacon and nothing is ever deep fried! With choices like the famous bacon 3 eggs combo or a flagship Sunset burger -you won't be disappointed in what this restaurant has to offer. The staff here is super friendly. It is also highly recommended for anyone who is looking for an affordable but good breakfast with great sausages or pancakes!
Telephone: +16136952022
Address: 100 Marché Way, Ottawa, ON K1S 5J3, Canada
"Really enjoyed the food from here, the portions were nice and the flavours were good too. The peameal breakfast sandwich was tasty and the breakfast portion was also delicious. The hollandaise sauce was yummy"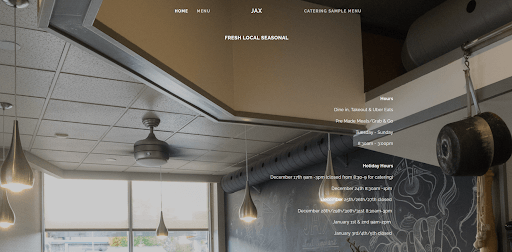 Jax is a cozy bistro in Central City. Chef and owner, Ben Breitler takes pride in selecting only the best local products to serve up fresh baked breads for breakfast ! He's been here since April 2017 but has worked at this location as chef for over 7 years already!
They are famous for their banana bread, French toast and pumpkin pie. Taro chips are a perfect match for the pork belly sandwich. The savory, crispy texture of each piece complemented its fatty content perfectly in every bite!
Telephone: +16132302088
Address: 479 Bronson Ave, Ottawa, ON K1N 8N8, Canada
"Great little breakfast place. Very popular so it fills up fast. The ingredients are excellently prepared. The bacon is crispy but not burnt, home fries are crispy on the outside soft on the inside but not greasy. I really enjoyed the house made jam on the house made sourdough."
20) Brookfield Restaurant & Catering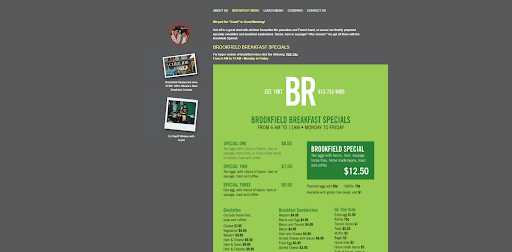 The Brookfield Restaurant would make a great choice for tasty breakfast. It's home cooking at its finest, with recipes that have been passed down through generations and flavors you just can't find anywhere else!
Breakfast is served from 6 to 11 am. Their amazing omelettes have tons of options like vegetarian, ham and cheese or western. Brookfield Special is an old-time favorite dish which combines all that we love about the classic breakfast— two eggs with bacon, ha, sausage, home fries and beans, toast and coffee!
Telephone: +16137339405
Address: 704 Brookfield Rd, Ottawa, ON K1V 6J4, Canada
"Great home style cooking. Pea soup is generally on the menu on Fridays - super delicious. Excellent taboulé, humus, fruit and veggies boxes to go ... BEST Fish & Chips in town; all made on site."
FAQs About Breakfast in Ottawa
Ottawa is a great city for breakfast lovers! There are plenty of great places to eat and at great prices. From fresh fruit to eggs benedict, to French toast, there's something for everyone in Ottawa. This list includes 20 of the best breakfast spots in Ottawa. So if you're looking for a place to eat this morning, be sure to check out one of these spots!